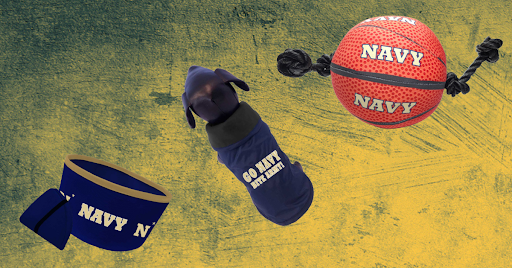 Our pets love us and we love them! As we await spring, let's spoil our pets with these fun Navy pet products from Navyonline. Like a spring rain, shower them with treats and make them the best dressed, Navy-spirited, pup, kitty (or even goat) on the block.
Hot Toys for Navy Pets:
Pets love to play! On a day when you're up to your neck in work, take a few minutes away from your spreadsheet and Zoom meetings to play with your furbaby. The time together will reduce your stress and make you both more productive.
Basketball Tug Toy

: Bond with your pooch as you play tug with this miniaturized Navy basketball. Nothing says love like an irresistible game of tug! If fetch is more their game, toss the toy and see the nonstop tail wagging as they bring it back to you.
Hockey Stick Chew Toy: Yum. There's nothing like a hockey stick chew toy. Nylon-based, your dog will delightfully be able to chew on this stick for hours.

Tennis Ball Tug Toy

: This tennis ball floats, so when it makes its way into the creek, your buddy can splash around and retrieve it. You can throw this tuff ball build for miles, and it is sure to stand up to your dog's bite.
Cool Threads for Naval Academy Pets
Even as the weather warms up, those early morning walks can be chilly. Keep your pooch warm with a variety of hoodies, coats, and jerseys designed just for them and their Navy-loving family. Try this Navy pet gear on for size:
Dog Hoodie

: Your pooch can be as stylish as you with a Navy lightweight dog hoodie that also gives them protection from the elements. There's really nothing cuter!

Dog Coat

: If the weather calls for something warmer, this "Go Navy Bite Army!" dog coat is up to the task, with polar fleece lining, a coated outer layer and velcro closure. You won't need to worry about the mud since it's easy to toss in the wash.

Dog Jersey

: For spring-ier days when the sun's out, the athletic mesh dog jersey is the perfect fit. This jersey is a great way to support the team at the upcoming Navy baseball games.
Home Sweet Home Treats
USNA pet products offer something for all. Dogs, cats, goats and more can enjoy these Navy treats.
Pet Bed

: Sweet Navy dreams will calm your critter in this plush, crate-fitted pet bed with a non-toxic fill. Pretty enough to be displayed in your living room, it's soft and designed for dogs or cats. You can find it in three sizes, creating a just right fit for your pet.

Placemat

: Keep your furbaby's area looking nice and neat with a Navy pet placemat, designed to be used indoors or out, with a non-skid surface to keep it in place. The Navy border means business, and the placemat will keep any errant kibble from becoming crumbs and sloshed water from becoming a messy hazard.

Bowl

: Ready to hit the outdoors? This Navy collapsible dog bowl is the perfect companion for your pup. It packs up easily, showing your Navy pride no matter what trail, BBQ or event you are exploring. This bowl makes a great gift for a pet lover who likes to be on the move.
As the weather warms up, we all look forward to more walks (owner, pup, goat and leashed cat included). Grab some Naval Academy pet gear—a Navy-themed tug toy, some fun pet clothing, or some much-needed accessories—to show off your Navy spirit!
Let's agree, pets love our midshipmen, too! Remember that all of the proceeds from every purchase from Navyonline directly support the Brigade of Midshipmen.