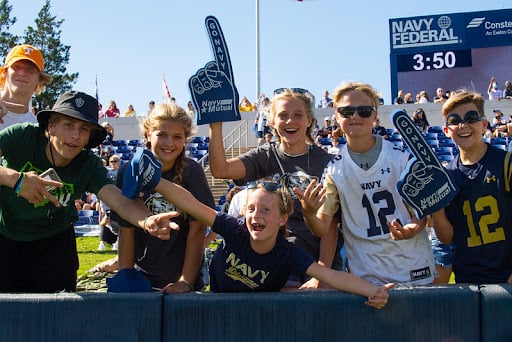 Hooray for fall sports! It feels great to be back on the fields, courts, pitches, you name it. And it's great to show our support with some fun REAL USNA sports merchandise from Navyonline. When you are heading to one of the many club and intramural games, matches, or meets, there are many ways to show the USNA your Navy love!
Shout It Out With Shirts
There is the act of going to a game, and there is the act of GOING FOR a game. Sure, you can scream from the sidelines and make a lot of noise, but nothing says "I live and breathe Navy" like wearing your heart on your chest. This classic gray cotton soccer sport tee does just that. When you're not at the field, you'll still show your Navy soccer support, whether it's at the gym, at your kid's soccer game or out running errands. Get Navy's soccer team off to a great start this season and show them that you care.
This gray cotton sprint football sport tee checks all the boxes—good looking, good feeling and good wearing. It also has an extra dose of spirit with a screen-printed American flag on the back. Take it for a spin at a Navy sprint football game or wear it to the tailgate at Navy-Marine Corps Memorial Stadium. It's the kind of tee you can wear pretty much anywhere.

Are you a Navy super-fan and support all things USNA? No matter your age, you can show your Navy pride at any time in one of these spirited Navy shirts for men, women, and children!



Hats Off to Fall (Teams)
Want another way to support your best teams? Sport a Navy Hat!
Show your tough love to the rugby team. This adjustable Navy rugby cap is a perennial favorite available in Navy blue with gold embroidery or stone with Navy blue embroidery. It's perfect for cheering on the team as they battle it out on the pitch. Boasting about going to a Navy squash game? This Navy squash cap in Navy blue with gold or stone with Navy blue is the perfect pick. For those diehard fall Navy football fans, pick up an adjustable Navy football cap for cheering on the football team any weekend. Whichever sport is yours, these caps are great for camping, working out, gardening, sailing, and—you guessed it—games of all kinds!
Do It With Decals
When you want to put some Navy spirit on your car, your water bottle, your computer or wherever—these decals do the stick. Navyonline has a decal for just about every sport you desire. Pick up a fun cross country decal with a winged running shoe, a Navy golf decal to support the golf team, a Navy tennis decal to show some love for the tennis team, or one to show some sprint football spirit. They make great inexpensive gifts for a Navy fan and they instantly make your stuff look Navy tough.

Fall is here and it's time for some serious play! Get geared up with fall sports merchandise at Navyonline and support your favorite USNA fall team.
All proceeds from purchases with Navyonline go directly back to the Brigade of Midshipmen so you support the midshipmen with every purchase you make with us.
Now go enjoy the games!