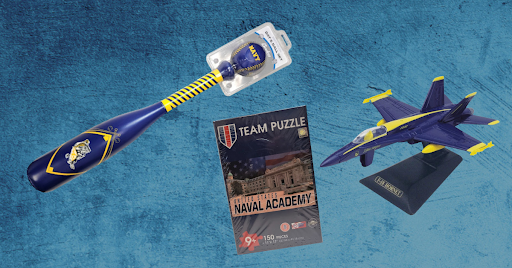 It's holly jolly holiday time! When we were kids (it wasn't long ago for me!), we used to rifle through catalogues with our little hooves and circle all the shiny new toys we wanted, hoping that a bike, baseball glove, doll or hay bale would appear, and crossing our hooves there wouldn't be coal. Today, it's been replaced by scrolling through endless pages, searching for the shiny new thing we hope that we have earned this year. For the kid in all of us, here are some USNA toys from Navyonline.com that we dare you to resist!
Sporting Goods for the Whole Family
Keep the good times going all winter long with these Navy table tennis balls. Get a game started in your basement or garage, no matter how cold it is outside. They're the perfect size for some inside fun. Make it a tourney with the neighbors. Everyone loves a ping pong party, especially when it's Navy proud!
If table tennis isn't your jam, and you're looking for something special for your little slugger, explore baseball, America's pastime. This Navy bat and ball set is a home run. It's soft, so you could batter up in the basement (watch the lamps!), or try out your power swing in your backyard. It may be soft, but it packs a big punch. Play ball!
Pickleball is all the rage right now, and this Navy birdie pickleball game is right on trend and on target. It brings the airiness of badminton together with the satisfaction of a pickleball swing. Suitable for any space, you can even play it in the living room (the no ball rule doesn't apply to birdies, right?). Enjoy some exercise and see how long you can keep the birdie in the air.
Fun by the Fire
We're looking forward to cozying up by the fire this winter, and Navyonline has some games and puzzles that pair perfectly with this vibe. For the puzzle-lover in your family, there are a number of great Navy-t
hemed options, including the 150 piece puzzle of Bancroft Hall and the 500 piece puzzle of the Navy-Marine Corps Memorial Stadium. These puzzles provide hours of contemplative fun and are friendly for the whole family. For those fire pits outside, there are campfire games like the gameday tumble tower, which comes in its own case with handles. Pass the s'mores!
Merry Models
You definitely don't need to be a kid to love modeling. For many of us, modeling brings us right back to that simpler time. There are an assortment of model planes and ships on Navyonline, including these cool blue angel diecast models, des
igned just like the one we have hanging in the Terwilliger Center for Student-Athletes. The blue angel replica
s can be flown in formation too! The USS Independence replica is also a popular model with excellent detailing and hidden wheels that help it glide along the floor smoothly. You can spend quality time with your family building or playing with these models and then proudly display them for all to see.
Navyonline.com has great gifts for the kid in everyone. I feel like a kid in a candy shop every time I shop the site. There are so many fantastic gifts to discover. As a midshipgoat myself, I'm proud to say that every purchase you make there benefits the midshipmen and helps pay for their activities, uniforms, haircuts, dining and other needs. Enjoy a trip to the toy store!