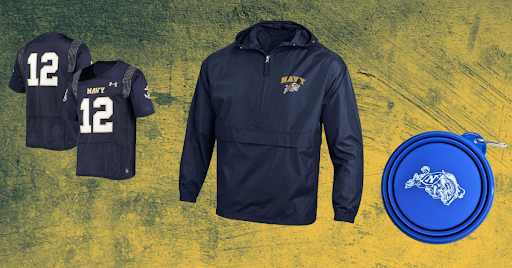 When you've got a huge Navy fan to surprise for the holidays, look no further than Navyonline.com. They have everything you need for a very Navy holiday!
Winter Wear: Jackets and More!
Whether your Navy fan wants a light windbreaker or a heavier, sturdier jacket, you'll find plenty of options here. For the woman who loves to be outdoors in any weather, a packable anorak jacket keeps her warm and dry. It's one of those Christmas gifts from the women's department that's practical for many activities. She can use it for a wet weather hike, wear it out to the game or don it for running err
ands around town. With sophisticated berry pink accented with a Navy blue logo on the sleeve, water resistant fabric, ¼ zip for easy on and off and elastic sleeve cuffs to seal out the wet and cold, it has everything she needs in a jacket. This one is also packable into its front pocket, making it easy to stow and go!
For a lighter look, the Navy men in your life will appreciate the Boulder Shirt Jacket, perfect for crisp days and just made for layering. The neutral gray and Navy blue options go with jeans, khakis, work pants - you name it. With the gold embroidered "USNA" on the pocket, he can show his Navy loyalty at the office, the game or out and about town.
For your elves, this youth ¼ zip packable jacket will even fit in their stockings! Made with water resistant fabric and a scuba collar (complete with a hood), it has shock co
rds to keep your little Navy fan cozy. The best part is its portability—it folds into the pocket, so it's easy to take to school, soccer practice or a friend's house. Lightweight and sporty, it's also surprisingly warm for those cool weather games and bike rides. With the Navy logo and goat charging the front, it's also pretty cool itself!
Football Fandom: Jerseys for the Whole Navy Family
She loves Navy football and everything about it—the action on the field, Bill the Goat, and the Navy fight song. Get her this fun and feminine Women's V-Neck football jersey so she can show her spirit! The relaxed fit makes it easy to pair with her favorite jeans or pants, and the criss-cross v-neck in gold is a stylish tw
ist that takes it from plain to pretty. She can wear it to watch the game at home, rev up for the game at the tailgate or show some style when she's on the go. It will quickly become one of her go-to Navy pieces. Surprise her with one this holiday season!
Naval Academy shirts are always a good pick. For the guy who loves to throw the football around at the tailgate, this men's 2021 sideline jersey is the real deal. With breathable mesh, the look is all sport - and the feel is right on.
Outfit your littlest fanatics with the youth 2019 replica jersey so they can join in on the football fun. This Army-Navy jersey is part of the 150th anniversary celebration and a thrilling Navy design. Go Navy Beat Army!
Treat Your Pet, Too! Unique Gifts Keep the Fun Going on Four Paws

The holidays are the perfect time to spoil your furry friends. This silicone collapsible dog bowl is a gift that keeps on giving (with each meal). Perfect for doling out snacks and water when you're on the go - and easy to clean - it features our own charging Bill and a carabiner for easy transporting. Speaking of moving, while you're out at the park, you can throw a Navy dog toss toy with a tuff ball - an industrial strength tennis ball - and keep your active dog playing for days. When you've tired out your pup, he can lay his head down on this soft and sweet pet bed for sweet Navy dreams.
You can never go wrong with a thoughtful gift from Navyonline.com, the Naval Academy Gift Shop or any authentic Naval Academy store. For your friends, family members and pets that eat, sleep and breathe "Go Navy!," go to the place that gives back to the Brigade of Midshipmen!