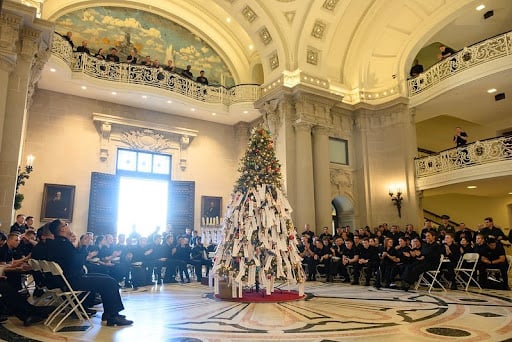 Being a midshipman at the Naval Academy means serving your country. For many of them, that service is just the beginning. Even with rigorous course loads, demanding physical and mental challenges and other ongoing tests of stamina, approximately one out of every four midshipmen participates in community service on the Yard and across the Baltimore/Washington corridor. Some volunteer for community service projects back home when they're on winter break and others when they are on liberty. At any time, that's about 1,200 young men and women mobilized for good. In fact, it's estimated that almost 100% of the Brigade of Midshipmen is actively giving back when you consider how many also donate goods to the food, toy and other drives.
Together, midshipmen give 25,000 hours during a typical non-COVID year. That's 50 ongoing projects each year. There is a proud and enduring tradition of giving back, and it's especially evident during the holiday season.
Harvest for the Hungry
For the past twelve years, the Midshipmen Action Group (MAG) has orchestrated "Harvest for the Hungry," a food drive that helps fill pantries in the area throughout the holidays. The midshipmen run the entire program and work with the USNA Chaplain Center and members of the Naval Academy community to make it happen.
We thought that last year's haul of 75,000 pounds of non-perishable food items couldn't be beat. It was a record breaker for the Academy after all. "Last year we were the only institution that donated 75,000 pounds of food," says Miriam Stanicic, the MAG faculty representative and Community Relations Director for the Office of Public Affairs at the Academy. But despite working with COVID protocols that moved collecting online, this year's Harvest for the Hungry food drive brought in a staggering 90,000 pounds of food to the Anne Arundel County Food Bank, providing much-needed meals to thousands. Twenty-three thousand pounds came in during the last 24 hours of the campaign. All 30 companies drove this tremendous boon.
Midshipman 2/C (2nd Class) Michael Wakeham, MAG co-leader for Harvest for the Hungry, says, ​​"As we look forward to returning home for the holidays to enjoy family and friends, the Brigade saw a problem in our community and stepped up to make a difference for those who are less fortunate." His co-leader, Midshipman 2/C (2nd Class) Mason Dowell, agrees, "I'm always amazed at the Brigade's desire to serve, whether it be in the military or in the community. The support that everyone in Anne Arundel County shows the Brigade is truly incredible and it inspires us all to give back."
One of the many influences on a midshipman's time here is that they learn how to give back no matter where they are in the world. This spirit of giving certainly doesn't stop when they're away from the Academy. While home for holiday breaks, midshipmen continue to put their time toward helping those around them.
Warming Hearts with a Warm Line
In the beginning of the pandemic, midshipmen recognized another basic need that wasn't being met—the need to connect with others. They wanted to reassure people struggling with loneliness or isolation, especially those who were older and often couldn't receive visitors due to their vulnerability with the disease. These midshipmen knew that their own grandparents may be struggling and they wanted to help. "They really personalized the story," says Stanicic. "They wanted to know, 'Is there a way that I can reach out?' MAG created a warm line where they could reach out to seniors and say 'How are you? We care about you.'"
The midshipmen worked with the Anne Arundel County Department of Aging and Disabilities to make this happen. They reach out virtually every Monday for senior center conversation and also call others in the community to see how they are faring. This is especially important during the holidays. They even created a video that honored seniors during Older Americans Month. These midshipmen continue to build wonderful friendships with the community and bonds that will last well beyond the pandemic, leaving another legacy of good.
A Tree that Grows Goodness
Another tradition addresses many local families' need for holiday gifts during the Christmas season. Since 1992, the USNA holiday story has featured an enormous and stunning Christmas Tree that dazzles viewers in the Bancroft Hall Rotunda each year. For decades, the Sixth Company has organized and implemented the Giving Tree program, coordinating with the Salvation Army and setting up the "Giving Tree" on the Yard to help encourage holiday gift donations to families in the area, with assistance from the Midshipmen Action Group (who also organize Toys for Tots). They decorate the tree with over 500 paper angels listing the age, gender and gift wish list of a local child that donors can remove from the tree to fulfill. These lists are furnished by the Salvation Army, and often include musical instruments, bicycles, winter clothes, footwear and electronics. Donors leave unwrapped gifts beneath the towering tree, and the Salvation Army wraps and distributes them to the families.
As a place where our goods "Do Good," Navyonline.com salutes the midshipmen for all of their tireless efforts in giving back to their community and doing good in so many meaningful ways. If you want to make the midshipmen's spirits bright, you can do so by sending them one of the delicious and coveted snacker-box care packages to keep them fueled for all their good work (proceeds go to the Brigade). You can support them by using Navyonline for your shopping, and you can also help them by coming to the Academy to take a tour and enjoy our incredible dining venues and other experiences. All of this does good for the Brigade as well!
We thank the midshipmen for their excellent commitment to community service and are honored to serve them too. Happy Holidays to all!