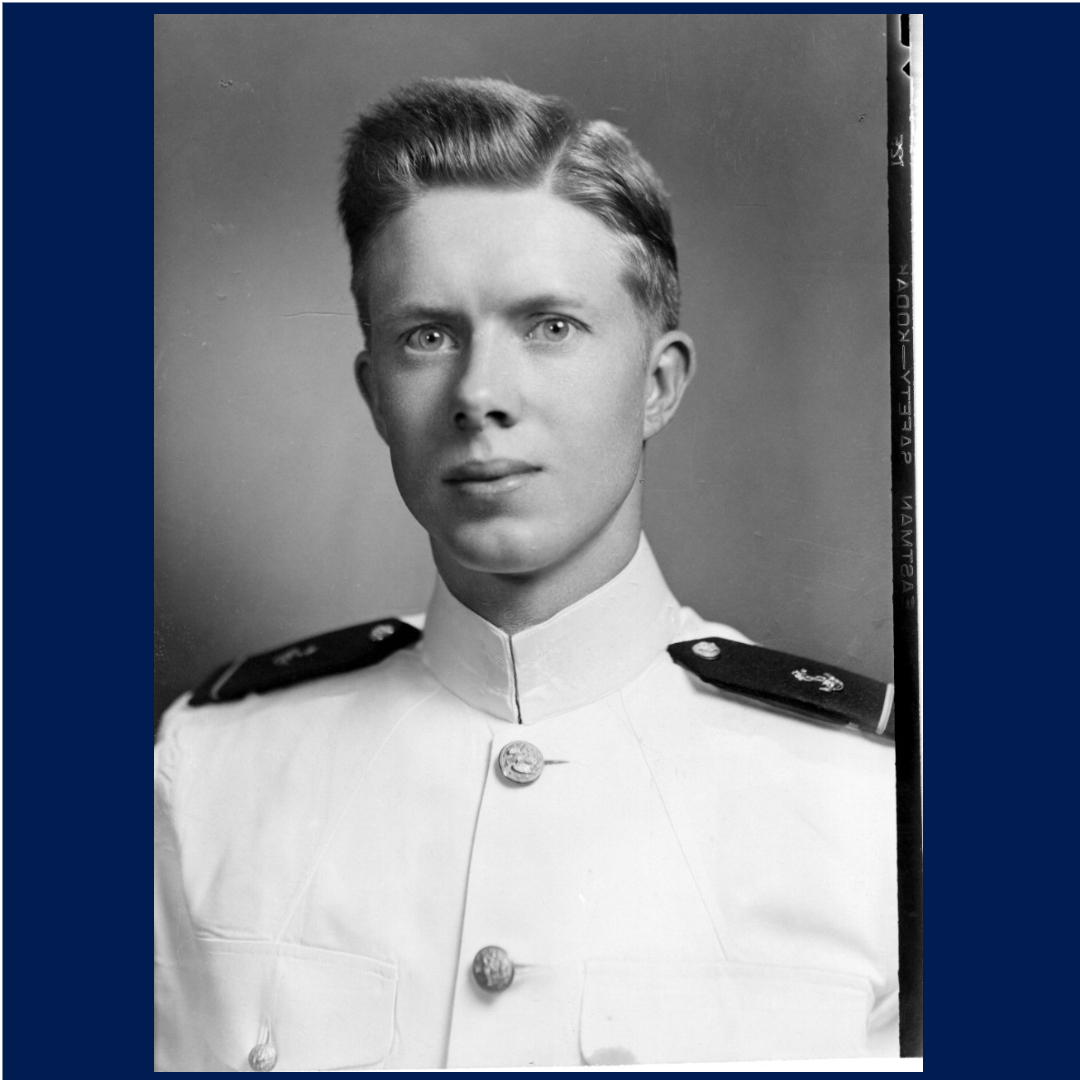 Many know Jimmy Carter as our 39th president, a great humanitarian and peanut farmer who ruled the free world for a time. Many even recall his lifetime romance with his hometown sweetheart, and their return to their tiny Georgia town after his time in the limelight. But not everyone knows his varied and impressive background, including his time as a midshipman at the Academy. Let's celebrate this distinguished USNA graduate and uncover some of the stories that you've never heard.

Born in 1924 in rural Plains, Georgia, James Earl Carter, Junior (Jimmy) was the oldest of four children who lived in a moderately well-off family, yet his home had no electricity or running water. He was an ambitious young boy, selling produce from his family's farm by packing it onto a wagon and taking it into town to sell. By the time he was thirteen, he had saved enough to purchase five homes that were discounted due to the Great Depression, and was renting them out.
Life at the Academy and a Naval Career
Inspired by his Uncle Tom Gordy's trips around the world in the Navy, Carter wrote to the Naval Academy to request their catalog before he even started high school. He graduated as valedictorian from Plains High School in 1941, but was not admitted on his first attempt to enter the Academy.
So Carter took another route. He worked hard at Georgia Southwestern College in Americus for a year before studying mathematics at the Georgia Institute of Technology in 1942. With these accomplishments, he was admitted to the USNA in 1943. In August 1946, just after the war ended, Carter graduated (early) in the top 10% of his class through an accelerated war program. After he proposed (for the second time) at the Academy to Rosalynn Smith, his sister's younger friend, they were married following graduation in July, 1946 in Plains.
Carter had several jobs in the Navy. For his first two years he served as an ensign aboard the surface ship USS Wyoming. Following that, he was awarded submarine duty as an executive officer, engineering officer and electronics repair officer on the submarine SSK-1.
At that time, then-captain Hyman G. Rickover (who later became an Admiral), launched his nuclear-powered submarine program. Rickover interviewed and picked Carter, who was promoted to lieutenant and then served from November 3, 1952 through March 1, 1953 with the Naval Reactors Branch, U.S. Atomic Energy Commission in Washington, DC. He was part of a team that helped design and develop nuclear propulsion plants for naval vessels. Next, Carter was planning to become an engineering officer on the USS Seawolf when his dad passed away, and he was forced to resign and prepare to take over the family peanut farm. This was in July of 1953.
Jimmy Carter's naval service finally ended when he was honorably discharged on October 9, 1953, and per his request, he was transferred to the retired reserve as a Lieutenant on December 7, 1961. The Seawolf-class submarine SSN-23 is named in his honor: the USS Jimmy Carter.
Key Presidential Accomplishments
After his retirement, Carter ran the family peanut farm for a time before entering politics. He served as Georgia's 76th Governor, and then went on to beat incumbent Gerald Ford to become the 39th President of the United States (as well as being the fifth consecutive president with prior Naval service experience). His presidency stretched from January 20, 1977 through January 20, 1981. During his one term, he accomplished a number of initiatives involving cleaner energy, civil rights and even a Middle East Peace deal.
Carter Returns to the Academy
On June 7, 1978, Carter came back to the Naval Academy to address the midshipmen with his graduation speech. He highlighted the importance of respecting human rights when implementing foreign policy. In fact, he made this concept come alive in what many consider his most important foreign policy achievement when on September 17, 1978 he helped broker a peace deal (signed in March 1979) known as the Camp David Accords. Along with Israeli Prime Minister Menachem Begin and Egyptian President Anwar Sadat, he signed this important document, which stipulated the recognition of UN Security Council Resolution 242 and built the scaffolding for peace in the region.
Post-Presidency Work
In the past two decades, history has looked kindly on the breadth of his accomplishments, acknowledging that he handled many big issues with courage, positivity and steadfastness. His post-presidency is widely respected and honored, as he has become an untiring advocate for human rights and a number of charitable organizations. In 1982, he became a University Distinguished Professor at Emory University in Atlanta, Georgia. His Carter Presidential Center at Emory University, founded that year, tackles issues in democracy and human rights. He also worked for many years with Habitat for Humanity International to help provide housing for those who need it.
Perhaps his most important achievement came in 2002. "For his decades of untiring effort to find peaceful solutions to international conflicts, to advance democracy and human rights, and to promote economic and social development," Carter won the Nobel Peace Prize.
Carter is a prolific author with over 25 books to his name, including: Keeping Faith: Memoirs of a President, Turning Point, and An Hour Before Daylight. In 2010, he published his 25th book, White House Diary.
We have seen that USNA history is deep and wide, and Carter's story certainly exemplifies this. From a small town, to the White House, and back again to that small town, Jimmy Carter's legacy is greater than many realize. We are grateful for his enormous contributions and his service to our country. We celebrate him and Naval Academy alumni everywhere.