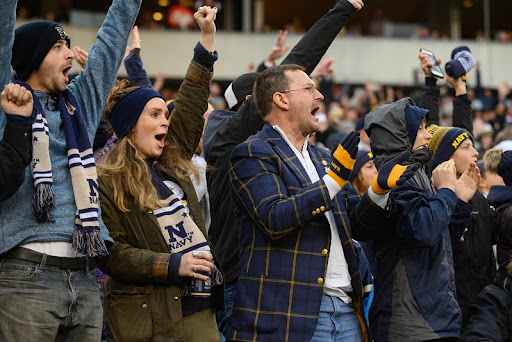 As the days get shorter and crisper, it's fun to switch up your wardrobe and cozy up in comfy fall fabrics. Navyonline has a great variety of cooler weather finds, from blankets, to sweaters, to scarves. This Naval Academy gear is perfect for raucous Navy football games, leaf-filled strolls around the Yard, cool weather trips about town and any other outdoor activity you may get into as the weather turns to winter. Here are our top four picks for the season.
Cozy Blankets to Wrap You in Blue and Gold
It's definitely the season for stashing a soft blanket in your car. Whether you're heading o
ut for an outdoor dinner date, sitting fireside at a friend's house or even spreading out a late fall picnic at the local park, these go-anywhere, do-anything staples are great to have around. This quilted camping blanket in Navy blue with gold accents does one better, wrapping you up in spirited Navy blue and gold and Navy pride for some extra warmth and spirit. It's also super soft and cozy to keep you company on dark nights when you want to curl up with a hot apple cider and a great maritime read. Don't just keep this one to yourself, though. USNA blankets make thoughtful gifts, especially for the Navy enthusiasts in your life.
Spirited Sweaters Show Your Loyalty
Sweater season is here, and it is hot. Not only does a sweater give you extra warmth and coziness, but it's a great way to wear your heart (or goat or anchor) on your sleeve. Make a style statement without saying a word with this gray or Navy blue women's seaport bomber - featuring inseam pockets, a covered zipper, faux leather pull and a crowning embroidered anchor. Sweaters like this are very versatile. Use it to layer up when the evening chill hits or bring it to work to make your climate more comfortable. Pull it on after a long day and luxuriate in the softness. There's a reason why sweater season is #trending. If you're thinking ahead to the holidays, sweaters are a gift that will fast become a favorite.
Navy Hats and Scarves for the Win!
Speaking of statements, hats and scarves add pizzazz to your look, instantly and easily. When the air gets frigid, a soft and toasty hat can take the edge off the chill. Don a Navy beanie for those post-dinner football fests this Thanksgiving and you'll have a ball. This Navy rugby stripe hat goes with everything - and it's a perfect fit every time. Just don't leave it hanging around, since you're sure to see it on your friend's head next.
US Navy gear like scarves also make a big difference when it comes t
o warmth, and they make excellent gifts for the person who has it all. This reversible knit Navy scarf is a thoughtful present. Not only is it supremely soft, but it says "Go Navy Beat Army" on one side with Bill the Goat, so it's raring to go for the tailgate, game and after-party. Fun and festive, a scarf like this is always in style.
So what are you waiting for? There's no bad weather, just bad preparation. With the right USNA fall gear, you can enjoy a cool night wherever you are - at the game, by the fire or out for a walk. These top Navy apparel picks will keep you on trend every time. Check out Navyonline for these and other great Navy wardrobe warmers, and order gifts early this year to stay ahead of the crunch. You'll be giving to the midshipmen as well as your giftee. As always - and especially at this time of year - we are grateful for your support!