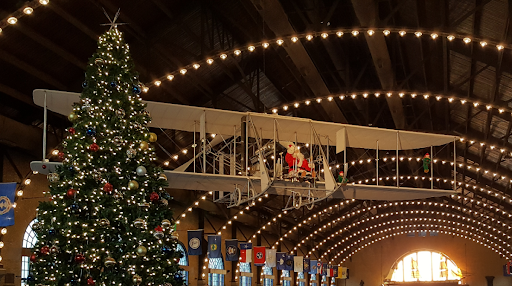 I subscribe to the idea that it's never too early to shop for the holidays—especially now, with shipping channels frequently experiencing delays. Finding the right gift for everyone on your list can also be tricky, so starting early is key to a successful gift giving season. As the official Naval Academy goat with a lot of people to thank and care for, I have run into these issues before! But not to fear, Navyonline is stocked and ready to ship. They have a wonderful assortment of unique Go Navy gear, apparel, sporting goods, school supplies, home decor items and Navy gifts that you won't find anywhere else. Navyonline is my go-to holiday helper so I've created a list to help you (and Santa) find something to make every naughty or nice person or pet on your list happy!
Gifts for Family

Warm up every morning for your Mom with this beautiful "Best Navy Mom" mug. Lest your Dad get jealous, we have one with his name on it too! Practical and meaningful, pieces like this make great gifts, reminding us of what's good in our lives. The best part is that my mom shares her special mug with her kid (me!)—and that's saying a lot for a goat!
You can also keep your family warm and comfy in style. Shop USNA men's clothing and USNA women's clothing for essential and spirited Navy apparel. From sweatshirts, golf shirts, shorts and rain gear, to hats, scarves and gloves, there's spirited apparel for all weather, every occasion and every person on your list.
Gifts for the Kids (Not Me!)
Check out this personalized version of Monopoly. Wouldn't it be wonderful to curl up around the fire with some hot cocoa this winter and play a round of
Midnopoly? This game isn't sold everywhere, and it brings you right back to the Yard with locations plucked directly from the Naval Academy itself. You and your favorite kids will even get to experience restrictions and alpha inspections, only if you're lucky your liberty won't end at midnight….
To enhance your game night, this next gift is the best. idea. ever. They made a cozy blanket from a cozy sweatshirt. What took them so long to figure that out—and why didn't they have these when I was growing up? If anyone wants to get me one of these for the holidays, I'm game! You can choose from four different colors (the tie-dye is my favorite). Not only are these USNA sweatshirt blankets comfy, warm and practical, but they also have the Naval Academy logo and Go Navy rallying cry, so there's no doubt about your fandom. Your kids will eat these up (me too). Pick up a few of these affordable cozy-makers today!
Want another good idea to surprise the kids? How about a pretty necklace for the girls in your life? This 18-carat gold plated N* pendant, with a sterling silver chain, is a beautiful bauble to wear with Navy pride. USNA jewelry accentuates any outfit, and will be treasured for years to come.
The young athletes in your life will love being able to play a game or cornhole or ping pong while repping their Navy pride. Winning feels better in blue and gold and these cornhole bags and ping pong balls allow you to do just that.
If you're still looking for something the kids will like, check out the fun and affordable USNA kids clothes and USNA baby clothes, too.
Gifts for Spoiling Your Furbaby

Treat your lovable furbaby this year with a plush and squeaky mini-me! This Bill the Goat Huggle Hound pet toy has extra squeakers and is built tough. He's machine washable (unlike me) and will provide many hours of fun for you and your pet.
After he's tuckered out, your good boy needs a place to rest. This handsome and comfortable pet bed goes great anywhere and "goes Navy" everywhere. It's the perfect perch for your pooch!
Keep your furbaby warm with your family, too. You can cozy them up in a Navy dog coat or hoodie to keep the weather at bay on your walks together.
Gifts for Friends
To celebrate the friends in your life, you could surprise them with something they'd never get for themselves, like these elegant wine glasses, simple and stylish frosty knit Navy scarves or even the beautiful and collectible 2021 White House Christmas ornament, a keepsake to remind them every year of your friendship. You can't buy happiness, but you can buy something that reminds you and your friends of good times together!
Stocking Stuffers for All
Remember to include our unique stocking stuffers, such as key chains, jewelry, decals and more, for just about every sport or activity. Small gestures like decals and key chains go a long way since people see (and use) them every day. Jewelry is always warmly welcomed.
You can also surprise the Marine in your life with this slick Marines hitch cover with a tough logo. These covers help keep hitches from getting rusty (believe me, I know—we use hitches a lot for my trailer), and they also give a bit of polish to the rear of your vehicle. You can get the Marines hitch cover in black or shiny chrome. That is so much better than coal in someone's stocking!
Ready to shop? Navyonline.com has great and unique US Navy gear and gifts for everyone on your list. Too many great options to pick from? Don't worry - we sell e-cards now too, making shopping even easier! Grab a comfy seat and get your hot beverage ready. You can skip the mall lines and the headaches. Enjoy the trip and happy shopping! I'll be over here having my hot chocolate in my "Best Navy Goat" mug. Now if someone could just help me with my rollerball mouse….