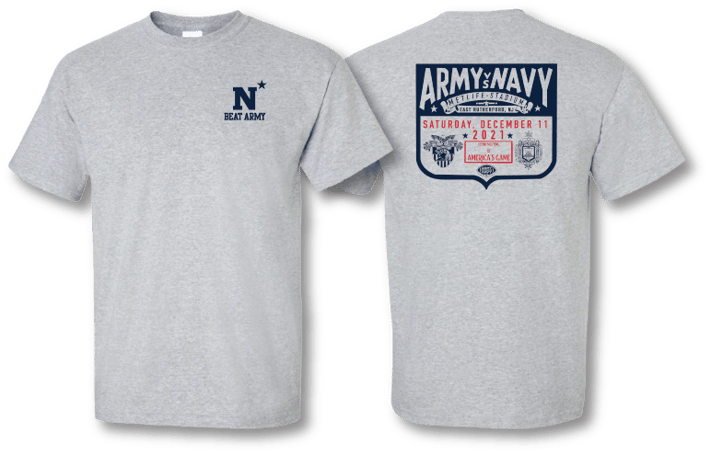 Note: Shirts have sold out for the 2021 Army-Navy game, but you can still get in the spirit and show your Navy support with our Under Armour 2021 Rivalry Series available now!
One of the longest running and most exciting rivalries in college football is the Army-Navy game. Midshipmen and cadets come together to cheer on their respective services in a high-spirited and competitive match-up. As part of this spirited competition, Naval Academy midshipmen submit designs for the official USNA t-shirt for the event, and the winner for this year is displayed above.
(Updated for 2021)
The first game was played in 1890, and as of 2020, Navy maintains an overall lead with 61 wins to Army's 53. Marking the end of the regular football season, the Army-Navy game will be held this year on December 11 at the MetLife Stadium, known for hosting the New York Giants and New York Jets. This stadium is one of the largest in the NFL, able to seat more than 82,000 people.
Midshipmen once again displayed their Navy pride and enthusiasm for this historic game by taking part in the 2021 "Go Navy, Beat Army" T-Shirt Design Contest. Each year, midshipmen may submit a shirt design to be considered for selection as the official USNA t-shirt of the Army-Navy game. Interested midshipmen each create a design they believe best embodies the theme of "Go Navy, Beat Army." This year's winner was MIDN 1/C McKenzie Eshleman, and her design can be seen above (in short sleeve form) and below (in long sleeve form).
We have the winning t-shirts on sale right here at Navyonline.com. The chosen color for the t-shirt is gray, and there are long and short sleeve options.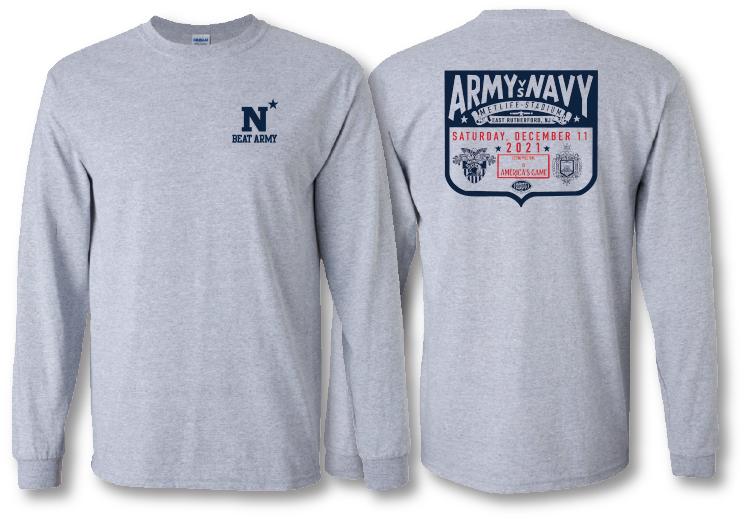 If you haven't already, sign up for NStar Rewards to receive new product highlights and exclusive deals and discounts delivered directly to your inbox. Don't forget, all proceeds from Navyonline.com benefits the Brigade of Midshipmen!