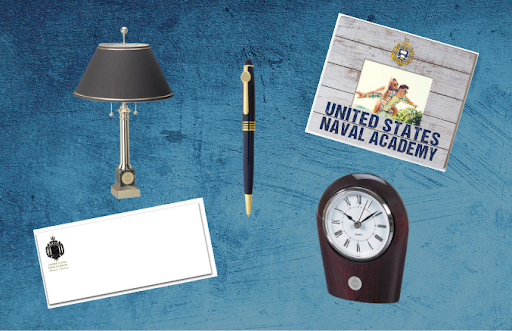 For better or worse, the working world as we know it has changed. In many cases, commutes are now steps instead of miles, cubicles have given way to guest rooms and our office mates are more often the four-legged kind. If you find that you are working from home, Naval Academy fans, this post is for you. But, even if you're back to business as usual, there's no better time to make office updates. These spaces, where we spend so much time, should reflect us, our goals and our Navy pride.
Ready to update? It's time to make your office your own with some head-turning home office Navy merchandise.
Desk Décor
When your surface is clear and organized, your mind is too. Navyonline has some curated pieces to help accentuate your beautiful space. Office accoutrements, though sometimes underrated, can make a big difference in the way you work. Nothing quite beats the feel of supplies and decor items that are well crafted. Here are eight great ways to spruce up your set-up with Navy spirit in the home office.
1. Upgrade Your Writing Utensil
Let this brass lacquer pen inspire you to write more insightfully and prolifically as it glides across the page. Letter writing proves a real joy and signing your name feels like a moment in history.
2. Get Ahead With Letterhead
Navy letterhead, with this impressive insignia, helps carry the weight and highlight your communications. Whether you're crafting a thank-you note by hand or printing out important documents, Navy letterhead is certain to capture the reader's attention.
3. Seal It With a Seal
Pair Navy letterhead with equally impressive blue and gold foil crest envelopes. Send a neat and polished, meaningful impression, every time. Letter writing is not a lost art; the message you are sending is important. Who doesn't love getting a personalized note in their mailbox?
4. Make It a Great Opener
Make opening mail a joy in your home office. Featuring the USNA crest,
this letter opener will provide you with the ease and relief of slicing through an envelope with a smooth letter opener and let you avoid the inevitable papercuts when opening mail by hand.
5. Grab Good Frames for Good Times
Keep your family and friends close by in your office space with this USNA picture frame. The good vibes will shine whether you're having a rough day, celebrating a success, or simply enjoying memories. Display your special moments for all to see and to make your work day a happy one.
6. Throw Some Light on It
This USNA brass table lamp is the perfect fit to better illuminate your workspace. Sized just right for a desk, its elegant black linen shade throws lighting over your work area while providing your space with some great, sophisticated Navy style.
7. Keep Good Time
This beautiful Palm Rosewood clock does double the work—it's art masquerading as a practical tool.
Even in the age of digital timepieces, every office needs a traditional clock to remind us of the passing of time and serve as a helpful timekeeper.
8. Keep Things Under Control
Use a USNA crest paperweight (in gold or silver) to keep everything neatly in its place and showcase your Navy support at the same time. We know that desks get messy quickly despite having gone more "paperless." Don't let your office become the eyesore of the house - corral those stray sheets of paper in style.
Those are just eight small ways to upgrade your space and give your office a USNA promotion. Even a small change can make a big difference in style and outlook. These items are great for your office AND are great gifts for someone else since they're so practical. When you add in Navy spirit, they're irresistible.
Speaking of irresistible, take a peek at these Navy accessories for your four-legged coworker. Maybe a new dress code for your office mate is required!
The best part of amping up your office decor is that the proceeds from every purchase you make on Navyonline.com go back to the Brigade. So you're not only helping your space get beautiful, you're helping the midshipmen. And that's a beautiful thing, too.