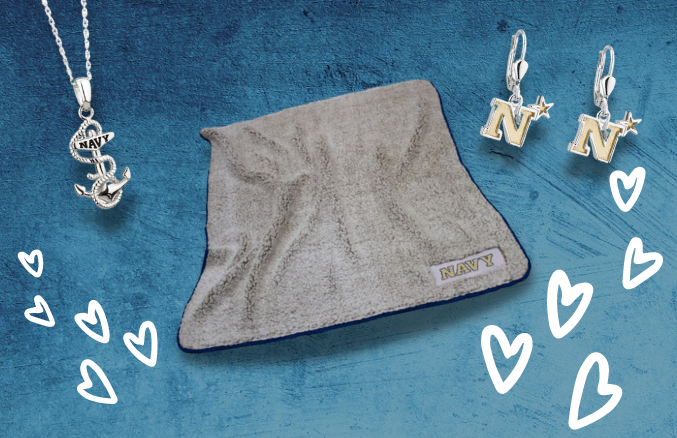 Love is in the air. With Valentine's Day quickly approaching, we put together a love note with some sweet and unexpected gifts for your Navy Valentine.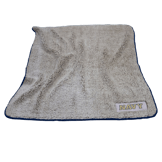 While the love from your special someone may make you feel warm and fuzzy on the inside, it can't change how chilly it is in February! This USNA frosty fleece blanket is the perfect gift for you or your boo to snuggle up with during the cold winter months. It's no surprise that this blanket is so popular - with its Sherpa fleece material it's as cozy as they come. An added bonus, it comes perfectly folded and wrapped with a Navy ribbon and bow making it a perfect gift!
Sweets for the Women
Even in February, there's nothing quite as romantic as a picnic—and a picnic on the Yard is even more romantic. Cuddle in your favorite spot and surprise your Valentine with this pretty bottom line tote bag. Be sure to stock the tote with the essentials—a fresh baguette, some fancy cheese, sweet fruits, a fun beverage, and some rich Valentine candy. This versatile tote sports two types of straps for easy carrying. Once your picnic is complete, your Valentine can use this sturdy and practical bag for endless adventures, such as toting books at a coffee shop, towels at the beach, or a change of clothes for the gym.
You can also surprise her with this beautiful sterling silver Navy Anchor Pendant
that complements any outfit and will add a little sparkle to her smile. You'll also make her feel
special with a one-of-a-kind USNA silk satin scarf, featuring some of the most beautiful doors at the Naval Academy and a 100% silk satin feel. This fun to wear scarf is a luxurious conversation piece and a thoughtful reminder of your love. These and other Navy Valentine gifts for women are sure to win her heart!

Sweets for the Men
Don't forget Navy Valentine gifts for men! Sometimes the
little things mean the most, like this gold plated crest lapel pin. He can wear it with pride whether at a show, a nice dinner, or out on the town with friends. This elegantly understated signature pin is the perfect accent to a striking suit or a cozy sweater. Pair the pin with this 100% silk boating signals necktie, a great maritime piece that finishes off an outfit for nights by the sea. In addition to being a work of art in its own right, it comes in handy when you're out on the water! These are just a couple great ways to spread the Navy Valentine's Day love to your favorite guy.
Sweets for Your Littlest Sweets

Children (and furbabies) also love this holiday. You can savor this precious time with some sweet memories. For your little Navy fan, these N* Drop Earrings with sterling silver and 18K gold plating will be treasured for years. It's the perfect amount of shine, and great to wear for game days, to school, and out to dinner. She would also love this festive Navy polka dot bow to go with her Navy gear and other
outfits. It will put some pep in her step (not that she nee
ds more!). Don't forget to make sure your smallest sailors are treated, too - this Hearts and Anchors Shirt is perfect for adding a little Navy style to a Valentine's Day attire! Have someone who just can't wait to be a midshipman one day? This t-shirt with the Navy crest is perfect for any mid "wannabe."
If you're shopping for the family, it's also hard to resist a gift for your pup. This pet bow tie will spiff him up in a jiffy! Sure to get second looks from your other dog walking friends (and their dogs), it sweetens everyone's day! In fact, whether you're seeking Valentine gifts f
or pets, or for your other babies, these small treats go a long way in making your loved ones feel extra special.
There's nothing quite like a Navy Valentine's Day. Show your sweeties some Navy love with these Valentines to the USNA! You can find them all right here on Navyonline.com. You'll also be showing some love to the midshipmen, since every bit of the proceeds goes back to them. Happy Valentine's Day to all!