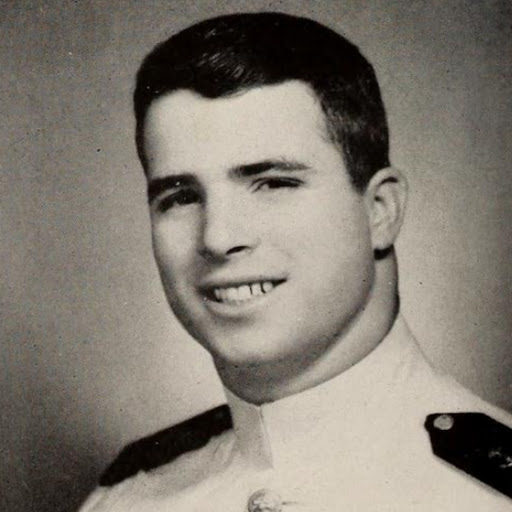 From the time of his birth, on August 29, 1936 at the Coco Solo Naval Air Station in the Panama Canal Zone, John Sidney McCain III began building his foundation in public service. Whether it was his early stint as a midshipman at the Naval Academy from 1954 to 1958, his captivity during the Vietnam War, his public service in the House of Representatives and later the Senate, or his bids for the presidency, he resolutely focused on service to his country. It was McCain's greatest accomplishment. His final resting place is a tribute to his steadfast honor and loyalty. McCain's remains are in the USNA Cemetery next to those of his best friend, Chuck Larson, another notable graduate who the administration building "Larson Hall" was named for.
Naval Service
McCain's heroes, his father and grandfather, were both U.S. Navy four-star admirals, the first father-and-son-full admirals in American naval history. Each had a Navy destroyer named in honor of them. Naturally, McCain strived to follow in their esteemed footsteps of service.
McCain attended the Naval Academy, where he stood out as an excellent boxer, a man that attracted beautiful young ladies, and one of the most popular midshipmen in his class. Although his scholarly accomplishments were not as lauded, he led a naval career that was respected and admired.
After commissioning, McCain served as a ground-attack pilot. He worked on the aircraft carrier the USS Intrepid in the Caribbean during the 1962 Cuban missile crisis, and then on the USS Enterprise in the Mediterranean. In early 1967, he was promoted to lieutenant commander and requested combat duty. It was to become his first big brush with disaster, as he served on the USS Forrestal carrier in the Gulf of Tonkin during the Vietnam War. He flew five missions aboard an A-4E Skyhawk warplane, bombing North Vietnam in Operation Rolling Thunder. On July 29, 1967, he had just strapped into the cockpit of his aircraft when an accident spewed fire everywhere. McCain managed to escape, but he was struck in the chest and legs with burning shrapnel.
Still, he volunteered for more missions, his 23rd proving to be fateful. During a 20-plane attack on a well-defended Hanoi power plant, his right wing was sheared off by a Soviet-made surface-to-air missile. McCain was able to eject, but he struck something that broke both arms and shattered his right knee. He plunged into Lake Truc Bach with 50 pounds of gear and sank fifteen feet to the bottom, but had the wherewithal to pull the Mae West life jacket pins with his teeth, allowing him to rise to the surface. A group of North Vietnamese pulled him out, tore off his uniform, kicked and spat on him, then bayoneted him in the left ankle and groin. A soldier broke his shoulder with a rifle butt. Then he was taken to Hoa Lo, the prison American soldiers dubbed the Hanoi Hilton.
Prisoner of War
As a prisoner of war, McCain endured years of abuse, including two years of solitary confinement, with just watery pumpkin soup and bread to eat. His weight plummeted to 105 pounds. In 1968, McCain's father took the helm as commander of all U.S. forces in the Pacific. Although the North Vietnamese offered to release McCain as a propaganda stunt, he refused and would not leave until every American captured prior to him was released. This would take another five long years (5 ½ total years in captivity).
McCain returned home a war hero, at the age of 36, in 1973. He earned the Silver Star, Legion of Merit, and Purple Heart, among other awards. The New York Times later recounted in his obituary, "To millions of Americans, Mr. McCain was the embodiment of courage: a war hero who came home on crutches, psychologically scarred and broken in body, but not in spirit."
His story of perseverance and hope exemplifies the USNA mission "To develop Midshipmen morally, mentally and physically and to imbue them with the highest ideals of duty, honor and loyalty in order to graduate leaders who are dedicated to a career of naval service and have potential for future development in mind and character to assume the highest responsibilities of command, citizenship and government." This story was the beginning of a life dedicated to serving.
Public Service
McCain began his life's work in the world of politics in 1977, when he served as the Navy's liaison to the U.S. Senate. He retired from the Navy in 1981. The next year, he earned a seat for Arizona in the House of Representatives. He then served two terms as a Representative from 1983-1987, and was elected as a U.S. senator in 1986. McCain had two unsuccessful bids for president, first as a Republican presidential nominee in 2000 against George W. Bush, and second as the Republican party presidential candidate against Barack Obama in 2008.
After these setbacks, McCain continued his run serving as senator for another ten years, thirty-one in total. He became known for his work with the "gang of eight," a group of both Democratic and Republican senators who collaborated to help find a path to citizenship for undocumented immigrants. In 2014, he achieved his dream of becoming the chairman of the powerful Armed Services Committee, a post which he considered second only to the presidency.
A Legacy of Courage
Known as a "maverick" conservative when many congressional Republicans in the 1990s were bound by common causes, McCain often reached across the aisle in the true spirit of bipartisanship. He was well-respected and loved by people on both sides, and the statement he wrote to be read after he died was a hopeful and encouraging way forward for our country. He wrote, "We weaken our greatness when we confuse our patriotism with tribal rivalries that have sown resentment and hatred and violence in all the corners of the globe. We weaken it when we hide behind walls rather than tear them down, when we doubt the power of our ideals, rather than trust them to be the great force for change they have always been.…Do not despair of our present difficulties but believe always in the promise and greatness of America, because nothing is inevitable here. Americans never quit. We never surrender. We never hide from history. We make history."
McCain passed away on August 25, 2018 from a brain tumor at the age of 81. The impression left on his country is undeniable. His valor during all the fights of his life is unforgettable, and his words to the midshipmen at their commencement in 1993 will live on in their hearts: "I have spent time in the company of heroes," he said. "I have watched men suffer the anguish of imprisonment, defy appalling cruelty until further resistance is impossible, break for a moment, then recover inhuman strength to defy their enemies once more. All these things and more I have seen. And so will you. I will go to my grave in gratitude to my Creator for allowing me to stand witness to such courage and honor. And so will you. My time is slipping by. Yours is fast approaching. You will know where your duty lies. You will know."
Bob Woodward of The Washington Post interviewed McCain in October 2017 for the Naval History Conference. McCain was candid as he spoke, "I've made more mistakes than most anybody you will ever know. But one thing has guided me, is what I learned the first day I walked through the main gate at the Naval Academy. And that was to do the right thing, and do it honorably, and you can never go wrong." We salute McCain and all of our USNA distinguished graduates. His are words to live by. And he did.