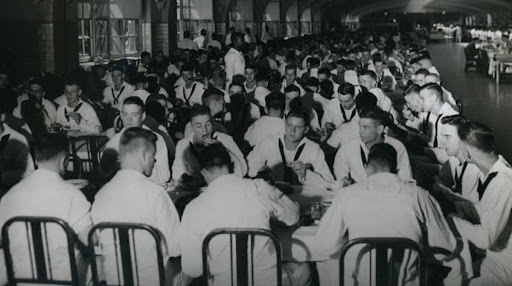 There's nothing that brings people together like breaking bread and sharing a meal. When you're bringing more than 4,000 people together, that's a lot of bread and a lot of meals.In the Naval Academy's King Hall, this feat is performed three times a day. The operations of this dining hall are run like a ship because they're feeding the future Navy, and they're also preparing the Brigade of Midshipmen for the rhythm of mealtimes aboard a ship.
King Hall is such an interesting story that the industry trade publication Foodservice Director recently featured their workings in its pages. Let's go behind the scenes to see how they accomplish this gargantuan task three times a day!
First, you need to know these Naval Academy facts:
King Hall covers 55,000 square feet.
It has 392 tables.
It serves 13,500 meals each day.
On Monday - Friday, there are "mando meals" (mandatory) for breakfast and lunch; dinner is optional (usually 2,000 attend).

Midshipmen have 25 minutes from start to finish for breakfast and lunch; dinner is a 2.5 hour window.
40,000 pieces of silverware, dishes, and glassware are washed by the scullery for each meal.

Midshipmen consume:

An average of 1,000 gallons of milk per day.
Two tons of meat per day.
One ton of green vegetables per day.
Two tons of potatoes per day.
1,200 loaves of bread per day.
720 pies per day.
100 pounds of peanut butter per day.
300 gallons of soft serve ice cream and fruit smoothies per day.
The King Hall USNA Kitchen
Like the big brass bell that rings in the center of the hall (signifying that it's time for everyone to sit down simultaneously), these meals are run with extreme precision. To do this, you need hundreds of people. Many of the people working at King Hall have been there for decades, and they love interacting with the midshipmen. These King Hall workers depend on the right tools to get the job done.That means seventeen conduction/convection ovens are used to cook over 2,000 pounds of shrimp, 3,000 hamburgers or 2,500 pounds of chicken, each in one hour. The galley uses nine steam-jacketed kettles to heat 1,000 gallons of soup or cook two tons of pasta. The doughnut machine can make 10,000 donuts at a time, and their homemade ice cream takes two people two days to make in the ice cream room.
Thirty mobile serving carts keep trays of prepared food above 140 degrees until serving time. These carts are rolled out to 20 tables each, and each table receives three to four pans of hot food to share family style. There are no substitutions or special requests for allergies since ships are not able to provide this differentiation. Midshipmen can get additional vegetables from the server. There are also large salad bars and protein bars stationed in each of the three wings, and large wire bins offer up snacks.
The staff members in the Academy's Midshipmen Food Service Division pay careful attention to every detail and strive for a high-quality experience every time. Not only is the food healthy, fresh, nutritionally sound, and of a great variety, but the presentation is beautiful. Even with this large number of meals, they are not "institutional." King Hall also provides at least two entrees at each sitting. These meals are carefully planned to provide a nutritionally balanced 3,500-4,000 calories per midshipman each day, for a government-authorized individual ration allowance of $12.30 per day. The meat must be U.S. Choice, and the vegetables are Grade A Fancy. All breads and pastries are freshly baked each day.
What's on the USNA King Hall Menu?
Breakfast: This is a hearty meal. Midshipmen have their choice of eggs-to-order, a grain such as pancakes, waffles, or french toast, broiled bacon, broiled hash-brown potatoes, fresh fruit, more than eight varieties of ready-to-eat cereal, and freshly baked donuts, pastries, or bagels. They can also enjoy steaming coffee and hot chocolate, and orange juice and condiments are on the table when they arrive.
Lunch: Generally, the food service team provides different hand-held sandwich-type meals plus a daily vegetable. A fresh dessert is laid out on center tables along with salad bars, protein bars (many times featuring tuna, chicken, and quinoa), and bread bars. Midshipmen have an option for hot soup in the colder months from fall to early spring. Condiments and dressings are placed on each table.
Dinner: This optional meal is done buffet style, with a main entree of chicken, beef, or fish, and a vegetable and potato or rice dish. Since dinner is not mandatory, plebes can also order delivery from a service like Grubhub or DoorDash, and upperclassmen can head to Annapolis or other Yard establishments like Drydock Restaurant or 1845 Coffee (or even grab food from a food truck), liberty permitting.
While it's definitely not your typical college dining hall, you'll find that tastes are still familiar. The most popular menu items are similar to civilian schools. Foods like buffalo chicken sandwiches with cheddar munchers (a potato/fry hybrid), hamburgers, mac and cheese, tacos, burritos, and "Flapsticks" (sausage on a stick dipped in blueberry batter and baked, served with butter and syrup) are perennial favorites. "Cannonballs and hard sauce" is ranked as a top dessert, with an apple turnover flavor and thick cake icing sauce. Not surprisingly, the midshipmen's favorite staple is peanut butter (just like in other college dorms).
King Hall hosts several special events throughout the year that have also become tradition:
Crab Feast at the end of summer, featuring 210 bushels of crab.
Dark Ages Dinner in winter, serving up lobster and beef tenderloin.
Thanksgiving is a traditional holiday meal where families are invited too.
King Hall is a special place. It was named for Fleet Admiral Ernest J. King from the Naval Academy Class of 1901, Chief of Naval Operations during WWII and one of only four men to hold the rank of Fleet Admiral. The space was constructed as part of the original Academy in 1907. It's one of the few places on the Yard where the entire brigade can be seated together. So the next time you sit down to a meal, imagine sharing that with over 4,000 others, in the model of efficiency that is King Hall. Then imagine needing to do the dishes…Check, please!