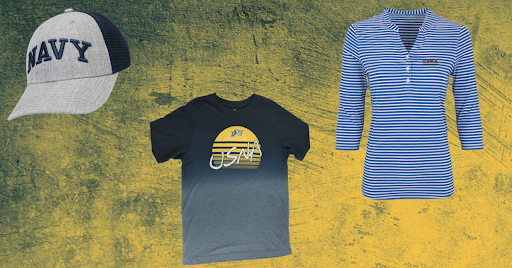 Hello Spring! Now is the perfect time to add new USNA spring clothing pieces to your wardrobe. Feel brand new as you shed those cozy layers for cool comfort. Here are our top picks to help you welcome the season.
Finally, T-Shirt Weather!
Refresh yourself! As you spring clean–out with the old and in with the n
ew–pick up a great new Navy t-shirt! There are so many great Naval Academy shirts to choose from, but we'll highlight some of our favorites. For the men in your life, this cool men's dip tye tee shirt sports a rising sun surf vibe with the charging Bill on top. The fade to light bottom is on-trend, and the material feels cool and comfortable. Pick one up for spring break.
For your female Navy fan, the women's dark confetti v-neck
is a stylish choice. The periwinkle blue and a flattering v neckline will perk up any spring outfit. The lightweight, breathable fabric can be layered with Naval Academy outerwear for chilly nights, and the Navy anchor is a classic logo that's always on trend. For baseball games, a night out on the town, or even a spring cruise on the water, this tee will have her covered.
If you're looking for Easter gifts for the kids or want to freshen up their wardrobe, this youth short sleeve tee offers the bright blue hue of spring. With a bold NAVY logo plastered across it. Both girls and boys will love the spunkiness of this t-shirt and the comfort of 100% cotton. When you've found that your child has outgrown last year's t-shirt collection, this is an easy addition to step into spring.
Golf or Tennis, Anyone?
Liven
up your golf game, jazz up that next walk through the woods, or show off during your next tennis match or dinner out. The Vansport Pro Highline polo is a step above your typical golf shirt, with moisture management and UV and antimicrobial properties for when you feel the heat. The paneled microstrip evokes waves and provides a tailored look. The "Navy" logo displays your Navy pride.
For a day out on the boat or on the court, the Women's Vansport Pro Boca polo is a shapely complement to the men's version. With wicking, UV and antimicrobial capabilities, it stands up to the weather. The Navy blue pairs well with all of your springtime staples and the N* logo is the best accessory of all.
Tap the vacation vibe with this Pro Rivera polo. This shirt, with a classic marine strip and stylish ¾ sleeves, is a real head-turner. The fit is flattering and the USNA / Annapolis stitching makes this item unique and stylish. Whether out on the water or out to dinner, you'll love the moisture wicking qualities and the cool comfort.
Hats Off to Spring!
When the sun starts to strengthen, pull off those beanies and switch to some visors and ball caps to shield the spring sun's glint. Whether you're playing pickleball, walking your dog in the park, or running errands in town, a great hat keeps you neatly put together. Here are some fun Naval Academy hats you can try, like a Navy visor in navy for when you need an easy cap. It's also available in stone gray with navy embroidery. The look is easy-breezy.
Ball caps never go out of style. To make a statement without saying a word, this two toned adjustable cap will get all the looks while shading your eyes from the sun. The heathered gray lends a tweedy feel and the rest is all sport.
Put a little spring in your step with these new items from Navyonline. Enjoy refreshing your wardrobe with a few choice pieces, and welcome spring back to the Yard!
Remember, if you need a great gift for a dog sitter, friend, or teacher this season, a gift card is always a good option. Gift cards give the freedom of choice of our many incredible Navy items in the store. All of the proceeds from every purchase from Navyonline directly supports the Brigade of Midshipmen.