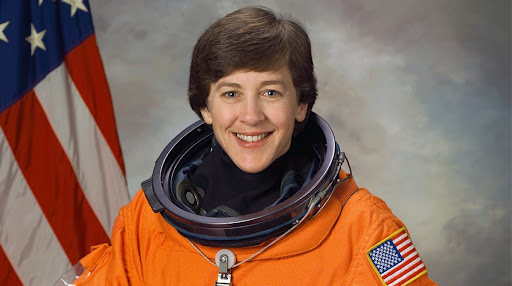 Ever since she watched the first men walk on the moon, USNA hero Wendy B. Lawrence wanted to fly in space. "I was 10 years old when Apollo 11 landed on the moon and that was my aha moment as I like to say," she recalls. "I looked at Neil Armstrong and Buzz Aldrin walking on the moon and thought, 'that's what I want to do when I grow up. I'm gonna be an astronaut, and I am going to fly in space.'"
Taking Flight
Born at the Naval Hospital at Naval Air Station Jacksonville on July 2, 1959, Lawrence is the daughter and granddaughter of two naval aviators. Her father, Vice Admiral William P. Lawrence, was a pilot during the Vietnam War; she was almost eight years old when he was shot down in 1967. Declared missing in action, he suffered at the hands of the North Vietnamese in the infamous Hanoi Hilton military prison.
Not knowing her husband's status for years, Lawrence's mother, preschool teacher Anne Lawrence, sadly and eventually concluded that he was dead, and she remarried. In 1973, Lawrence returned, much to the shock of her entire family. He later remarried as well.
Her father went on to become a finalist for the space program known as Project Mercury, and then served as Superintendent of the Naval Academy, a place that would hold great meaning for the younger Lawrence. In 1977, she graduated from Fort Hunt High School in Alexandria, Virginia and subsequently began her career in the Navy at the Naval Academy. Lawrence joined the second class in the Academy's history that accepted female midshipmen. Her father joined the Academy the next year.
Lawrence proved to be an outstanding student, showing great acumen in science. Athletically gifted, rowing crew for three years and earning a varsity letter, she helped start the women's crew team at USNA. Lawrence's leadership skills shone and she was appointed deputy brigade commander. She graduated 12th in her class in 1981, earning a bachelor of science in ocean engineering. She also claimed one of the five coveted pilot billets that were available to women at the Academy and went on to excel at flight school.
After graduation, Lawrence was deployed to the Indian Ocean with Helicopter Combat Support Squadron 6, one of the first two women helicopter pilots to make the long deployment to the Indian Ocean as part of a carrier battle group. When she returned home, she earned her master's of science in ocean engineering from the joint-program at Woods Hole Oceanographic Institution (WHOI) and MIT in 1988.
Flying High
After earning her master's degree, Captain Lawrence's next active duty assignments once again proved her leadership capabilities. She served as the officer-in-charge of Detachment ALFA and flew a Boeing-Vertol H-46 to provide logistical support for oceanographic surveying. In 1990, she was called to be a physics, leadership, and underwater acoustics instructor, as well as a coach for the novice women's crew team back at the Naval Academy. While there, in March of 1992, she received a call with the opportunity of a lifetime, NASA wanted her for the space program. Without hesitation, she reported to the Johnson Space Center in August of 1992.
Captain Lawrence would be one of the first female USNA grads, first female naval officer, and the first female helicopter pilot to fly in space.
A Dream Attained
At NASA, Captain Lawrence completed a year of training before she qualified for flight assignment as a mission specialist, prior to taking part in four historic shuttle flights. Astronaut Wendy Lawrence's first flight was STS-67, a mission aboard the Endeavour, from March 2-18 in 1995. Next, she served as director of operations at the Yuri Gagarin Cosmonaut Training Center in Russia, coordinating and implementing operations for the joint shuttle space program between Russia and the U.S. known as the Shuttle-Mir program. She later flew on two shuttle flights that docked with the Russian Space Station, one in 1997 and another in 1998, where the crew delivered the Alpha Magnetic Spectrometer, a module used to measure antimatter.
Her final flight was STS-114, aboard the Discovery. This was watched closely around the world since it was the first mission to fly after the tragic Columbia accident. Fortunately, this mission was a success.
After she retired from NASA in June of 2006, Lawrence continued to share her passion for science and technology with others, especially the younger generations. She remains a huge proponent of STEM education and is helping to bring that knowledge to more students as co-chair of a campaign to approve bonds for a new high school in Ferndale, Washington. She has worked at Space Camp in Alabama and the Kennedy Center Visitor Center, igniting the minds of the young with a passion for science and technology.
At the Naval Academy, she continues to be a generous leader, both through her service on the Memorial Oversight Committee and as a trustee on the Athletic and Scholarship Board. In 2013-14, she also served as part of the Distinguished Graduate Award Selection Panel.
Medals and Recognition
For her exceptional leadership and service, Naval Academy astronaut Captain Lawrence has earned a number of top honors, including the Defense Superior Service Medal, Legion of Merit, Defense Meritorious Service Medal, NASA Space Flight Medal, Navy Commendation Medal, Navy Achievement Medal and the Navy Leagues Captain Winifred Collins Award for Inspirational Leadership. In 2019, she was recognized as a USNA Distinguished Graduate, which honors the "embodiment of what we strive to achieve in the U.S. Naval Academy's mission."
From the moment this notable female midshipman saw men walk on the moon, she wanted to fly in space. This USNA astronaut's dream inspired her to fly over 1,500 hours in six different types of helicopters, spend 1,225 hours in space leading the way for others while giving back to her community. Captain Lawrence has soared. Her inspiration is bound to help others achieve their dreams. We recognize her as a notable graduate and thank her for her continued service.
Midshipmen of the past like Captain Lawrence, current, and future deserve support. This is why Navyonline and the Naval Academy Business Services Division give all of their proceeds back to the Brigade of Midshipmen. You can support the Midshipmen by shopping at Navyonline. Real Navy Gear, Real Navy Support.