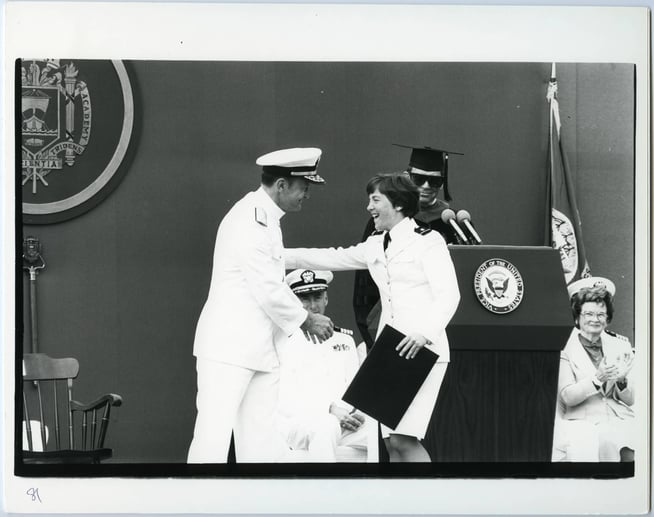 Life at the Yard is challenging by design. It's when midshipmen are pushed beyond their own perceived limits when resilience, confidence, teamwork skills, and leadership are acquired. Thriving in the face of challenge or adversity and achieving great personal or professional success is something numerous Academy graduates have earned. The below list of USNA graduates represents just a fraction of the significant accomplishments Academy graduates have achieved.
It would be hard to argue that there is a greater professional accomplishment than the highest office in the United States. USNA Class of 1947 James Earl "Jimmy" Carter was the 39th President of the United States, serving from 1977 to 1981. During his 7-year Navy career, President Carter held positions as a Radar Officer, Combat Information Center Officer, Training and Education Officer, and attended Submarine School in New London, CT. After his presidency and perhaps even rivaling it as a prestigious honor, Carter was recognized for his "decades of untiring effort to find peaceful solutions of international conflicts," where he advanced democracy and human rights, and promoted economic and social development, and was awarded the Nobel Peace Prize in 2002.
To date, just 566 people from 41 countries have had the privilege to travel into space. More than 50 of these distinguished astronauts graduated from the Naval Academy, many of whom accomplished feats recognized as extraordinary, even within this small family of space explorers. Sunita Williams, a USNA graduate from the Class of 1987, began her Naval career as a basic diving officer, but quickly moved on to aviation, flying H-46 Sea Knight helicopters. Williams was selected for the astronaut program in 1998. In addition to holding the record for the longest space flight and record spacewalk time by a woman, Williams became the second woman to command the International Space Station in 2012.
Perhaps the most famous USNA graduate astronaut was the first American in space, Alan Shepard. Graduating in 1944, Shepard was a Navy test pilot in 1956 when NASA came in search of astronauts for the Mercury manned space program. Becoming one of the famed Mercury Seven, Shepard was the first American in space in 1961 when he piloted the Freedom 7 capsule up beyond Earth's atmosphere. As the Commander of the Apollo 14 mission, Shepard landed on the moon, also becoming the oldest man to walk on the moon and the only member of the Mercury Seven to set foot on its surface.
Albert A. Michelson moved to the United States from Poland when he was just 2 years old. He was honored to receive a special appointment to the Naval Academy in 1869 by President Ulysses S. Grant. Though Michelson graduated in 1873, he returned just 2 years later as an instructor in physics and chemistry. Fascinated with the problem of measuring the speed of light, Michelson conducted speed of light experiments along the north sea wall at the Academy through class demonstrations. In 1907, he was the first American awarded the Nobel Prize in Physics for his "optical precision instruments and the spectroscopic and meteorological investigations carried out with their aid".
Though Montel Williams may be most famous for his 1990s television talk show, this Class of 1980 Academy graduate and former intelligence officer followed his military career with acting and activism. Williams is an outspoken supporter of US veterans and a spokesperson for Partnership for Prescription Assistance, an organization that helps low-income patients obtain free or reduced-price prescription medications.
The honor of the youngest notable Academy graduate on the list goes to Brad Snyder, Captain of the swim team from the Class of 2006. During his time in the Navy as an explosive ordnance disposal officer, Snyder lost his eyesight in 2011 to an IED in Afghanistan. Adjusting to blindness was a challenge, but Snyder still excelled at swimming. He competed in 2 Paralympic Games, where he won 5 gold medals, 2 silver medals, and currently holds the 100-meter freestyle world record for fully blind swimmers.
The USNA Class of 2020 finds themselves in excellent company. The accomplishments of the midshipmen who graduated before them demonstrates a long and noble heritage that should motivate and inspire them to continue to seek out their own personal and professional achievements