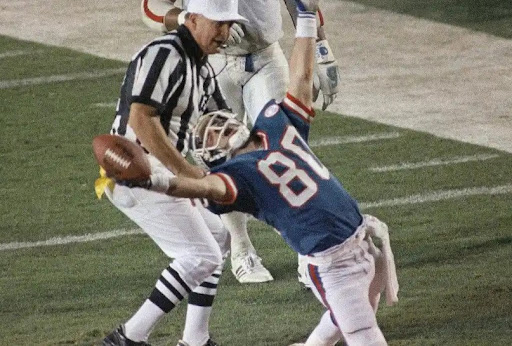 Over the years,Navy Football has been called 'home' by many extremely talented players, some of whom went on to achieve greatness in even larger arenas. Phil McConkey, once called "the skinny kid from Buffalo," was one such graduate—a player who continued to shine as one of the few Navy football players who went on to play in the NFL.
If He Can Run, Bring Him In
McConkey's football career kicked off at Canisius High School in Buffalo, New York, where he starred as a wide receiver and defensive back, graduating in 1975 after helping the team become one of the top football teams in New York State. With his trademark speed, McConkey caught the attention of both the U.S. Naval Academy and the U.S. Military Academy at West Point. At USNA, Coach George Welsh was leading the football team and was relatively new to the program. He hoped to overcome a seven year losing streak and was looking for someone with speed. McConkey was small, weighing in at just 140 pounds. As legend has it, Welsh was undeterred. "I don't care how big he is. If he can run, bring him in," he told the recruiter. McConkey soon received an appointment to the Naval Academy, and he ended up choosing Navy over West Point.
He then proceeded to make a name for himself as a Navy midshipman football player, earning three varsity letters and etching his name in the history books. As a senior in 1978, McConkey served as a co-captain and set a USNA record with six touchdowns. When he graduated, he was the team leader in receiving for 1977 and 1978. He was also the career leader in touchdown receptions (13), punt return yards (734) and kickoff return yards (1,280) for the entire Academy. While a midshipman, McConkey caught 56 passes for a total of 1,028 yards.
His smaller stature fueled his desire to succeed. "I grew up with an enormous chip on my shoulder because, at every level, I was told I was too small to play football. I had something to prove so, on every play, I went full throttle," says McConkey." By the time he graduated, the 5'9" player was up to just 160 pounds. Still he was a dominating figure. That year, Navy boasted a 9-3 record, capping the season with a big upset victory over Brigham Young University in the inaugural Holiday Bowl. It was the first time Navy had played postseason since their Cotton Bowl appearance in 1964, and the few bowl opportunities available made them highly coveted spots.
Known as a playmaker, McConkey was instrumental in that game; he helped Navy fight back from a 13-point BYU lead for a 23-16 win. His touchdown on a 65-yard pass pushed the midshipmen ahead, and he helped deliver two other touchdowns with large gains on reverses. For his play against BYU, McConkey received the game's MVP Award. In 1979, he was awarded the prestigious Silver Helmet Award as "Most Outstanding Player at the Naval Academy." That year he also shared an award with midshipman lacrosse player Jeff Johnson and midshipman basketball player Kevin Sinnett for having done the most for Navy Athletics in 1979.
He Never Forgot About Football
McConkey graduated the Academy in 1979 with a Bachelor's of Management and Technology and was commissioned as an ensign. He went on to flight school, earning his "Wings of Gold" as a Nuclear Weapons Transshipment Pilot. He flew CH-46 Sea Knight helicopters for the Navy, replenishing ships and fulfilling other duties for five years. However he never lost his love for football. When he mentioned this to Navy football Coach Steve Belichick, he was put in touch with Belichick's dad, Bill, the Giants' linebacker coach. He then got himself back in shape for the highest levels of competition.
Making It In the NFL with Giants

At the Giants' mini camp, McConkey dove for every pass possible and got an invitation to their training camp. He had been away from football for five years, was 27 and still weighed just 160 pounds, yet against all odds he made the team. Thus he became the first Navy midshipman to play in the NFL after serving in the Navy since Roger Staubach had committed to the Dallas Cowboys in 1969, also as a 27 year-old rookie.
McConkey's time with the Giants as their receiver was very productive. He was known as a reliable playmaker and a big part of returning kickoffs and punts for the special teams. 1985 was an especially good year for him. He caught 25 passes for 404 yards, returned 53 punts for 442 yards and gained 234 returning kickoffs. In 1987, McConkey helped the Giants defeat the Denver Broncos 39-20 in Super Bowl XXI. His 25 yard punt return positioned them for a successful field goal. On the next drive, McConkey completed a 44 yard reception to set up a touchdown. He then helped finish the game in the fourth quarter when he skillfully caught a six yard touchdown reception after it bounced off Mark Bavaro's fingertips.
McConkey went on to play for the Green Bay Packers, Phoenix Cardinals and the San Diego Chargers for a total career of six NFL seasons, ultimately racking up 67 receptions for 1,113 yards (a 16.6 yard average), two touchdowns, 228 punt returns for 1,832 yards (8.0 average) and 69 kickoff returns for 1,324 yards (19.2 average) across 84 total games. In addition to his on-field performance, he was well-known for his ability to get the crowd excited. He loved to run onto the field, cranking his towel to boost their cheers.
RELATED: USNA Notable Graduate: David Robinson
Scoring in Other Arenas
After he wrapped up his professional football career on the field, McConkey became a broadcaster for the New York Giants, CBS Sports and FOX NY, where he earned two New York Sports Emmys for his work on "Giants Today." In 2013 he was inducted into the Greater Buffalo Sports Hall of Fame. McConkey also spent over two decades in financial services, and now works for Academy Securities, Inc., a Disabled Veteran Business Enterprise, which provides financial solutions for institutional investors and hires and trains military veterans. He serves as president and a partner, and is also involved with a number of veteran-focused charities.
Support the Midshipmen
We are proud of McConkey's accomplishments and his continued service to veterans. Naval Academy graduates continue to amaze us as they give back to the community in many life-changing ways. The Naval Academy Business Services Division supports the Brigade of Midshipmen by donating our proceeds from our 20 business units that allow our midshipmen to be successful, well rounded future leaders. We support a variety of extracurricular activities such as cultural arts, theater, music, club sports, and a variety of other activities. You can help support them. Every time you take a USNA tour, dine at our Yard restaurants or shop at our Midshipmen Store, USNA Gift Shop or Navyonline.com, you're helping fund 140+ extracurricular activities and clubs for the midshipmen. No other place gives back in this important way. We encourage you to visit the Yard. Catch a football game, stroll the walkways and see the midshipmen who make this a place where history is always happening. Even when they leave the Yard, they continue to make history.
CTA: Come Tour the Yard.