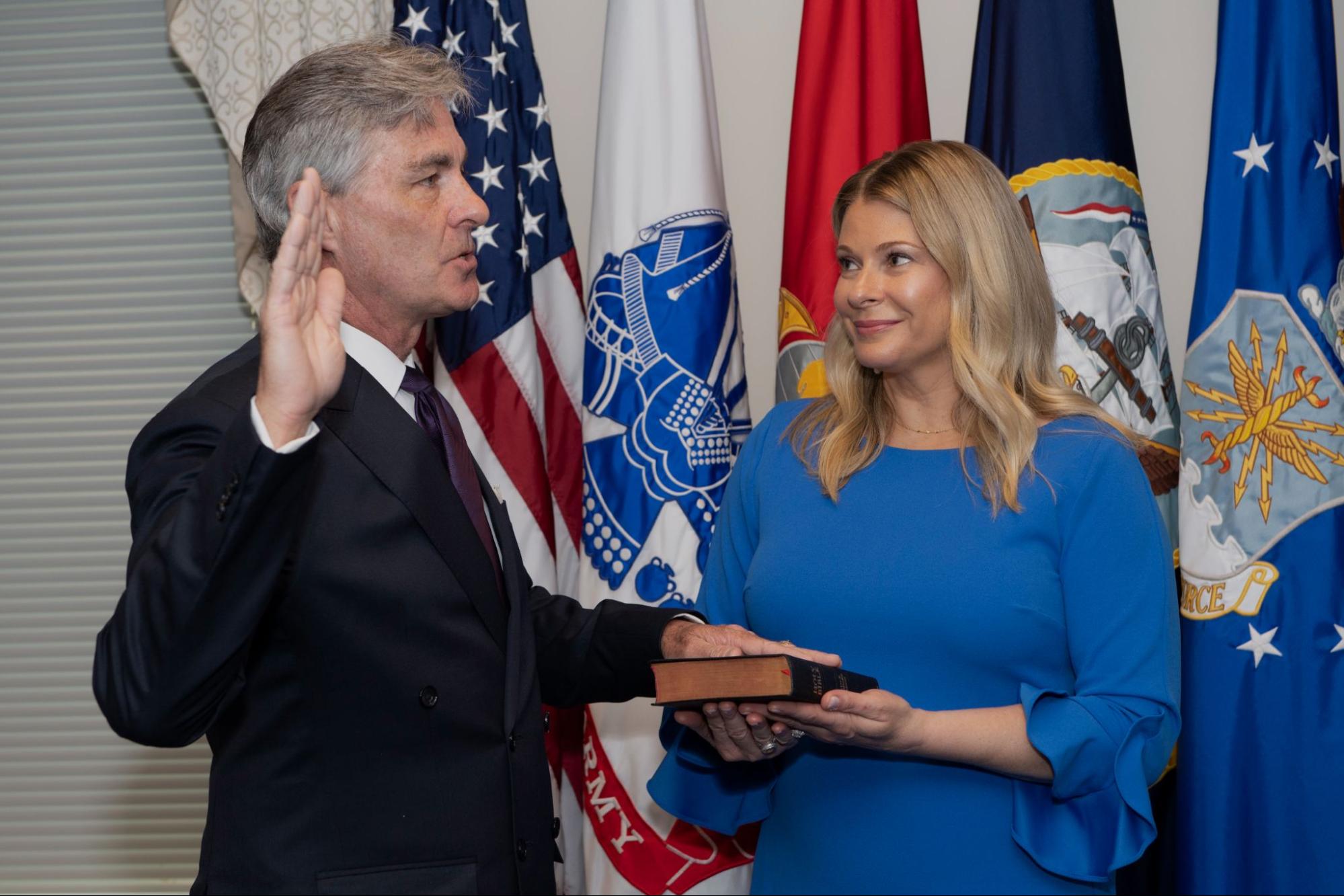 Like many naval officers, the Honorable Kenneth J. Braithwaite has built a career with many twists and turns through the years. Not only has he served as a career U.S. naval officer, but he has worked as a diplomat and businessman as well. Perhaps most notably, former Secretary Braithwaite has distinguished himself as the first U.S. Navy flag officer to serve as Secretary of the Navy. His path also led him to becoming the 31st U.S. ambassador to the Kingdom of Norway, as well as an integral part of shaping several major healthcare and petroleum companies.
From the Skies to the Sea
Braithwaite's military service began at the U.S. Naval Academy. He graduated in 1984, earning a Bachelor's in Naval Engineering and Political Science. After attending flight school, he became a naval aviator in April 1986 and was assigned to Patrol Squadron (VP) 17, NAS Barbers Point, Hawaii. There, Braithwaite flew anti-submarine missions monitoring adversary submarines throughout the Western Pacific and Indian Ocean.
Braithwaite redesignated as a public affairs officer in April 1988 and served on the aircraft carrier USS America (CV-66). Over the years, he also held the roles of Commander, Carrier Group 2 and Commander, Striking Force Sixth Fleet. He was deployed with a North Atlantic Treaty Organization Force (NATO) to the North Atlantic above the Arctic Circle, as well as on a Mediterranean and Indian Ocean cruise, where his battle group helped manage challenges in the Persian Gulf. In 1990, Braithwaite was assigned to the staff of commander, Naval Base Philadelphia as Chief of Public Affairs.
Taking the Lead
Then his career shifted considerably. Braithwaite ended his active duty in 1993 but continued his service in the Navy Reserve. In 1995, he completed his Master's of Government Administration, graduating with honors from the University of Pennsylvania Fels School of Government; he then headed a number of commands from Boston to Norfolk. In October 2001, he became Commanding Officer of Navy Reserve Fleet Combat Camera Atlantic at Naval Air Station Willow Grove, Pennsylvania, with a supportive mission to the Joint Task Force Commander, Guantanamo Bay, Cuba. In March 2003, Braithwaite deployed for Operation Iraqi Freedom to help capture the port of Umm Qasr. After this tour, he was appointed commanding officer of the Navy Office of Information East.
From October 2004 to October 2007, Braithwaite was serving as the first commander of the Joint Public Affairs Support Element – Reserve. In 2005, disaster struck when a terrible earthquake shook Pakistan; he quickly deployed there with the Joint Task Force for disaster assistance, serving as the Director of Strategic Communication and working with both the Joint Task Force commander and the U.S. ambassador in Islamabad to help restore services to those affected by the earthquake.
Related: USNA Notable Graduate: Admiral Mike Gilday
Switching to Civilian
Braithwaite wrapped up his naval career as the Vice Chief of Information, a Navy Reserve liaison, and advisor to the Chief of Information; here he provided strategic communication counsel to the Department of the Navy leaders. Simultaneously, he held the position of head of the Navy Reserve public affairs program as well as an adjunct advisor to commander, Navy Reserve Force.
Braithwaite then continued his career in the civilian sphere, taking on several executive leadership positions within the healthcare and petroleum industries. During this time he was also a senior advisor to U.S. Senator Arlen Specter (R-PA), which is his birth state. Then in 2017, the President asked Braithwaite to become the 31st U.S. Ambassador to the Kingdom of Norway; in this role, he significantly strengthened the U.S. and Norway partnership and shone a light on the Arctic region.
Returning to the Navy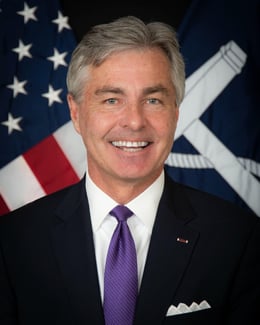 The crowning moment of his naval career came on May 29, 2020, when he was sworn in as the acting secretary of the Navy, the first former U.S. Navy flag officer to serve in this position. Taking the reins a few months after COVID-19 started, he capably led the U.S. Navy and Marine Corps through that tumultuous time maintaining readiness, strengthening global partnership and achieving a forward maritime posture while keeping personnel and their families safe. During his tenure, the first-ever Tri-Service Maritime Strategy "Advantage at Sea" was forged, a successful venture joining the U.S. Navy, Marine Corps and U.S. Coast Guard.
With his considerable Arctic experience, Braithwaite also helped to bolster the Navy Department's efforts in this area and aligned the department's force structure by implementing an Atlantic and First Fleet. Throughout his time as secretary, he refocused the Department of the Navy on their core values of Honor, Courage and Commitment. He helped champion a new National Museum of the United States Navy and also revived historic ship names like the Constellation-class FFG62 frigates, part of the original six who built the U.S. Navy's formidable reputation in 1794 — all to bolster the sense of naval history and its positive vision for the future. He held this role until January 20, 2021.
For his service, Braithwaite has received a number of awards, including the Legion of Merit, Defense Meritorious Service Medal (with oak leaf cluster), Meritorious Service Medal, five Navy Commendation Medals, one with Combat "V", Navy Achievement Medal, Combat Action Ribbon and a variety of campaign and service medals.
Related: USNA Notable Graduate: Ernest J. King
Celebrating Notable Graduates
At USNA, we celebrate the Honorable Braithwaite's career and reflect on the many people who have been touched by his dedication to our nation. We are grateful to him for his long years of service and recognize his vast achievements as a Notable Graduate, both with the Navy and beyond.
You can help support future Notable Graduates with your support of the Academy. The Naval Academy Business Services Division supports the Brigade of Midshipmen by donating our profits from our 20 business units that allow our mids to be successful, well rounded future leaders. We support a variety of extracurricular activities such as cultural arts, theater, music, club sports, and a variety of other club activities. We encourage you to come see the place where history is made every day — and where tomorrow's Notable Graduates walk the pathways of the Yard right now.