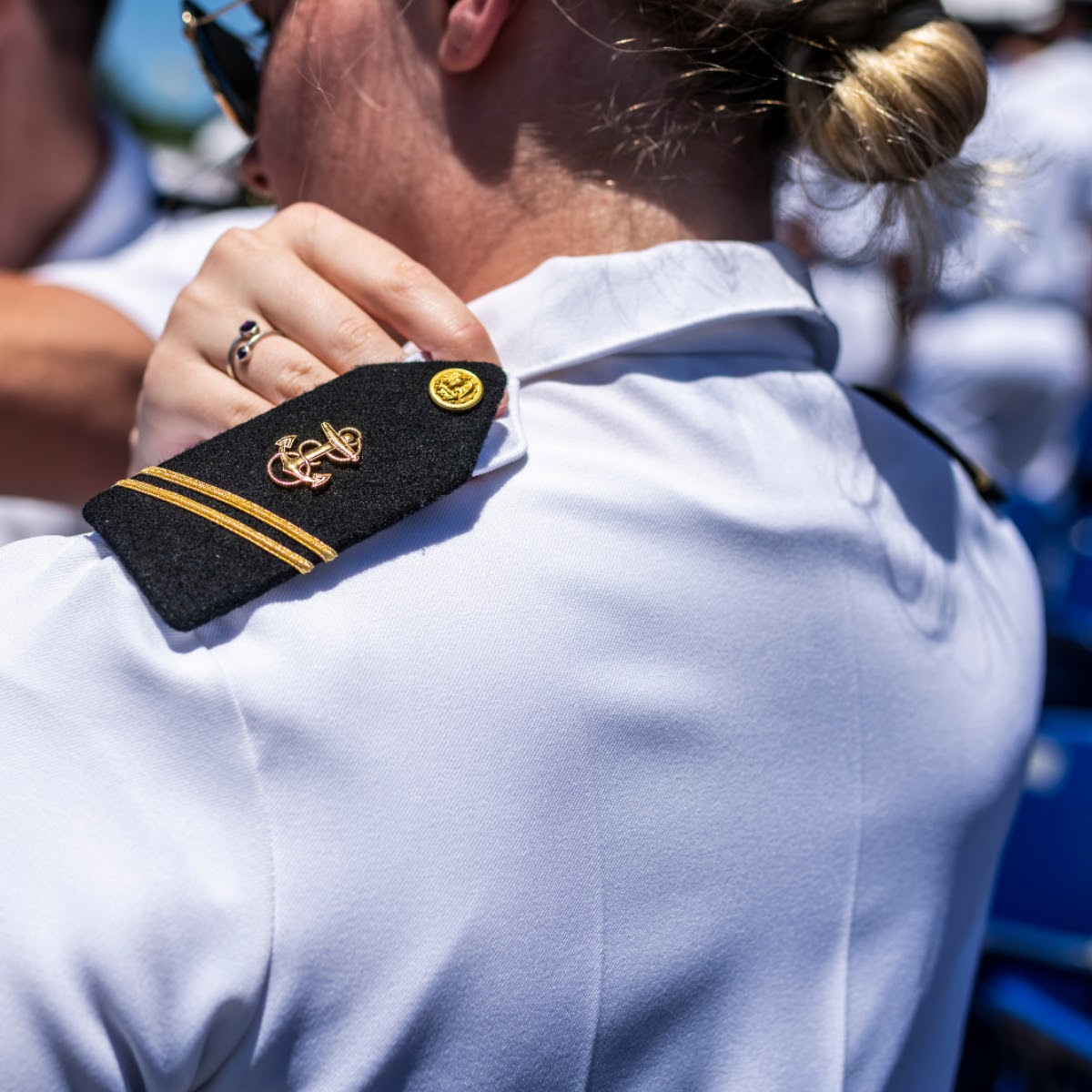 As a newly minted Plebe goat, I'm still learning the ropes (and knots, and rules) of the Brigade of Midshipmen. One of the most fascinating things I've found here has been the ranking structure. With over 4,400 Midshipmen, it's an organizational masterpiece. Just like the Navy, (known as "the fleet") it's made up of smaller units that are part of bigger groups, in order to establish a strict chain-of-command and effectively lead such a large military organization. This strategy also prepares us Midshipmen for later service as officers in the Navy and Marine Corps, where the small unit structure also reigns supreme.
So let's talk USNA rank structure. An important military adage says, "Rank hath its privileges, rank hath its responsibilities, and rank hath its obligations. The responsibilities and obligations always outnumber the privileges." With earned rank comes earned respect. And while higher ranks do enjoy more freedoms, they also shoulder greater responsibility.
We'll start at the top. The Commandant of Midshipmen oversees the entire Brigade of Midshipmen. He or she is an active-duty Navy officer, typically with the rank of Captain - or a Marine Officer with a rank of Colonel. There are six battalions in the Brigade, each comprised of five companies, for a total of 30 companies; they number approximately 150 Midshipmen each from across all classes. The Midshipmen rank is between Chief Warrant Officer and Ensign.

All of us Midshipmen strongly identify with our company. We're a formidable team, doing everything together. We live close to each other in Bancroft Hall - studying, drilling, eating, sleeping, playing, and competing as one unit. Every semester, the 30 companies further cement loyalty as we vie to become "Color Company" by earning the most points for academic, professional, and intramural excellence. The two winning companies each year are celebrated during Commissioning Week and also earn special privileges for the following year. They represent the USNA at prestigious events like presidential inaugurations, so it's no small honor.
All Midshipmen are named and ranked by our year of study. All entering Midshipmen, from our first day at the Academy on I-Day (Induction Day), through the moment we remove the dixie cup from the Herndon Monument Climb during Commissioning Week, are called P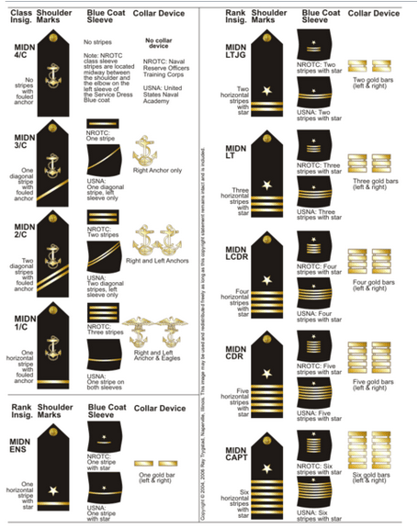 lebes. Once we've earned the right to move to the next year, we're known as Midshipmen, 4th Class (4/C). During our second year at the Academy, we Midshipmen are called Midshipmen, 3rd Class (3/C), or youngsters. We become Midshipmen, 2nd Class (2/C) during our (you guessed it) third year, and finally Midshipmen, 1st Class (1/C), or firsties, for our fourth and final year. It all makes perfect sense.
Classes wear their ranks on their sleeves. Our different classes are distinguished by the number of bands (or lack of bands) and their positions on service dress blue and full dress blue coats' sleeves. The chart here shows these ranks. Different classes also have different shirt collar insignia, as well as different shoulder boards and insignia. All Midshipmen wear gold fouled anchors on our caps and shoulder boards, as well as gold plain anchors on our collars. Midshipmen who are training to join the Marine Corps wear gold eagles, globes, and anchors instead of the fouled anchor insignia.
After graduation, Navy officers are ranked as follows and also have different sleeve rank insignia, shirt collar insignia, and rank shoulder boards. One of the easiest ways to quickly identify rank is by the number of stripes on their shoulder board or sleeve:
Midshipmen Ensign: One stripe
Midshipmen Lieutenant (Junior Grade): Two stripes
Midshipmen Lieutenant: Three stripes
Midshipmen Lieutenant Commander: Four stripes
Midshipmen Commander: Five stripes
Midshipmen Captain: Six stripes
This ranking structure lets us know someone's leadership credentials at a glance. In addition to keeping day-to-day organization among the units and fostering respect among the Midshipmen, rank is of supreme importance in a combat situation, when orders can have life and death implications. So is rank important? You bet it is. We Midshipmen are all working hard to earn our stripes!