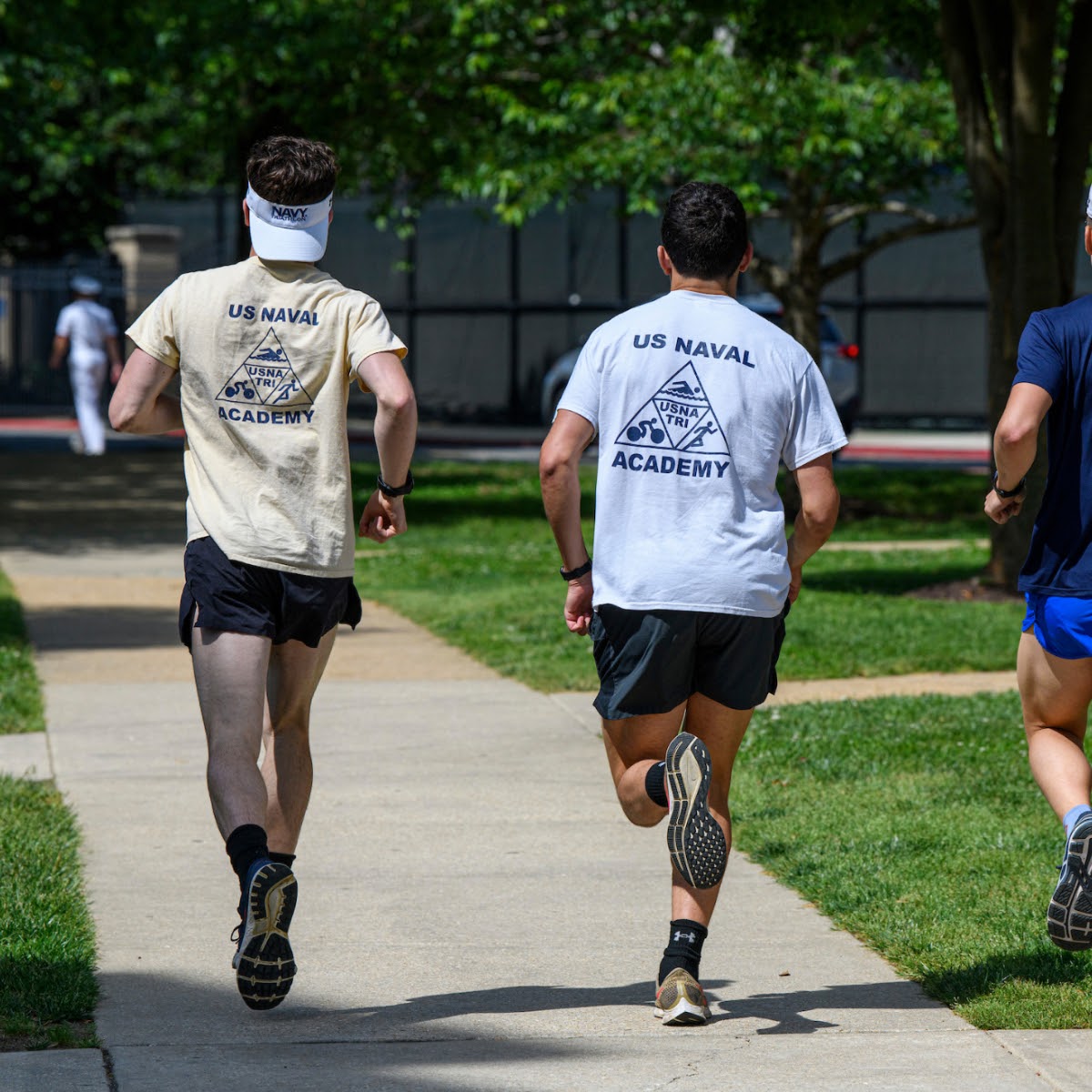 As if the nerves of beginning Plebe Summer weren't tingling enough, today's the day we're hoofing it over to the training course to prove ourselves physically ready to remain at the Academy as Midshipmen. That's right, it's time for the PRT - Physical Readiness Test. My nerves continue tingling as I head to the course, I psyche myself up by reciting the song "Don't Give Up the Ship."
I glance around and am in awe of the group of strong young women and men who are eager to achieve successful results so they can begin their military careers. Each of us has worked hard leading up to this summer to build ourselves up physically and are ready to go for our best at the fitness requirements, as listed below, that we were provided with upon admission.
Fitness Requirements
Men
Maximums: 101 push-ups, front-plank, 8:15 1.5 mile run
Minimums: 45 push-ups, front-plank, 10:30 1.5 mile run
Women
Maximums: 85 push-ups, front-plank, 9:35 1.5 mile run
Minimums: 20 push-ups, front-plank, 12:40 1.5 mile run
We are called first to perform two minutes of timed push-ups. My legs and arms burned in pain; but, just when I thought they might fall off, we had to perform a front-plank exercise. "Don't Give Up the Ship'' coursed through my brain. But, none of us had time to think about getting tired. Our timed 1.5 mile run began right away. Midshipmen also need to swim. That's definitely not my forte, but my fellows in the Brigade handle it easily. We must be able to swim a minimum of 100 yards in any stroke and tread water for 15 minutes. These are tough standards that we need to meet. If we are not able to meet a requirement we must participate in remedial programs, and take it from this goat, no one wants to do that!
Even if we pass we can't rest on our laurels for long. We Midshipmen take our PRTs when we first arrive at the Academy, at the end of Plebe Summer, and during each semester. In fact, we must pass the PRT each semester in order to stay in the U.S. Naval Academy.
I understand that Midshipmen fitness is a critical component of becoming a Naval or Marine Corps Officer. Even before we set foot on the Yard, Midshipmen spend a lot of time getting in excellent physical shape. For many, it's likely the best shape of our lives!
Exercise Routines
I'm glad that we get some notice as to how to train for PRTs. As an incoming Plebe I received cardiovascular endurance, upper body, and core strength exercises to prepare for the test. This is just some of what's required to get ready for Plebe Summer:
Five days a week, complete 90 minutes of strenuous physical calisthenics to increase cardio-respiratory fitness, muscular strength, endurance, flexibility, and confidence (including exercises like push-ups, toe raises, planks, swimming, and biking). Makes my head spin!
Run up to 4.5 miles at a pace of seven to eight minutes per mile, with interval and sprint training (including backward sprints). Thank goodness I have four legs!
Complete obstacle and endurance courses that test balancing, leaping, climbing, and team building. I like the climbing part!
Perform hand-to-hand training using martial arts, boxing, and wrestling.
Train with the climbing wall to achieve upper body muscular strength and endurance, develop team building abilities, and acclimate to heights.
Use active rest to keep moving, including hiking, slow laps at the pool, or going on a bike ride.
The Academy recommends that entering Plebes start training as soon as possible to avoid sustaining some of the more common injuries due to a lack of preparation, like painful shin splints and minor foot, leg, and back injuries. These are all highly preventable and just make the program more grueling than necessary. Now, like any goat, I like being outside and being active, but this is hard work!
I had to shake my head and bleat at the note at the end of the exercise list, "Good luck with the training, have fun with it, and challenge yourself to get better every day." This commitment to excellence, and the Academy's ongoing support of the Brigade, are just a couple of the reasons why this institution is so extraordinary. I'm proud to stand with these Midshipmen, I definitely won't give up the ship.
Bill
PS: Have any good tips for getting in this kind of shape?