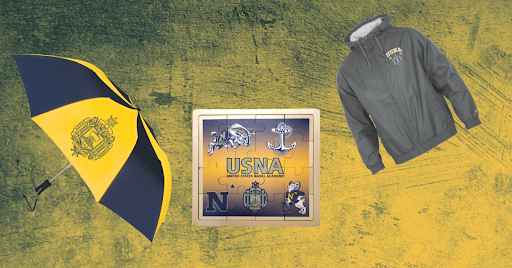 Spring showers are here! Visit Navyonline for all of your rainy day Naval Academy merch needs, from less-than-fair weather gear, to rainy day fun, to umbrellas for wet weather games. There really is no bad weather when you have the right Naval Academy gear.
Jackets That'll Make You Sing in the Rain!
The unpredictable and temperamental spring weather can bring warm rain on some days and pelt you with freezing sleet on others. For protection against the worst,
this heavyweight gray or Navy blue champion victory jacket is up to the task. Lined with soft fleece and finished with a water-resistant shell, it has tough construction to keep you dry. The waistband and cuff seal out the cold and rain, and an adjustable drawcord keeps you cozy. Don one for a rainy lacrosse game, a walk through the wet woods or those spring yard chores that keep cropping up. The USNA Crest and the year of our founding add the perfect touch to this spirited Naval Academy apparel.
Just for ladies, the women's Navy blue Newport jacket was built for rainy days. Lightweight and packable, it's a smart stowaway in your car for when the heavens open up (and your weather app didn't warn you). It's made to withstand the wet with a waterproof body fabric and breathable TPU membrane. The comfortable mesh lining, three-piece hood, and plenty of additional features from the inner storm flap to the cuffs will keep you dry. Wear it to the soccer game, a stroll around the park, or when the clouds look foreboding. When the sun comes out and you don't need coverage, fold it right into its own pocket. Easy peasy.
For another weather-resistant piece, try this sturdy New Englander rain jacket. It keeps o
ut the cold and wet with a windproof, waterproof shell and heat sealed seams with a full-length wind flap. Take it out on the water or wear it around town. Featuring gray mesh and underarm vents for good ventilation, it's perfect for the warmer wetter spring days. There are 3M reflective strips in the front and back for visibility on a dark night. It's available in an assortment of spring colors to cheer up a gray day. It also comes in men's and youth's versions, so you can splish and splash to your heart's content! Rainy days are much more fun with gear like this.
Puzzles to Try While You Stay Dry
Some rainy days make the best excuse to stay inside and have some cozy fun. When there's thunder and lightning, or it's dark and dreary and you have nowhere to be, pa
ss the time with the ones you love or give yourself that much needed alone time by building one of our Navyonline puzzles. The youngest puzzlers in your group will appreciate the beautifully made, sixteen piece wooden jigsaw Naval Academy puzzle that features USNA's most treasured symbols, including Bill the Goat, the USNA crest, the Navy anchor and the N*. An heirloom in the making, they'll enjoy putting it together and taking it apart many times.
For those with more practice, this 150-piece puzzle showcases the Academy and provides a bigger challenge. It features one of the largest college dormitories on Earth, Bancroft Hall, known affectionately as "Mother B." Suitable for those nine and up, it will keep you busy while the raindrops fall—and give you a new appreciation for the detailed Beaux-Arts architecture and sheer enormity of the building.
If you're feeling especially ambitious, try your hand at this 500 piecer, a gorgeous homage to the Navy, featuring sea vessels as the dynamic backdrop to the USNA Chapel. This U.S. Navy puzzle has a veritable "Navy through the years" history, and you'll have fun identifying the numerous ships, airplanes and aircraft carriers that fill the puzzle. Rainy day, schmainy day.
Umbrellas That Have You Covered
Even on a wet and dreary day, you can still be stylish in the elements. These umbrellas all say "Navy" while standing up to the wind and rain. The Bill the Goat Photobrella is awesome. With Bill charging across the entire 62" span, it's an impressively spirited nod to USNA. It's constructed well, with a windproof build and classic spiral handle for a solid grip, making it a great gift for your Bill fan.
If you're looking for a more portable umbrella, the sport umbrella is your go-to. It has 48" of coverage and an automatic open. It folds neatly into your bag. The gold and navy with USNA crest keep your Navy spirit displayed despite the weather. Take it to outdoor games, walks or on errands around town. Easy to carry but built tough, this umbrella is a spring workhorse.
A great pick for games, the square umbrella is suitably big and made to withstand the weather with special vents. It has a 62" span and opens with the push of a button. There's plenty of room to share when the downpour starts. A rubberized sure grip handle keeps your grip on, and you'll love the square shape with more room to move. On top of that, the N* lets 'em know who you're rooting for!
There's really no bad weather when you're prepared for the rain. Whether you want to go splash in the puddles or enjoy the coziness inside, make the most of spring and show your Navy pride. We have gear and games for all sorts of days. Remember that every purchase you make with us supports the Brigade of Midshipmen, so you're giving back when you're staying dry. Visit Navyonline today!