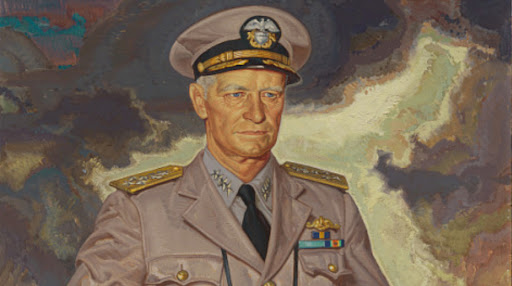 His name is familiar but his extraordinary story might not be. Chester W. Nimitz, who commanded more men and women than any U.S. military officer in World War II, came from humble beginnings and was, by all accounts, a humble man.
Born on February 24, 1885 to his recently widowed mother, Anna, Chester's early years were heavily influenced by his maternal grandfather, retired sea captain Charles Nimitz. The family lived in Fredericksburg, Texas, a small town with strong German roots, in the iconic steamship-shaped Nimitz Hotel on Main Street that his grandfather built and ran. Chester became chief handyman when he was young. At the time, the hotel charged 50 cents per night.
Setting His Sights on the Naval Academy
Nimitz met two officers from West Point when he was a teenager and was determined to go there. There were no appointments available, but he jumped at the chance when Annapolis offered him a spot, even though he was only 16. Nimitz left for the Naval Academy before he had even earned his high school diploma at Tivy High School in Kerrville.
He excelled at USNA and was adept at mathematics. He was also very athletic and stroked with the crew team his first year. Known for his optimism and good nature, the Lucky Bag wrote that he was a man "of cheerful yesterdays and confident tomorrows." Nimitz graduated with distinction as seventh in a class of 114 on January 30, 1905; he was commissioned on the USS Ohio in San Francisco, where he toured in the Far East for two years. His first assignment as an ensign was for the gunboat USS Panay.
Getting the Attention of His Superiors
Not long after, Nimitz got off to an inauspicious start when the USS Decatur, a destroyer he was commanding, ran aground. He was found guilty of "hazarding" a Navy ship at the court martial, but the admiral that signed his first report recognized more in Nimitz; he wrote, "This is a good officer and will take more care in the future." The officer turned out to be right. Nimitz returned to the U.S. in 1907 and successfully took command of several submarines, starting with the USS Plunger and then the USS Snapper, USS Narwhal and USS Skipjack, one of the Navy's first submarines.
He started collecting medals for his service, with the Silver Life Saving Medal being most prominent. While commanding the Skipjack as lieutenant on March 20, 1912, he jumped into the frigid waters to save fellow sailor W.J. Walsh, who was not a swimmer and was being pulled from the ship by a strong tide. Nimitz helped keep him afloat until a small boat could take them. He was characteristically modest about the rescue. To his future wife, Catherine Vance Freeman, he wrote, "I had to go swimming yesterday, and it was awfully, awfully cold."
Building a Naval Career
In 1913, Nimitz came ashore to help build diesel engines for the tanker USS Maumee in Groton, Connecticut. He was also married that year, and was sent to study diesel engines in Germany and Belgium. He and Catherine moved to Europe, and gradually added four children to their family. During World War I, he served as chief of staff to the commander of the U.S. Atlantic submarine force, a tour of duty that opened his eyes to the effectiveness of submarine warfare (and he later became a leading Navy expert on the topic).
First there was a flurry of assignments. Nimitz's first sea duty in big ships was as an executive officer in 1919, aboard the battleship USS South Carolina. In 1920, he reported to Pearl Harbor to help build the submarine base there. He was next assigned to study at the Naval War College in Rhode Island, which prepared him well for the imminent Pacific War. When he graduated, Nimitz served as chief of staff to Commander Battle Forces and then-Commander in Chief, Battle Fleet, Admiral S.S. Robinson.
By the late 1920s, Nimitz was in California, where he established the NROTC unit at the University of California at Berkeley. He went on to serve as a captain in 1929, as commander of submarine division 20. Later, he served as commander battle division one as rear admiral from 1938-1939.
Taking the Helm in World War II
When the Imperial Japanese Navy attacked Pearl Harbor on December 7, 1941, Nimitz was Chief of the Bureau of Navigation. President Franklin D. Roosevelt picked him above 27 other flag officers senior to him to take command of the Pacific Fleet, which encompassed land and sea forces. He made this incredible commitment on the submarine USS Grayling and was promoted to admiral that same day.
Nimitz was excellent at motivating the fleet, which was reeling from the brutal surprise of the Japanese attack. Then, and throughout the war, he proved to be a consummate leader, boosting morale and devising smart strategies that won battles. In June of 1942, he announced what is widely considered to be the turning point of World War II, the victory at the Battle of Midway and the Coral Sea. Enemy losses were ten times more than what the U.S. had lost at Pearl Harbor.
Later, Nimitz led the U.S. to victory in the battles of the Solomon Islands (1942-43), the Gilbert Islands (1943), the Marshalls, Marianas, Palaus and Philippines (1944), as well as Iwo Jima and Okinawa (1945). Admired and loved by those he led, he was promoted to the new five-star rank of fleet admiral on December 19, 1944. At the height of his career, he commanded over two million U.S. men and women, 5,000 ships and 20,000 planes in the Pacific.
He was also integral to the war's completion. After the two atomic attacks that essentially ended the war, Fleet Admiral Nimitz signed the Japanese Instrument of Surrender for the U.S. on September 2, 1945 aboard the battleship USS Missouri in Tokyo Bay. He became the chief of naval operations for two years, and began the enormous task of demobilizing a big portion of the most powerful Navy in history.
Leading After the War
Returning home a true war hero, Nimitz was honored with parades (and his long-awaited high school diploma) when he returned to Fredericksburg. He held several more important positions, among them roving goodwill ambassador of the United Nations. He also became deeply involved in the San Francisco community, serving as an honorary president of the Naval Historical Foundation and a regent of the University of California. Perhaps most touchingly, this war-tested fleet admiral also worked to restore goodwill with Japan by raising funds to rebuild the battleship Mikasa, Admiral Togo's flagship at Tsushima in 1905.
Receiving His Due
For his service, Nimitz was awarded the Distinguished Service Medal with two gold stars, the National Defense Service Medal, the Army Distinguished Service Medal, the Victory Medal with Escort Clasp, the American Defense Service Medal, the Asiatic-Pacific Campaign Medal and the World War II Victory Medal. He also received the respect and admiration of the country he defended.
Nimitz died on February 20, 1966 at his home on Yerba Buena Island, California. Although he was eligible to be buried at Arlington National Cemetery, he chose instead to be interred at Golden Gate National Cemetery next to his wife, Admiral Raymond Spruance and Admiral Charles Lockwood. Humble to the end, when his hometown asked to honor him with a museum, he demurred, opting instead for a museum that honored everyone who served with him in World War II. This is now the National Museum of the Pacific War.
This notable graduate was the commander of the Pacific fleet during WWII. His name lives on at the Naval Academy in the impressive Nimitz Library, as well as an entire class of aircraft carriers. Most importantly, it lives on in the hearts of the people he served. We are forever grateful for his and our other notable graduates' contributions to the Naval Academy family and our entire country.
By supporting Navyonline and the Naval Academy Business Services Division, you're supporting the notable graduates of yesterday and the future heroes of tomorrow. Learn how you can support our midshipmen too!