Ahhh, summertime. When most of us set our out-of-office notices and head on long-awaited vacations, whether they're sunny, sandy spots, a quiet lake in the woods, a trek through ancient cities, or some good old fashioned kicking back at home, it's finally time to relax and recharge, and Navyonline will help you do just that. Take USNA with you on vacation with these useful, clever items. Don't leave home without them—unless you're not leaving home in the first place. So if you've been asking yourself "where to shop for summer"—look no further, Navyonline has you covered. Here's to summer vacation the way you want it! Shop for summer and show your support.
Great on the Go
No matter where you're traveling, a good to-go cup is always in order. This 22 ounce stainless steel USMC tumbler is built for travel. Take it on planes, trains, automobiles, backpacks, bikes, etcetera. With a special locked tight lid and tough construction, it's ready for your next beverage of choice. It keeps cold things cold and hot things hot—and you hydrated at all times. The Naval Academy crest makes it one more way to show your Navy loyalty wherever you roam.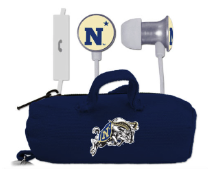 You can also say "Go Navy" when you slide in these Scorch earbuds and mic with budbag, featuring a rich sound with deep base, no tangle cords, a metal shell with BudBag, and an inline microphone for easy switching between music and calls. The case with the charging Bill is fun, and the N* on the earbuds is next level fandom. You don't have to be on vacation to use these, but when you put them in, you're already on vacation.
Corral Your Cash and Cards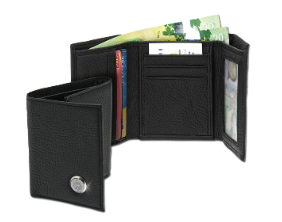 Speaking of taking a vacation, wallets are essential (and they make great gifts!). Odds are you have a wallet but it's in a bit of disrepair. Or it's bulging and awkward. You can make a swap with this handsome Men's USNA crest leather wallet, constructed with genuine top grain leather in a matte pebbled finish. The trifold design is compact and accommodates seven credit card pockets with room for an ID and a full length bill compartment. The silver medallion with crest gives you more cache for your cash.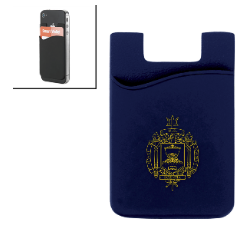 If you're looking for a wallet of convenience, there's nothing much easier than keeping your ID and a key credit or bank card right on your phone, so they go wherever you do. For those lazy days when you don't want to lug your wallet to the beach, you can use this blue USNA media wallet to keep some cash for the ice cream seller or your ID for the liquor store. Made with silicon for strength and durability, it's affixed easily to your phone with an adhesive background. Stick it on and you're all set. With wallets like these, you can relax and enjoy the vacay.
Take Your Time

To truly enjoy your vacation, you can skip an alarm in the A.M. However, that's not always possible. So sure, you can use your phone as your alarm clock—but isn't it nice to disconnect sometimes? This USNA crest travel alarm clock lets you travel back in time to a gentler era when you didn't need to be so connected. Compact at a two inch diameter and one inch thickness with a satisfying heft, it's the traveler's tool that keeps you on time without tying you to your phone. The polished silver clock with fold-over medallion cover and crest also makes an impressive gift. Who doesn't want the gift of time?
Go Your Own Way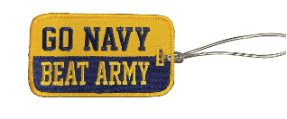 If your trip calls for a little baggage, make it easy to find the next time you're waiting at the baggage claim carousel. It seems like everyone has a dark bag that looks just like yours, but with special luggage tags, you can immediately identify yours—and keep it from accidentally landing in someone else's hands. This Go Navy luggage tag is especially noticeable with the Navy blue and gold "Go Navy Beat Army" embroidery. It has space for an information pouch with your name and contact information. Measuring about 4 ½ " X 2 ½," it's substantial but not in the way.
You can also opt for this polished USNA crest silver tone bag tag,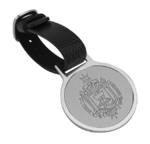 which measures 1 ½" in diameter. Constructed beautifully with a silver tone and black leather strap, it elevates the look of your luggage, and performs the task of keeping your bag yours.
Wear Them Out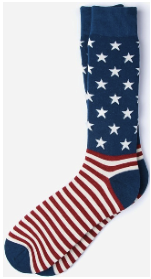 Leave some extra room in that luggage! It's always fun to pick up something new before vacation. These Let feet-dom ring men's socks are just the thing. Wear them all summer long to show off your pride. These mid-calf 78% Cotton/20% Nylon/2% Spandex cotton blend hit at mid-calf. The stars and stripes are always in style.They're great for pairing with sneakers for the 4th or any day, and they're a fun conversation starter. Wear them without shoes for maximum compliments.
Socks are fun, but nothing quite says "I'm on vacation" like a laid-back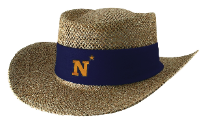 straw hat. This 88 straw hat with ribbon band hits all the right notes. Made with a natural twisted straw and banded with blue and the N*, it does Navy spirit all day long. There's a special sunblock lining in the crown and under the brim with a flexible fit elastic LogoFit interior band. The brim will give you plenty of shade too. Great for napping on the beach, fishing on the boat, hiking through the sights or just relaxing in the backyard. This hat has it all.
Take these along with you on your next break. While you're on vacation using your USNA gear, you can also feel good since you're supporting the midshipmen—everything you spend on Navyonline goes directly to the Brigade of Midshipmen. Your hat, wallet and tumbler may show your "Go Navy" support in one way, and they're actively giving back in another. As you shop for vacation, pick up some Brigade-building vacation items—and you'll enjoy your time off even more!