Can't Wait to See You in September!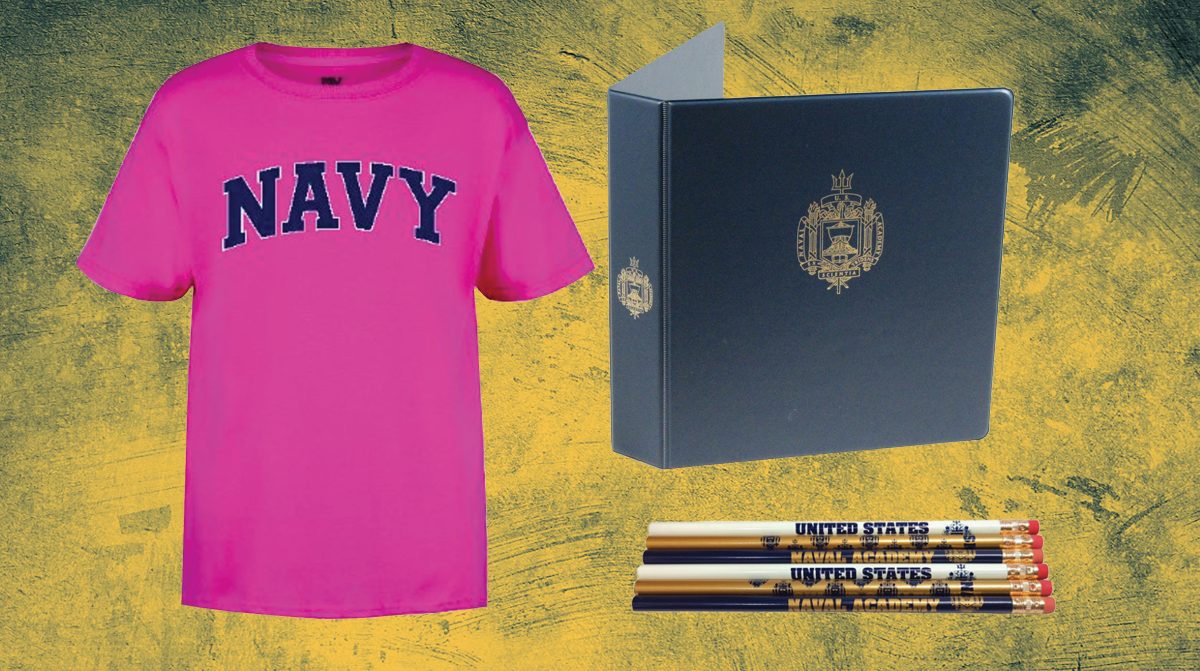 With most schools returning to in-person instruction this fall, the teacher's refrain of "See you in September" has never sounded so sweet. We're all glad to enjoy a more in-person summer, but that first day of "normal" school is highly anticipated by teachers, parents and students alike this year!
Whether you are sending them to the bus stops or to the crosswalks, commemorate this year's back-to-school tradition with something special for your children. While back-to-school rituals used to mean a little bit of nervous excitement and no shortage of eye-rolling by summer-happy kids, it will be a time of celebration this year. We can fully appreciate the importance of being with teachers and classmates.
Gear up for a Great School Year
REAL Navy gear from Navyonline makes the start of this school year extra enticing, with USNA school supplies emblazoned in the heart-rousing Navy blue and gold. Since every good school year starts with freshly sharpened pencils for a freshly sharpened mind, you can send your student to school with a USNA Classic 6-pack with two white, two navy and two gold pencils, all sporting the Navy crest. If you're feeling more fun-spirited, you can add a six-pack of USNA Spirit goat-inspired pencils, too. They feature a great logo of yours truly on a white background, a "Go Navy Beat Army" yellow pencil and a blue one that's just made for the Blue Angels. These pencils make any project, puzzle or problem a bit more fun for your student. I would like to get my hooves on them too!
If your student has papers to corral, they can use this impressive USNA Crest 3-Ring Binder to get organized. It's made with a 1.5" ring to handle their coursework, and its Navy crest carries the reminder of the USNA history of excellence and hard work.
For gym clothes and after-school activity supplies, your child will love this handso
me Under Armour® navy sack pack. It's light, but does the heavy lifting of juggling gym clothes, a water bottle, sports equipment and more. It also includes extra pockets for safe storage. With the iconic N Star logo embroidered in gold, they'll put their Navy pride front and center.
Back-to-School Buys: USNA Kids Clothes Kick Off the Year
One of the best things about suiting up for a new school year is picking up some new clothes. It's likely that your child will have grown over the summer a
nd worn out some of their clothes. Plus, it's always exciting to have something new to wear for the first day! For a great USNA boy clothes option, this Under Armour® short sleeve tee shirt is one of my favorites (you can guess why). Not only is it light and comfortable, but it's the kind of shirt that goes with anything. Pair it with some youth athletic shorts with antimicrobial fabric for a full set. It just looks Navy tough.
For some pretty-in-pink action, your daughter can wear this simple and
stylish Navy tee shirt. Made with a stunning fuschia and Navy combination, it's a great way to usher in the end of summer and the start of a fresh new year. She can find the perfect complement in these girls relay shorts too.
As the days get cooler, a heather gray youth "issue" hooded sweatshirt will keep your student warm for soccer practice, family football games or heading out with their friends. These well-made hoodies are just like the real deal that midshipmen sport, just fashioned for the younger set.
Show Your USNA School Spirit
You don't have to go to the Naval Academy to be a part of it. We are a big family of those who love and support our country, as well as the women and men we train to defend it. Your child can share that school spirit with some small items that make a big statement.
For example, anyone who needs to get a good grip on their phone (and make it easy to stand it up for video calls) can use this charging goat spin pop that does double duty. It makes the phone more useful and it showcases everyone's favorite goat. I can tell you it works well. Believe me—I know a thing or two about mountain goat grips!
While we're talking tech, you can upgrade your student to a lightning USB cable for super-fast charging. This one has a Navy logo and a clip featuring a good looking goat. Where else can you find that?
If you do have a midshipman here, start the year off with a sign—a U.S. Navy Mom sign that is! We also have one for the Dads that's equally good-looking.
Are you stoked for September? You can double your back-to-school fun when you make a purchase-remember-100% of the proceeds from your purchases from Navyonline.com benefit our Brigade. Here's to a happy, healthy start to a new year for everyone. Head back to school with Go Navy pride!