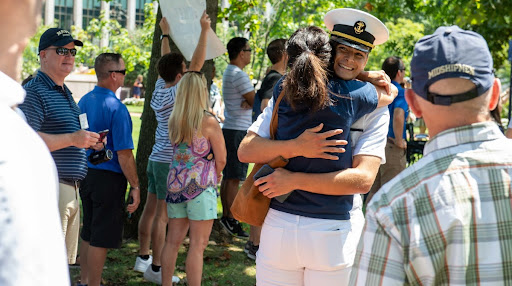 The day is finally here! On August 12th, we kick off the Class of 2025 Plebe Parents' Weekend and begin a whirlwind of exciting events. For plebe parents who have been anxiously awaiting this reunion, you'll get to hear all about the rigorous training that your plebe completed and the lifelong friendships they're just beginning. You'll get to see the Yard through the eyes of its newest midshipmen—and it's truly an amazing view.
There are so many fun and interesting things you and your plebe can do at the Naval Academy this weekend. Here are some of the most popular highlights!
For the Early Birds: Thursday, August 12, 2021
If you arrive before your plebe has liberty on Friday, be sure to begin your visit with this schedule of events that offers a host of activities for parents. You'll have a chance to pick the brains of various representatives from Naval Academy Business Services Division (NABSD), multiple Academic departments, Midshipmen Food Services Division (MFSD), the Alumni Association and Foundation and many more groups at Dahlgren Hall exhibits on Thursday, from 12:15pm to 6:00pm, and Friday, from 7:00am to 10:00am. On Friday from 10:15am to 11:30am in Alumni Hall, enjoy watching a Plebe Summer highlight video and attending the Welcome Aboard Parents' Forum. You'll find the briefing on the progress of the Class of 2025, as well as the upcoming Academic Year, by the Superintendent, Commandant, Academic Dean and Provost, Command Master Chief and Athletic Director most interesting.
Plebe Parents and Plebes Reunite: Friday, August 13, 2021
At 12:10pm (yes, exactly) on Friday, you can watch the Noon Formation at Tecumseh Court (or Alumni Hall if there's inclement weather). At 12:15pm, midshipmen will be dismissed and you can meet with your plebe at prearranged places marked alphabetically along Stribling Walk (you can find the chart here). Then your day is your own to design! There is a 12:30pm - 2:00pm tour of Bancroft Hall and your plebe's room, where you can meet plebe summer company officers and the midshipmen chain of command. This is a great time to connect with those who have already been instrumental in shaping your plebe's experience and will continue to be valued mentors and leaders as they progress through plebe year and beyond.
You can choose to attend a Catholic mass at St. Andrew's Chapel at 12:50pm and then venture over to the Naval Academy Museum for a guided Open House between 1:00pm and 4:00pm. You'll enjoy refreshments and special artifact displays elevated by the insights of museum staff and USNA historians. At 7:00pm, you can experience a beautiful Jewish Sabbath Service at the Miller Chapel, Levy Center. Your plebe will want to relax, but remember that all plebes must return to their rooms by 11:00pm.
Make It a Memorable USNA Visit: Saturday, August 14th
Town liberty begins at 10:30am on Saturday, but some great events and dining options start even earlier. You can stroll over to 1845 Coffee at the Gate 3 Gatehouse starting at 6:30am for your morning fix, then wander to the Midshipmen Store to get some spirited USNA gear (they have everything you can imagine in Navy blue and gold, and it's open from 7:30am to 4:00pm).
Don't miss the Morning Colors and formation for the parade (accompanied by the USNA band) at 9:00am in Tecumseh Court. The formal parade happens from 9:30am to 10:30am on Worden Field, where light refreshments are offered for sale. At 10:30am, plebes are dismissed for town liberty from Bancroft Hall, and at 10:35am, there's a Plebe Drum and Bugle Corps performance on Radford Terrace. After that, you can hit the Drydock Restaurant in Dahlgren Hall for breakfast or lunch, as this Naval Academy institution is creatively outfitted, serves delicious food and is open from 10:00am to 4:00pm.
Once you're refueled, you can take in the Main Chapel and John Paul Jones' crypt any time between 9:00am and 4:00pm, enjoy the Armel-Leftwich Visitor Center, where engaging and informative tours depart between 9:30am and 3:00pm, and support the brigade at the gift shop, which is open from 9:00am to 5:00pm. The USNA Museum is also open all day, from 9:00am to 5:00pm.
Want to delve into the midshipman life even further? You'll get a real feel for seafaring life anytime between 10:00am and 3:00pm from the Academy's Yard Patrol (YP) craft at the Dewey Field Seawall - and a chance to see the ship simulators in Luce Hall. Then pop over to the Wesley A. Brown Field House, Lejeune Hall and Macdonough Hall between 12:00pm and 5:00pm to see the important role athletics play at the Academy. After a fun day of exploring, plebes will return to their rooms by 11:59pm.
Winding Down the Weekend: Sunday, August 15th
Liberty begins at 8:00am and there is plenty to do. Grab your coffee from 1845 Coffee at the Gate 3 Gatehouse (or the Midshipmen Store) and then head out. For some wonderful worship options, you can visit St. Andrew's Chapel at 8:15am for the Protestant Holy Communion, Mitscher Hall for a Protestant Contemporary Worship at 9:00am, the Main Chapel at 9:00am for a Catholic Mass (or 11:00am for a Protestant Service) or the Miller Chapel between 9:00am and 4:00pm for general visiting. Our famous Sunday brunch at the Naval Academy Club runs between 10:00am and 2:00pm (reservations only). If you didn't make it earlier during your visit, you can enjoy the Academy Museum from 11:00am to 5:00pm, or the Main Chapel and Crypt of John Paul Jones from 1:00pm to 4:00pm. The Visitor Center remains open from 9:00am to 5:00pm, with their highly recommended and informative tours available from noon to 3:00pm. Liberty continues until 6:00pm.
What a Weekend!
These are just the highlights! Make sure to check out the unabridged schedule and important Plebe Parents Guide so you don't miss a midshipman moment. Things will likely feel different for you, as your plebe has truly integrated into midshipmen life. You'll notice that they have picked up many of the customs and traditions of the Navy, from dress and uniform, to how they speak to others in their chain of command. It's an amazing transformation that makes a plebe parent proud.
NABSD is thrilled to be a part of this incredible growth. From the laundry services we provide to the numerous clubs and activities that we help to fund, we are all in on supporting and enhancing the brigade experience. Don't forget, when you support the tours, restaurants, shops, Navyonline site and more, you're supporting your plebe and helping to make their incredible journey possible. We thank you.
Enjoy this festive weekend and we hope to see you back soon!