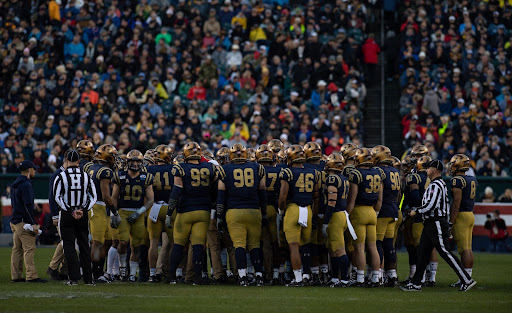 Go Navy, Beat Army! Go Navy, Bite Army! These are the rallying cries (at least the first one) that have propelled our legendary Naval Academy football team to victory countless times. The second rallying cry is a barking order you'll find attached to some of our legendary and delightful pet products. Whatever your rallying cry, we're looking forward to six exciting home games on the fall schedule.
Whether you make it to the game or take it in from afar, here are some ways to gear up with USNA sports merchandise and show your Navy football spirit, wherever you are.
Take the Army-Navy Game on the Road
In the whole of football history, the Navy blue and gold has had the upper hand, winning 61 to 52 of the total games against Army with seven ties. This year, the much-anticipated Army-Navy game will be played in East Rutherford, NJ on December 11th. You can support the midshipmen by purchasing a variety of naval academy football merchandise, including good-looking football jerseys in both adult and youth sizes. The 2020 Army-Navy matchup theme "We have not begun to fight" is immortalized in this cool replica football rivalry game jersey.
You are never too young to cheer on the midshipmen. Let your toddler sport their own toddler football jersey, emblazoned with Bill the Goat on the arm and bearing the retired number "12" for our own College Football Hall of Famer and Heisman Trophy winner, Roger Staubach.
They grow up so fast! As the youngest Navy fans get bigger, keep the Navy Football spirit going with a youth Navy football tee, the perfect gear for the tailgate and for striking up his or her own game of football. As the season moves along, you can add a cozy ¼ zip sherpa for an added layer of warmth and Navy pride.
Don't forget to pack the Navy blue and gold footballs to show your team spirit while you enjoy a tailgate toss with the crowd.
Even your dogs can have their day by sporting a dog jersey proclaiming "Go Navy Bite Army!"
Home Game Heroes
There will probably be a rainy game or two this fall. You can be prepared with a slick and sturdy sideline parka that helps you stay warm and dry. Despite the name, it keeps you in the action as you cheer the midshipmen on to assured victory! Just throw on some fan football beads for good measure and added support.
Keep track of your keys either in the tailgate, in the stadium or all around town
with this fun and durable football key tag, with "Go Navy Beat Army" inscribed on the field. Every time you grab your keys, you're displaying a little bit of Navy support.
Take the Naval Academy Football Game to Your BackYard
With a host of Navyonline goods, you can bring the gridiron home. For example, this dog collar is the REAL Navy deal, with Navy blue and gold proclaiming "Go Navy, Bite Army!"
If you really want to bring the game to your house, you can upgrade your office with this framed football panoramic, a gorgeous homage to the Navy-Air Force Falcons game at Navy-Marine Corps Memorial Stadium. Put this packed house in your house for unending inspiration, a great conversation piece and some panoramic Navy pride.
For a fun way to support the brigade every day from home, you can set this wooden football helmet sign atop a shelf to remind you of the sacrifices on the field—and at the Academy—every day.
You've Got Game
Cheering on our favorite team is a great way to support the midshipmen. You can also show them tremendous support just by buying products like these at Navyonline. We send 100% of the proceeds right back to the brigade. Now that's a Go Navy record that beats all!