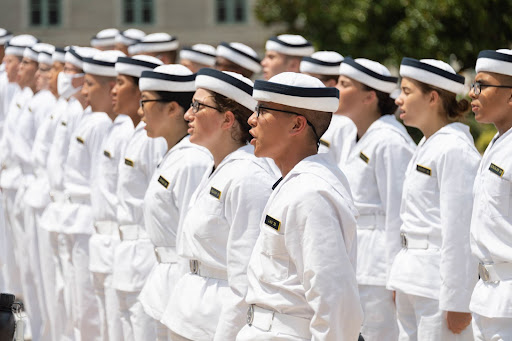 For so many reasons, the Naval Academy is not your average college. So it stands to reason that the USNA student supplies go beyond your typical college requests. Every student needs snacks from time to time; but, the midshipmen also need items that help keep their uniforms looking crisp and products that help them stay healthy and injury-free during their rigorous athletic requirements.
Whether you're a midshipman parent or a midshipman parent away from home (aka Sponsor parent), here are the USNA student essentials that are most frequently and boisterously requested, which you can send to treat your midshipman!
Keep the Treats Coming
Care packages are always a highly welcomed gift. And none is more popular than our own "Snacker-Box" care package that we put together right here at the Academy. Available in four delicious
varieties, you can choose from "Old Salty," "Sweet Tooth," "Hi-Energy" and "Cookie Box" to treat your midshipman. If you're feeling extra generous, you can order a Snacker-Box and have it delivered via the Chaplain's office to "random" midshipmen, so everyone gets a taste of fun.
If you want to send your midshipman supplies from home, you can do that as well. Just check with your midshipman to see what is acceptable before you put a package together (your midshipman can help you with this!). Sending frequent, smaller packages is always appreciated, as the midshipmen love the attention and touch from home! If you send the first package with a resealable plastic container, they can use that to keep treats fresh during hot and humid Annapolis summers.
Keep Uniforms Sharp
One of the jobs of a midshipman is keeping his or her uniform in top shape. The NABSD laundry services team does an incredible job washing and dry-cleaning uniforms regularly; however, there are some great tips and tricks for keeping uniforms clean in between those laundry services.
For example, in a pinch, simple white chalk can cover any blemishes on a white uniform. White-out can also do the trick on shoes. Midshipmen use stain removing wipes or pens for any spots that can be treated right away, and a fabric softener does an amazing job at handling odors. These four items are a great way to treat your midshipmen, and they can be inexpensive and easy to procure. A little goes a long way here.
Keep Them Sharp!
Personal hygiene and small first aid items are at the top of the midshipman must-have list. Items like bandages, Neosporin®, and moleskin help midshipmen avoid blisters and treat cuts and scrapes as they participate in extensive PT (Physical Training) sessions.
Another great treat? Soap! Their issued items may not include their favorite brand, so something as mundane as their favorite soap is always a popular choice. You'd also be surprised at how handy safety pins are for getting their uniform looking just right or helping to keep the sheets on the bed. Bobby pins are a necessity for female midshipmen who want to keep their hair out of their eyes and in regulation.
Keep Treating!
No matter what you send, the thoughtful care package you or NABSD put together for your midshipman will be a well-anticipated and received treat. Midshipmen are busy with many responsibilities, so taking some time to enjoy the snacks, tools and toiletries that you send means more than you might realize. Take a moment and send some care today!