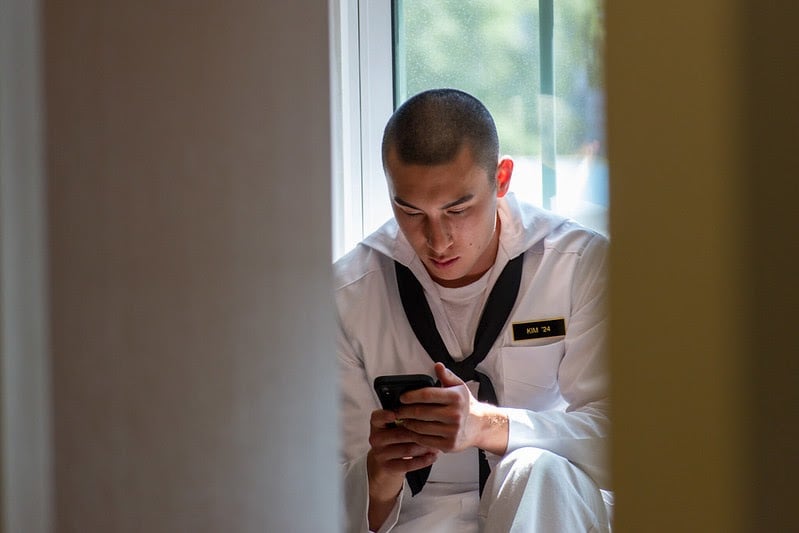 It's been amazing to have the Midshipmen Store renovated in time for Commissioning Week. I've been getting my fix at 1845 Coffee every day, and doing the rounds while I snap up some snacks and snag some new spring Navy gear (like a lighter blanket—this winter one is too hot). Come to think of it, I'm due for a good shearing, too!
And that's not all that's new around here. Even during quarantine, we Midshipmen have still been completing our daily duties, and I've been helping the marketing team dream up some new and exciting ways to make it easier (and better than ever) to be on the Yard. Right now, we're putting the finishing touches on a sweeping new website that will be a portal into all things "Tour USNA."
We'll continue highlighting the main business units of the NABSD (Naval Academy Business Services Division), which provide the funding for the Brigade of Midshipmen's extracurricular activities, including clubs and club sports, as well as an unbelievable number of goods and services provided annually. The proceeds from each unit help make every astounding service possible. It's time for each of them to shine! Our new site will highlight the following important businesses that give back to the brigade:
USNA Visitor Center and Tours: Check out the Armel-Leftwich Visitor Center and its historical displays for an intriguing look into the Navy's past and present and get their recommendations for the fascinating attractions here. Make sure to check out our tours, too! They are, hooves down, the best way to see the Yard, with a knowledgeable and engaging insider's perspective and some of the most beautiful and historic (not to mention thrilling) sites in the Annapolis area.
Dining Options: To get the full Yard experience, you need to fill up on local grub. It doesn't get more local than our two 1845 Coffee locations, the Drydock Restaurant, and the Alley Restaurant. You don't want to miss stopping by these yummy spots when you visit!

Shopping Options: We're fortunate to have several great shopping options, including the well-stocked Gift Shop, Midshipmen Store (available to authorized patrons) and even our e-option, Navyonline.com. These shopping destinations feature REAL Navy gear, snacks, gifts and much, much more.

Catering and Weddings: To get the complete USNA VIP treatment, host an event here. Weddings and other catered events are pure magic on the Yard. The elegant and beautiful Naval Academy Club turns your most cherished times into unforgettable moments!
The new website will feature all the information you need to know about visiting the Yard, essential parking and accommodations and an FAQ guide to get the most out of your trip. Visitors can easily book tours and also see a comprehensive USNA public events calendar so they won't miss a beat—or a parade.
The new website will feature blogs with captivating stories from the Yard that will delight and instill that wanderlust in you. Like a history-in-the-making, our blog will chronicle the events that happen right before our eyes, building on the immense tradition that is our past.
There are rather big changes in the works for the overall tourism experience, and they'll be made possible through the new website. Get ready for some arresting visuals and really stunning photography that will showcase this incredible place we call home. It will be easier than ever to plan a trip and dive headfirst into the history and beauty of the U.S. Naval Academy.
For those of us who attend college, live or work here, life on the Yard never gets old. We're fortunate to enjoy the military excellence, the Beaux Arts architecture and the most stunning waterfront view in all of Annapolis. Even so, its tremendous beauty, history and significance is not lost on us. We can't wait to share it with you. So stay tuned. We should be ready to unveil the new website this summer. We are eager to see you on the Yard!