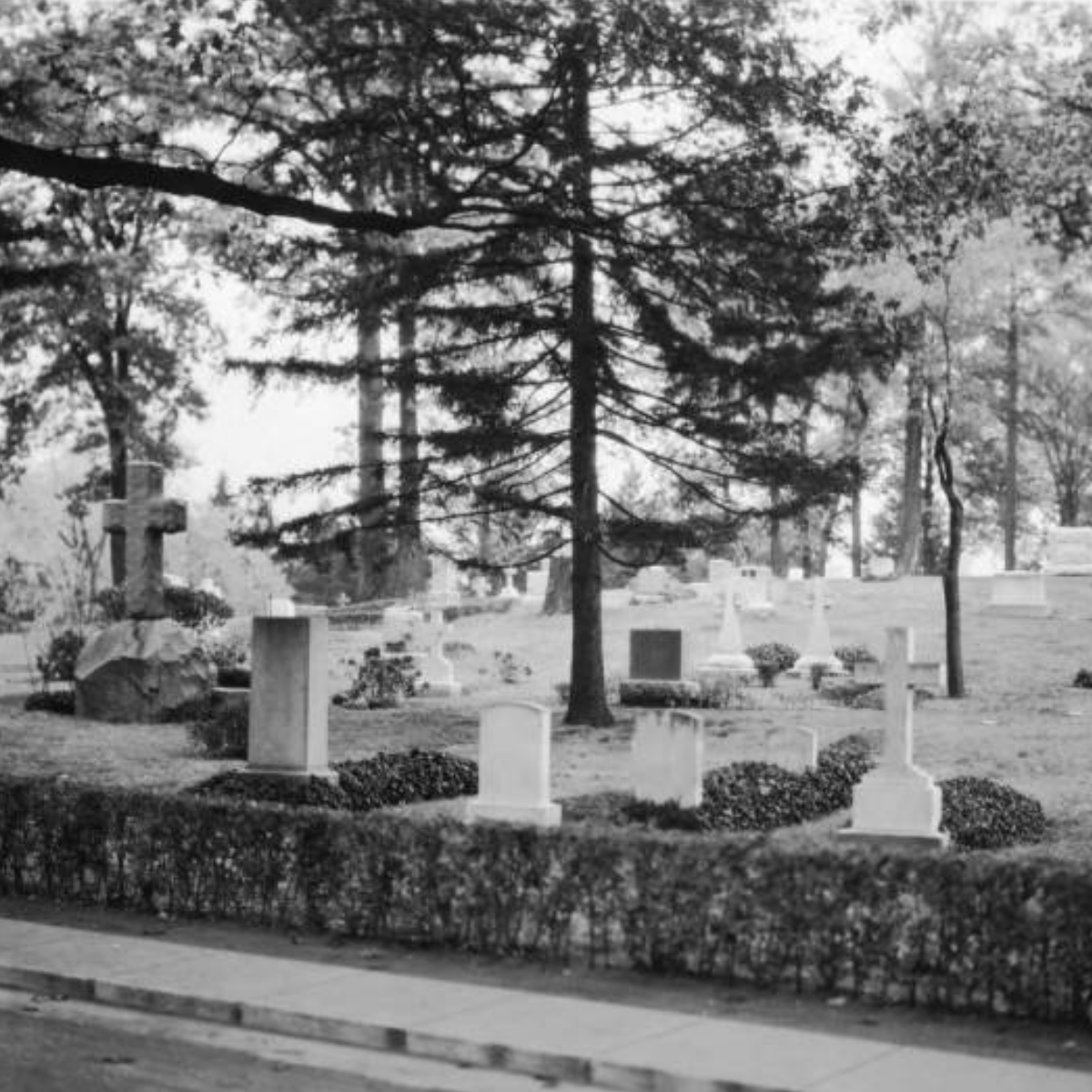 Memorial buildings, structures, or statues are common sights on the grounds of many institutions. However, it may be interesting to learn, that in addition to memorials and monuments, there are a number of colleges and universities with cemeteries on campus, as well. The United States Naval Academy (USNA) is included in this list, which leads many to wonder who exactly is buried at the Naval Academy cemetery.
The cemetery grounds date back to 1868, when the Naval Academy was expanding its original footprint. A portion of the land acquired, with a particularly scenic overlook, was set aside as a cemetery for officers, seamen, and others who were affiliated with the Navy. Today, many of the individuals in the cemetery on Hospital Point are immediately recognizable as part of United States Navy and USNA history.
A stroll through the grassy lawn is like a walk through a Naval history book. Buried at the Naval Academy, and representing some of its earliest years, are the crew of the USS Huron, a ship that was wrecked in a storm in 1877. A monument commemorating the tragedy has been erected in the cemetery. Along with that monument is the Jeannette Monument. Topped with an icy cross, this monument commemorates those who perished in the 1881 Jeannette Arctic Expedition.
The highest-ranking officer (and only five-star Admiral) buried at the Naval Academy is Ernest Joseph King. Fleet Admiral King was appointed Commander in Chief of the United States Fleet shortly after the bombing of Pearl Harbor by Japan during World War II, and subsequently became the Chief of Naval Operations (CNO) before retiring in 1945.
Another well-known CNO buried at the Naval Academy was also the Navy's longest-serving CNO, Admiral Arleigh A. Burke. Admiral Burke served in the Navy during both World War II and the Korean War, and was CNO during the Cold War. One of the unique honors bestowed upon Admiral Burke during his lifetime was having a new class of Aegis-equipped guided-missile destroyers named after him. Admiral Burke's monument is engraved with a depiction of the USS Arleigh Burke DDG-51.
There are eleven Superintendents of the USNA buried at the Naval Academy, including Rear Admiral Draper Laurence Kauffman, the 44th Superintendent. Rear Admiral Kauffman was responsible for organizing the first U.S. Navy Demolition Teams during World War II, an effort to which the Navy SEALs can tr
ace their roots. Another notable Academy figure is Bandmaster Charles A. Zimmerman. Serving as the USNA Bandmaster from 1887 until his death in 1916, Zimmerman is most famous for composing the march "Anchors Aweigh." Originally buried elsewhere, Zimmerman was exhumed and reinterred at the Naval Academy beneath a cross inscribed with "Erected by His Midshipmen Friends."
Other distinguished figures buried at the Naval Academy include Medal of Honor recipient and USNA Class of 1947 graduate Vice Admiral James B. Stockdale. Flying an A-4 Skyhawk, Vice Admiral Stockdale was shot down over North Vietnam in 1965. Subsequently held as a prisoner of war by the North Vietnamese in the notorious Hanoi Hilton for seven and a half years, Vice Admiral Stockdale coordinated prisoner resistance and intentionally inflicted harm to himself so that his images could not be used for propaganda.
Also buried at the United States Naval Academy Cemetery is the USNA Class of 1958 graduate Senator John McCain. Rising to the rank of Captain before retiring, Senator McCain found himself alongside Stockdale as a prisoner of war and resident of the infamous Hanoi Hilton, where he was injured so severely that he experienced lifelong disabilities as a result. Following his military service, Senator McCain entered public service, first becoming a Representative, and then Senator, for the state of Arizona.
Although it is a somber place, the United States Naval Academy Cemetery is rich in monuments to those whose lives tell stories of the U.S. Navy and Naval Academy. Those interested in visiting the United States Naval Academy Cemetery, and its notable monuments, may find current visitor information and security requirements here.