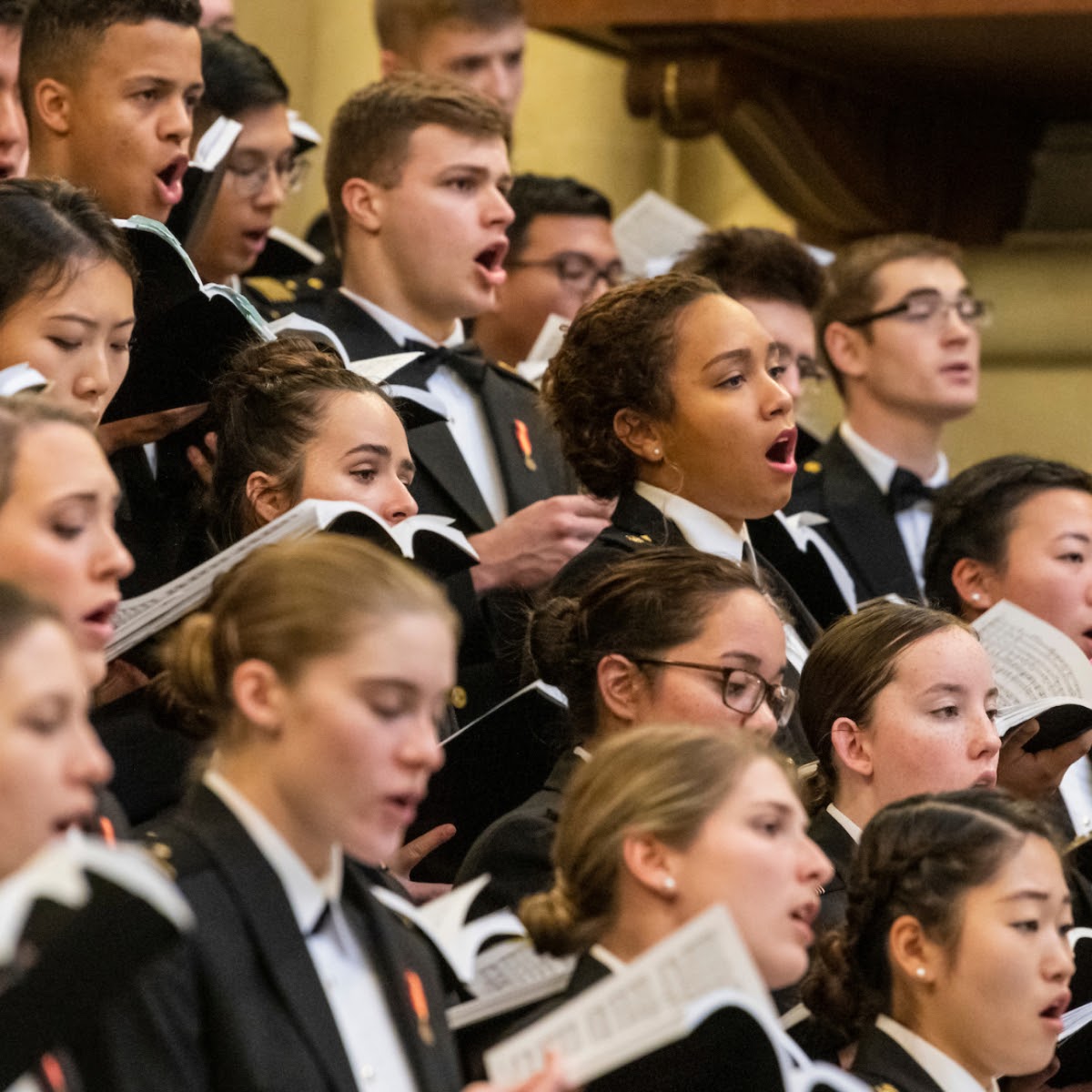 The Women's and Men's Glee Clubs are just two of the 140+ activities, including club athletic, service, artistic and academic, that the Naval Academy Business Services Division (NABSD) helps to fund. Without your support, NABSD would not be able to provide the level of experience that forms the heart of the USNA extracurricular experience.
USNA Women's Glee Club
Led by Chairman and Director Dr. Aaron Smith, the USNA Women's Glee Club is a highly acclaimed choral ensemble. Started in 1976, when women were first admitted to the Academy, the Women's Glee Club has gained international acclaim. This group is the only all-female military choral ensemble in the world. Let that sink in for a minute!
The Women's Glee Club has an impressive list of performances, including the nationally broadcasted performance for the "JFK 50th Commemoration" at the Kennedy Presidential Library in Boston (with recording artist James Taylor), the nationally televised State Funeral for President George H.W. Bush, the dedication ceremony of the National Pentagon Memorial (9/11), a recently produced CD: On Tour—Hawaii, and a PBS documentary presentation of "The National Anthem" that was performed in conjunction with the USNA Men's Glee Club.
The inspirational musical tradition that is the USNA Women's Glee Club recently posted this soaring version of "Simple Gifts." To find more of their moving recordings, visit their site and their Facebook page.
USNA Men's Glee Club
Dr. Smith also leads the USNA Men's Glee Club that has an outstanding, long-held reputation. Over the years, this group has garnered national attention through network television performances with The Today Show (NBC), The Early Show (CBS), Good Morning, America (ABC) and multiple PBS features. They've also performed in New York's Carnegie Hall and Avery Fisher Hall, San Diego's Copley Symphony Hall, and Washington's Kennedy Center.
They performed at the Inaugural Concert for President Obama, singing "We Are One" on the steps of the Lincoln Memorial for over half a million people (plus an internationally televised audience). They've lifted their voices across the globe, including in Chile, Argentina, and multiple European tours, with concerts at St. Peter's Basilica in the Vatican, cathedrals in Brussels, Wells, Winchester, Salisbury, and even St. Paul's in London.
They've collaborated with premier orchestras like the Dallas Symphony, Portland Symphony, Boston Pops Orchestra, Charlotte Symphony, Phoenix Symphony, Nashville Symphony, and other prestigious musical entities.
Even while social distancing due to COVID-19, they sang and recorded a rendition of "Boston Harbor." Listen to some of their other beautiful recordings on their website or Facebook page.
Voices in Harmony
The Glee Clubs partner with the Annapolis Symphony and traditionally sell out the Messiah Concert held annually in the USNA Chapel. Their voices also transform the audience at the blockbuster Halloween Concert, the Winter Musical, and with appearances at the Kennedy Center Honors (CBS), and Christmas in Washington (NBC and TNT).
The Men's and Women's Glee Clubs also collaborated to create this stunning, COVID-safe rendition of "Light of a Clear Blue Morning." Make sure you have tissues for this moving piece!
The NABSD is proud to support these tremendous groups. Help us support and fund them by purchasing tickets for their performances. Remember - Our Goods Do Good. Your purchases of clothing, decor, and other items through our Navyonline site also contribute to the Women's and Men's Glee Clubs, as well as the other 140+ activities that NABSD assists in sponsoring. We thank you for your support and we thank the Glee Clubs for their glorious gifts of music and memories.