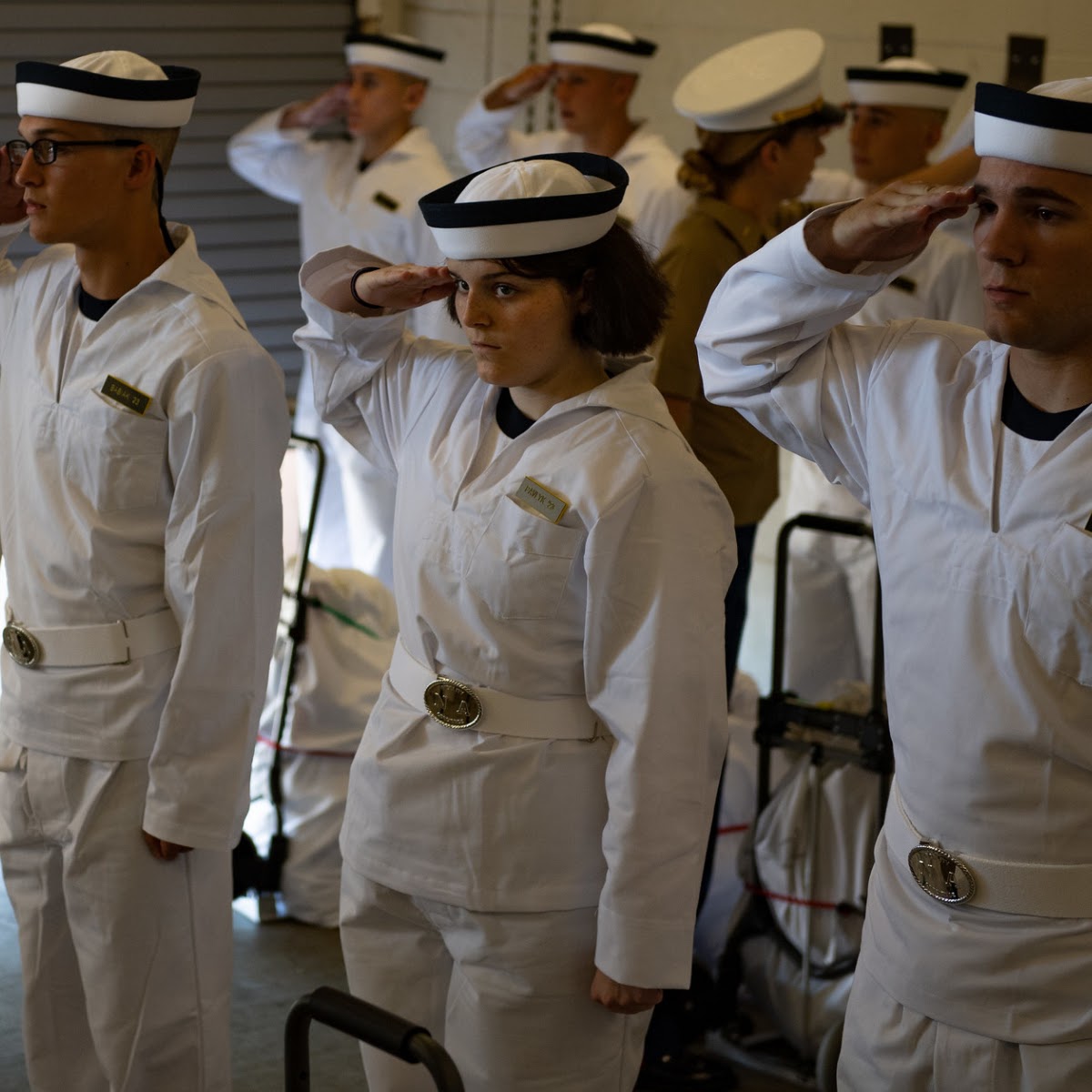 Congratulations! Those long years of sacrifice - weekend-long competitions, sports practices and tournaments, unending theater and music rehearsals, and hours of studying, testing, working and pure perseverance - have paid off. Your Plebe has been accepted into one of the most prestigious military academies in the world. Only 8% of applicants make it to this point. We are excited to welcome them to the Yard!
I-Day
Heading off to the first day of college can be a bittersweet experience. Some incoming freshmen are nervous, as are some parents and family members. Some freshmen are eager, as are some parents and family members! No matter what experience the Plebes are arriving with, beginning their academic career at the United States Naval Academy is a moment to be proud of.
Parents are allowed to drop their Plebes off at Alumni Hall and will then quickly exit the Yard. While parents head to the Navy-Marine Corps Memorial Stadium to catch a free shuttle back to the Yard to attend one of many parent forums, the Plebes will be working through 23 processing stations, including blood draw, uniform and shoe fitting, and the Plebe Gear Issue.
The Plebe Class of 2025 will participate in the Oath of Office Ceremony, which parents are also able to attend. After that, the students are officially Plebes of the USNA, on their way to becoming commissioned officers in the US Navy or Marine Corps. Parents can observe this ceremony from the viewing area in T-Court (Tecumseh Court).
With their transformation underway, now is the time to show your support for the Plebes, and all Midshipmen, with USNA-inspired blankets, umbrellas, spirit gear, and more. Choose from a variety of these goods on Navyonline--the place that gives 100% of its profits to the Brigade to support numerous extracurricular activities and other quality of life events.
Communication during Plebe Summer is limited, and parents won't be able to visit their Plebes again until Parents' Weekend. View some key resources in this Class of 2025 guide regarding Plebes' contact information.
One way to show Plebes care as they transform during the summer is by ordering some of our popular "Snacker-Box" care packages (by the way, anyone can order a Snacker-Box and have it delivered via the Chaplain's office to "random" Midshipmen). Choose from four delicious options: "Old Salty," "Sweet Tooth," "Hi-Energy," and "Cookie Box." The Snacker-Boxes provide a taste of home and extra fuel. By the time parents meet with their Plebes again, they will have completed over 3,000 pushups and situps and run more than 100 miles. They'll have absorbed over 1,000 important facts from their Reef Points book.
The transformation begins immediately during the course of the summer as the Plebes train rigorously, physically, mentally, and morally, to begin to learn what it means to be an officer. A change in their demeanor will be evident as they move toward their future role as a military officer.
Again, Welcome! We are excited to serve the Class of 2025!