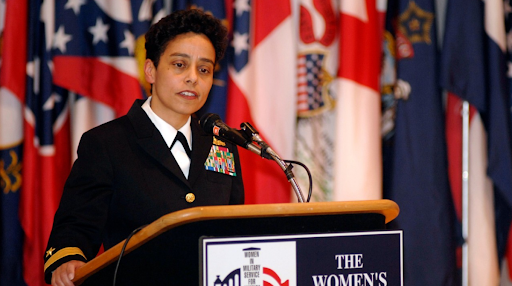 Retired 4-Star Navy Admiral Michelle J. Howard has had a career filled with breakthroughs and firsts. Her incredible journey started at birth, when Admiral Howard was born into a military family. She decided at the young age of twelve that she wanted to pursue that path as well. Fortunately, President Gerald Ford signed the Military Procurement Bill in 1975, paving the way for admission of women into military academies, effective in 1976. Two years later, Admiral Howard got into the Naval Academy and became one of only seven Black women in the 1,363 person class. This launched a 35-year career in military service for the United States Navy.
To the Navy and Beyond
When she graduated in 1982, Admiral Howard became an ensign, completing her sea tours aboard the submarine tender USS Hunley for three years, followed by two years on the training aircraft carrier USS Lexington. During her latter assignment, she earned the "Secretary of the Navy/Navy League Captain Winifred Collins" award in May of 1987. This honor is bestowed upon just one woman officer a year for her outstanding leadership.
It was in these early positions that Admiral Howard prepared to become the chief engineer of the USS Mount Hood in 1990, where she served in Operations Desert Shield and Desert Storm. From there, she progressed rapidly, becoming a first lieutenant in 1992 on the USS Flint and then the executive officer on the USS Tortuga in 1996. Her work on the USS Tortuga involved the peacekeeping mission, Operation Joint Endeavor, where she was deployed to the Adriatic in the former Republic of Yugoslavia.
Achieving a Number of "Firsts" in Her Career
When she took the helm as Commander of the USS Rushmore in 1999, she broke a huge barrier as the first African American Woman to captain a U.S. naval ship. Then, when the devastating Indian Ocean tsunami hit in 2004, Admiral Howard and her crew were on the scene offering help.
In 2009, she hit another first: Admiral Howard took control of the Expeditionary Strike Group Two, a flotilla that enforced antipiracy operations and protected the Persian Gulf in the U.S. War on Terror in the Indian Ocean. While on her watch, the sailors executed a daring rescue of Somali pirate hostage Richard Phillips, the besieged captain of the container ship MV Maersk Alabama.
There was no time to rest on her laurels. After her time at sea, Admiral Howard continued to faithfully serve the Navy onshore, working as Deputy Director of the Expeditionary Warfare Division under the Chief of Naval Operations, Senior Military Assistant to the Secretary of the Navy, Chief of Staff of the Director for Strategic Plans and Policy and Deputy Chief of Naval Operations for Operations, Plans and Strategy.
Becoming an Admiral: Another First
On July 1, 2014, she was promoted to four-star admiral—the first woman to attain this rank in the history of the U.S. Navy. On the very same day, Admiral Howard was appointed the 28th Vice-Chief of Naval Operations (VCNO). Responsible for the Navy's day-to-day operations, she managed gender integration efforts, as well as cyber culture and information security. With this position, she became the second highest-ranking officer in the U.S. Navy. Two years later, she became Commander of Naval Forces in Europe and Africa, where she served until her retirement in 2017.
Her post-naval career has been no less impressive, as she seeks to impart her learnings to improve other organizations. Admiral Howard joined George Washington University as their J.B. and Maurice C. Shapiro Visiting Professor of International Affairs, teaching cybersecurity and international policy. She also became a member of the IBM Board of Directors in 2019. Almost a year later, in November 2020, she volunteered to help with the U.S. DoD transition to the new presidency.
No matter where her efforts are directed, you can count on her giving her all and leading with strength and candor. Admiral Howard is an inspiration to us all. We are grateful for her service and that of all of our United States Naval Academy notable alumni who continue to carry Navy's work out into the world—and break barriers while doing so.