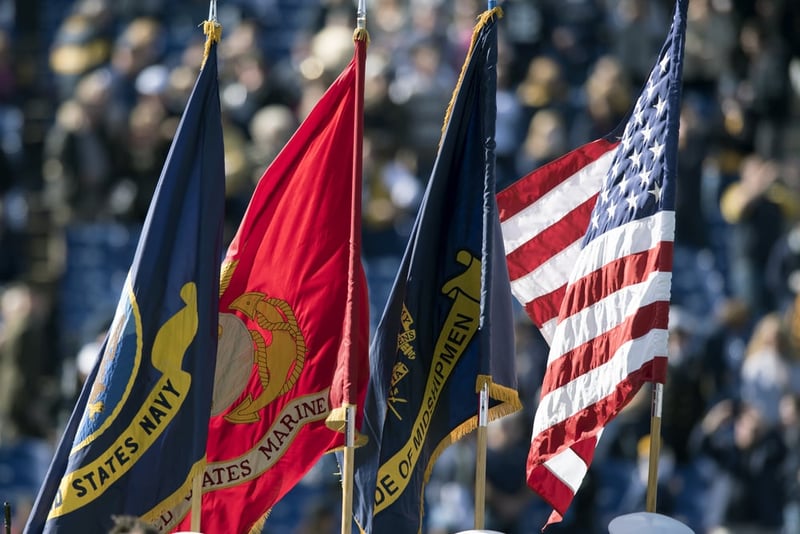 When flags are mentioned, the first one that comes to mind for many is the Stars 'n Stripes, for which we have such great depth of feeling, and to which so much history is attached. The glory and history of our nation, of course, were achieved many times by the patriotic self-giving of countless Americans who served with one or another branch of our armed forces, each of which has its own flag.
Like Old Glory itself, the Navy flag is a symbol for all those who triumphed in battle, sometimes at the cost of their own lives, so that we could remain a free nation. The Navy flag is also an inspiration to the young people who are new to the ranks of the service, and a source of pride to veterans, both in uniform and retired.
Those who wish to display this flag, both military and civilian, must respect it – not so much the cloth or the colors – but what it symbolizes. That means that there is a certain etiquette which must be __ in showing the flag.
Displaying the Navy Flag
The rules for displaying the Navy flag are similar to those for displaying the American flag. If flown on an outdoor flagpole it should be seen during daylight hours only, except when there is inclement weather, such as rain or snow.
At dawn, the Navy flag should be hoisted briskly, and at dusk, lowered ceremoniously. When the flag is lowered, it should not be allowed to touch the ground or the floor. If the flag is to be displayed indoors (and not on a flagpole), it need not be taken down each evening.
Like the American flag, the Navy flag can be flown every day. There are, however, particular days when it is recommended to display the flag. These include:
New Year's Day – January 1

Inauguration Day – January 20

Martin Luther King, Jr.'s Birthday – 3rd Monday in January

Abraham Lincoln's Birthday – February 12

George Washington's Birthday – 3rd Monday in February

Easter Sunday

Mother's Day – 2nd Sunday in May

Armed Forces Day – 3rd Saturday in May

Memorial Day (at half-mast until noon) – Last Monday in May

Flag Day – June 14

Independence Day – July 4

Labor Day – 1st Monday in September

Constitution Day – September 17

Columbus Day – 2nd Monday in October

Navy Day – October 27

Veterans Day – November 11

Thanksgiving Day – 4th Thursday in November

Christmas Day – December 25
Storing and Folding the Navy Flag
The American flag has a venerable ceremony of folding based on its unique blend of colors, stars and stripes. Additionally, each of the folds symbolizes an aspect of patriotism. Although this ceremony and symbolism is not analogous with the Navy flag, this banner still holds a very deep meaning for many. For those who proudly display the Navy flag there will always be times when it is necessary to store it. There is nothing at all wrong with folding it in a way similar to that of the American flag. Simply follow these steps:
Have another person hold one short side opposite you holding yours, the flag being held flat between you.

Fold it in half vertically, bringing the corners towards each other.

Fold it vertically a second time.

Take one corner of the flag and bring it to meet the opposite side, making a triangular fold.

Continue making triangular folds from the same end.

When there is no more material to bring into triangular folds, tuck the end piece into the pocket of the previous fold.

The will result in your Navy flag being in a tight, neat triangle
Store the flag in a safe, dry place until ready to display.
Need a new Navy flag? To purchase your own USNA Brigade Flag or other 100% real Navy gear, visit Navyonline.com. All proceeds go directly to supporting the Brigade of Midshipmen.