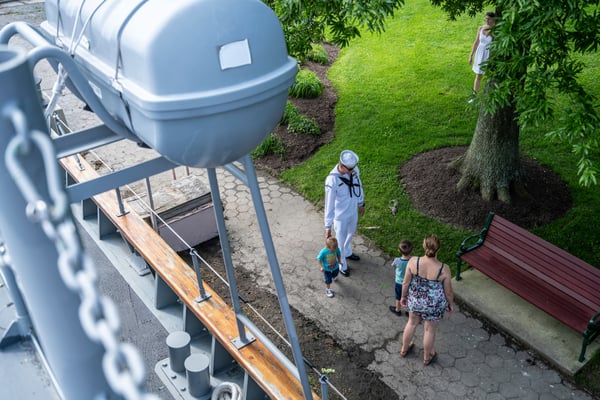 It's been a surprisingly warm winter around the Naval Academy. In the fall we all prepped for the Dark Ages and cold weather at USNA by getting our hands on warm gloves, cozy hats, and thick jackets. We're all starting to realize we aren't going to need them for much longer considering it's been a warm 40-50 degrees over the last couple months. There have been cooler days, but overall we haven't needed to thoroughly bundle up our children too much this year like we did last year. There's been no shoveling snow by the midshipmen - or grumpy teenagers - around Annapolis, and I don't either of them are too upset about that.
It can be difficult to keep the kiddos occupied when they're stuck inside because of harsh winter weather. Although there hasn't been snow, there has been gross weather.
We believe the midshipmen are thinking the same thing as us - Spring is just about here! So, let's put away our warm winter gear and take some time to focus on Springtime warmth. Yes - there's a high likelihood of cooler days, but let's get in the mentality of a plebe and push the envelope!
A solid springtime hoodie or sweatshirt is a must. Keeps you just warm enough to run back and forth between work, picking up the kids, or running to practice.
With warmer weather comes warmer activities to show your Navy pride around. Check out our new fishing shirt to take on your fishing adventures. Bass fishing season is the most popular kind and starts this month. You'll impress the other fisherman - and maybe the fish too.
Quiz: When's the best time to go Bass fishing? Answer at the bottom of this blog.
Spring Golf season is just about here. Spring is the best time to practice your putt. If you really need to get away to practice check out these 10 best spots to golf. Check out the new Navy Golf Pro Shirt to show off on the greens.
We won't forget to shop for those adorable little babies and toddlers. Your little ones are full of as much Navy Pride as you are - so let them show it off! We can't get over how cute this sailor onesie is. Match your little one to an issue style sweatshirt for Springtime activities. Send your little USNA fan out to the playground in these
Don't skimp out on your fur babies! They're as big of fans as you are! Check out this new dog toy to give your pup the excitement it needs after winter. Let them show their Navy gear with this mesh Jersey. Perfect for running around the dog park!
Last but certainly not least, the reason we are all on this beautiful green earth, our parents! Our #1 fans deserve to show it off with these matching United States Naval Academy mom and dad caps. They come in both navy and white to match the rest of their Navy apparel.
We are the official Navy store which means all the proceeds from your purchases go straight back to the brigade. We sell official USNA merchandise like REAL Naval Academy apparel, Naval Academy gifts, and souvenirs for every Navy fan. The Brigade of Midshipmen gets 100% of the profits.
Real Navy Gear, Real Navy Support.
We fund the arts through our world-renowned Glee Club, support top level sports like the National Champion Club Softball Team and host Brigade-building events through the Army-Navy Pep Rally.
It's never too early to shop for Spring Navy gear for the whole family. Take a look at all the new Navy gear throughout our website. Whether you're shopping for yourself, your kids, your spouse, or your pet - we have everything you could need to ensure your family is showing their Navy Pride!
Answer: There are three times when fishing for bass is best: Early morning, late afternoon when the sun starts to set, and nighttime because bass are nighttime eaters.
*Due to COVID-19 we will not be taking orders for the near future. While this action saddens us, we must protect the health and safety of our
Navyonline.com
team. Our commitment to supporting the Brigade of Midshipmen will not waiver and will take orders again when it is safe for us to do so. Thank you for your understanding and continued patronage.*