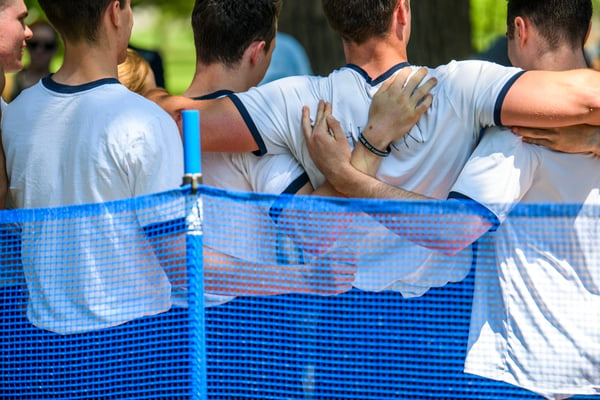 Young people who choose to serve their country in the United States military might enlist after high school or enter an officer candidate program after earning a 4-year college degree. But a select few spend their high school years building an outstanding record of achievement that will make them competitive for an appointment to one of the nation's military service academies.
For successful applicants with their sights set on the United States Naval Academy (USNA), the years of preparation and weeks awaiting the Letter of Appointment, all lead to a single momentous occasion. That day is Induction Day, also known as I-Day. As long a process as getting to I-Day is, the event itself is a whirlwind of activity.
In late June, over 1100 incoming Midshipmen and their families will descend upon Annapolis with excitement as they prepare to be commissioned officers in the US Navy and Marine Corps. I-Day kicks off Plebe Summer, the 6-week basic training program that prepares plebes for the challenges and rigor of the upcoming academic year.
I-Day begins early in the morning with plebes armed with report packets arriving for their first day. Reporting for duty takes place in Alumni Hall, where a green line taped to the floor guides plebes through the 23 different processing stations. Stops include stations for disposing of contraband, medical screening, and the issuing of Reef Points, the 225-page midshipmen handbook of the United States Naval Academy. Throughout the summer, plebes are expected to learn and commit to memory over 1000 facts as they will be continually quizzed on the contents within Reef Points.
Before uniforms are issued, hair must become uniform as well. Males plebes will have identical crew cuts, while females will have the option of wearing hair in a tight bun or having it cut so it is no longer than chin length. Once uniforms and other gear is issued, all belongings are packed away into a sea bag. Before departing Alumni Hall, plebes are taught the basics of saluting and other military courtesies.
The next stop of the day is Bancroft Hall, the midshipmen dormitory, where they will assemble on Red Beach. Here, they will meet their Plebe Summer detailers and transport their belongings and gear to their dorm rooms. Unpacking is a regimented process where they will learn precisely how to stow their equipment and arrange their rooms.
Meanwhile, activities for family members will take place throughout the day while plebes are going through in-processing. They may take part in a picnic, attend the Parents' Briefing, tour the campus and Yard Patrol craft, or visit the Midshipmen Store or Gift Shop.
The Oath of Office ceremony takes place in Tecumseh Court where plebes will officially swear to support and defend the constitution of the United States. After taking the Oath of Office, plebes and their families will have the opportunity to spend a brief 45 minutes together before saying their goodbyes. They will not see one another again until Plebe Parents' Weekend, at the conclusion of Plebe Summer.
Families may stand by for a final glimpse of their loved one as the plebes march together into Bancroft Hall for the evening. There they will receive further general military training in their assigned company spaces until the official lights out finally signifies the conclusion of I-Day at 2300 hours.
Plebes will spend the next six weeks learning how to wear the uniform, properly salute, and address superiors appropriately with "Sir" and "Ma'am" at the beginning and end of every sentence. By the end of Plebe summer, they will have become well prepared to succeed in their upcoming first academic year.
To see this experience first hand, watch this video from Plebe summer 2019.