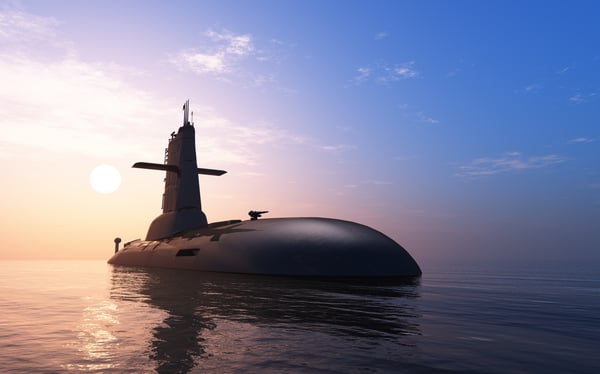 Sir Winston Churchill once famously stated, "Of all the branches of the men in the forces there is none which shows more devotion and faces grimmer perils than the submariners."

This brave fighting force is the silent service, requiring highly educated and qualified personnel to staff and operate its complex weapons systems undersea. Life aboard these platforms is demanding. Submariners forgo fresh air and natural light, working and living in close quarters to perform their critical duties beneath the seas. The submarine community and its history are celebrated each year at the Submarine Birthday Ball.

National Submarine Day falls on April 11. On that date in 1900, the United States government procured its first modern commissioned submarine, the USS Holland (SS-1). Designed and built under the supervision of Irish engineer John Philip Holland, this first of its kind innovative warship held a crew of six men and was capable of diving to a depth of 75 feet.

Every year, wherever submariners congregate, there is sure to be a Submarine Birthday Ball; typically held sometime between late March and early May. It's a time for active duty and retired submariners to come together and celebrate their community. Military balls are formal events, with plenty of honor and tradition interspersed throughout the evening. The Submarine Birthday Ball is no different with the exception of a submarine-focused program of events.

A formal event requires formal attire. Ball invitations will specify which dress uniform shall be worn. Attending spouses and civilians are advised to wear formal attire that appropriately matches the formality of the required submariner's uniform. Of course, since everyone is going to be dressed to the nines and looking sharp, photos should document the occasion. To do just that, many ball committees hire a professional photographer to be on hand taking posed photos for purchase by attendees.

Each Submarine Birthday Ball follows a formal program and order of events. The evening kicks off with a cocktail hour, allowing attendees to mix and mingle before heading into the ballroom to find their assigned tables. Once seated, the formal program opens with a Color Guard presenting the colors and playing the National Anthem.

Distinguished guests are introduced, a keynote address is given, and multiple toasts are made, but the most somber point of the evening occurs with the Tolling of the Boats when fallen submariners are honored.

Submarines are affectionately referred to as boats, distinguishing them from their larger surface-going counterparts which are ships. Since the USS Holland was commissioned in 1900, 66 US submarines have been lost at sea. The vast majority occurred during World War II when 52 boats with 374 commissioned officers and 3,131 enlisted submariners were lost. During the Tolling of the Boats, a list of the 66 vessels lost is presented. In chronological order, the vessel name, the fate of its crew, and the date of the incident are read aloud. A bell tolls in solemn remembrance for each submarine lost.