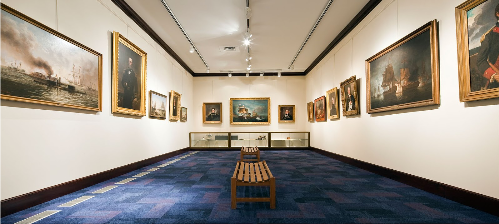 Podcasts, once a fringe entertainment medium, have gone mainstream. Their origin story dates back to 2004, with Adam Curry and Dave Winer, commonly credited with the invention of podcasting, a term coined in an article posted in The Guardian, titled, "Audible Revolution". It was the interconnected online realm's adaptation of radio.
In the relatively brief 16 years since its inception, podcasting has become a booming new industry with more than half of the US population listening to podcasts, 16 million of whom consider themselves to be "avid podcast fans". It's easy to understand why this platform has a cult-like following. With more than 1 million podcast shows in over 100 languages available for download, there's quite literally something for everyone to discover, be entertained by, and learn from.
No matter the niche, there's bound to be a show or episode delving into its finer points. Those with an interest in military history will be pleased to discover that a podcast dedicated to naval history is produced and recorded by the United States Naval Academy (USNA) Museum. The USNA Museum is located in historic Preble Hall, initially founded as the Navy School Lyceum in 1845. Through the years, it became the repository for collections of naval significance, making "Preble Hall" a poignant title for a show discussing naval history.
Plunging into a variety of naval topics, Preble Hall, interviews expert historians, practitioners, military personnel, and other professionals to bring subjects to life. Not restricting itself to historic material, Preble Hall touches on current events of the day with a naval interest as well.
Preble Hall launched in October 2019 and has released more than 40 episodes to date. In its first 50-minute episode, University of Exeter graduate student and naval history social media star, Kate Jamieson, discussed Admiral Nelson, Trafalgar, Impressment, and her research on gunners in the Royal Navy.
Subsequent Preble Hall episodes include a discussion of Julius Caesar's campaigns into Gaul, the Battle of Quiberon Bay, and his invasion of Britain. Jumping forward into history, Christopher Havern, a historian from the Naval History & Heritage Command, examines the sinking of the Lusitania and unrestricted submarine warfare during the First World War. And for a modern-day example, an episode titled "Jet Girl" interviews Caroline Johnson and discusses her book, also called Jet Girl, and her time in the Navy. Caroline represented the 1.7% of the female F/A-18 community as a Weapons System Officer (WSO) flying in the backseat of a Super Hornet.
Hosted by Claude Berube, Director of the USNA Museum and Assistant Professor in the Department of History, the podcast follows a traditional podcast with a regular host and guest interviews. New episodes of Preble Hall are released several times a week and average approximately 40 minutes per episode.
With so much great content available, it can be difficult to keep up with your favorites and squeeze in fantastic new finds like Preble Hall. Here's a hack many avid podcast fans take advantage of to increase their ability to consume more information in less time. Most podcast players allow the user to increase the listening speed. Adjust playback to start at 1 ½ times speed. Once comfortable listening, increase playback to 2 times speed.
More than half of podcast consumption is done away from the home while engaged in other activities such as driving, working out, or even at work. Listening is most frequently done using a smartphone or device and podcast apps, such as Apple Podcasts, Google Player, Stitcher, Pocket Casts, and Spotify, but Preble Hall may also be played directly from a computer on the USNA website.