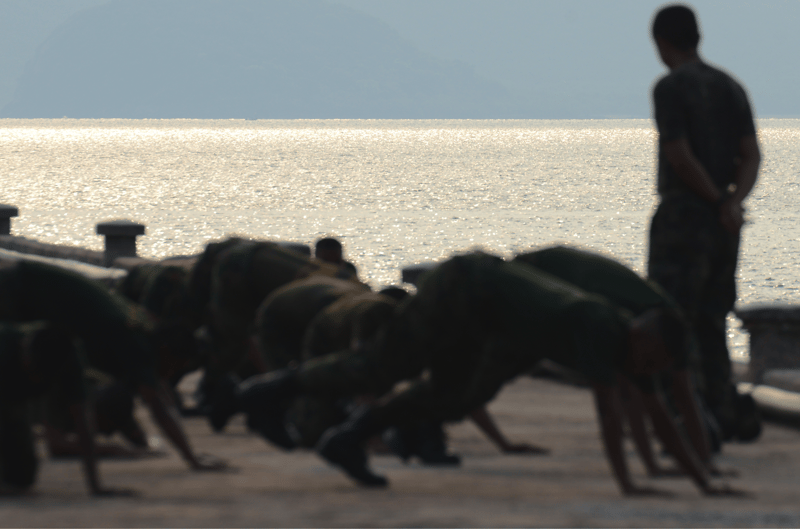 (Updated for March 2021)
If you're up for truly being challenged, a junior in high school, and have interest in attending the USNA, check out Naval Academy Summer Seminar (NASS) sessions.
Due to COVID-19 restrictions, the 2021 Summer Seminar sessions will be virtual. This seminar experience isn't like a summer camp - it's designed for high-achieving high school students that are ready to experience the commitment, discipline, and training it would take to be a Midshipman.
What to Expect at USNA's Virtual 2021 Summer Seminar
Heading into their senior year, Summer Seminar students spend days learning about life as a Midshipman through academic workshops, training, and other special events.
Although 2021 sessions will be virtual, there will be many similarities to previous Summer Seminar routines. Academic workshops and professional training take place in the morning and afternoon. These virtual workshops include topics the students may already be familiar with as part of their high school curriculum, such as chemistry, physics, and literature.
Other academic workshops are relevant to the unique subject areas future officers may become involved with, including Naval Architecture, Seamanship and Navigation, and Meteorology.
The type of leadership expertise required by an officer in the United States Navy or Marine Corps is not developed exclusively in the classroom. Other activities are also involved in Summer Seminar, in order to encourage the development of leadership skills and camaraderie, which will be essential for those looking to serve as commissioned officers.
Summer Seminar is a challenging yet rewarding experience that builds student confidence and leadership skills. Participants who go on to attend the Naval Academy will have had the opportunity to form bonds with some of their future Academy shipmates. Some of these are other students attending Summer Seminar sessions with them, while others are Midshipmen detailers, who are running these sessions as a part of their summer leadership training.
Applying to the USNA Summer Seminar
Those interested in applying for the Virtual 2021 Summer Seminar should know that it is a highly competitive program. Admission is limited to approximately 850 students for each of the three sessions. Students apply for the program during their junior year of high school for admission during the summer between their junior and senior years.
Qualified candidates should be in good physical condition and without health or color vision limitations. Throughout their high school career, they will have demonstrated superior academic achievement and performance in athletics and other extracurricular activities.
Applications include the congressional district where the student resides, class rank and size, and a summary of classes with respective grades. Applicants will also be required to complete a short essay describing why they are interested in Summer Seminar at the Naval Academy, what leadership and Science, Technology, Engineering, and Math (STEM) awards they have received, and other relevant activities they have been involved with.
High school students who are contemplating applying to the Naval Academy for college are highly encouraged to participate in the Virtual Summer Seminar. Your Virtual Summer Seminar application will also serve as a preliminary application to the Academy, which you will complete before or during your senior year. Please note that, unlike appointments to the Naval Academy, all costs associated with the Virtual Summer Seminar are the responsibility of the student.
Summer Seminar Application Prep
Are you ready to take the first step in becoming one of our nation's next generation leaders? Don't forget to mark your calendars and start preparing your application for this year's Virtual Summer Seminar. Applications for the Virtual 2021 Summer Seminar sessions are open!