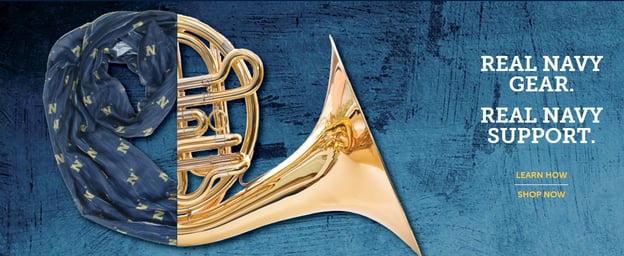 The Dog Days of Summer are upon us, when Sirius rises just before the sun, and the afternoons become devastatingly hot. It's the time of year when regardless of how draining the heat and humidity might be, people are making every effort to get outside to fill the final days of the season with summertime fun.
If you're hitting the great outdoors this August, do it in style and show your support for the United States Naval Academy (USNA) with a purchase from the collection of new summertime apparel!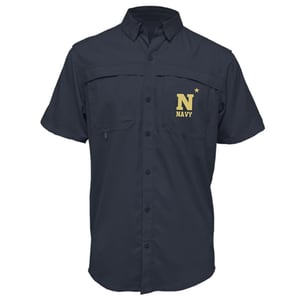 Keep cool out on the water with this Men's short sleeve fishing shirt. Available in navy blue, the left breast pocket features a gold N* logo. At 2.35 ounces, this light and airy shirt stays cool with mesh-backed shoulder vents and includes useful features like a microfiber glass cleaning cloth located in a side-seam pocket. Perfect for keeping a pair of polarized fishing sunglasses clear and spot-free. And while water is great at intensifying dangerous UV rays, this 100% micro-polyester provides UPF+ 50 sun protection so you can focus on finding fish not shade.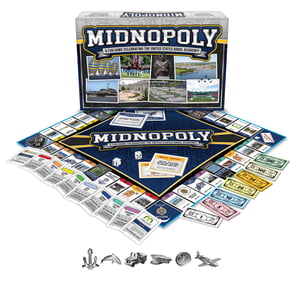 After a day on the water, spend an evening on the Yard with friends and family playing Midnopoly! This twist on the classic game celebrates the United States Naval Academy. Move your Navy-themed token around the board, collecting credit hours, and buying up famed buildings like lucrative Bancroft Hall. Make it to the Reform and collect $200. Even if you don't win, make sure you at least Beat Army!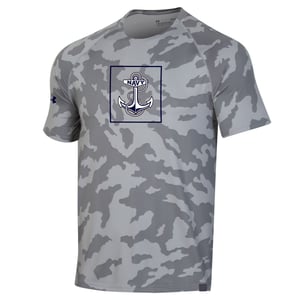 Getting in a little PT to keep fit and trim for the last of the summer season? Hit the running trails with this 2020 Sideline Short Sleeve Training Tee from Under Armour. Available in both gray and navy blue with a fouled anchor screen print, this ultra-soft, light, and loose-fitting tee is made from 90% polyester and 10% elastane. Extremely comfortable with a ventilated stretch mesh back, moisture is also wicked away from the body keeping you dry.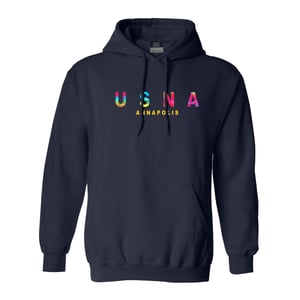 Headed to the mountains for a little nature and clean air? Be prepared for those cool mornings and evenings with this USNA Tie-Dye Hooded Sweatshirt. Navy blue with bright and festive tie-dye USNA lettering, keeps you cozy with rib cuffed sleeves, front pocket, and a drawstring hood. Made from 55% cotton and 45% polyester, is the perfect outer layer for days hiking at higher altitudes.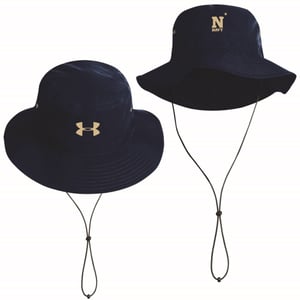 Going out for a sail? Don't forget your hat! Mom's advice still applies, when you head outside, be sure to bring a hat. This Airvent Bucket Hat with gold embroidered N* logo is the perfect summer sun protection solution. The ArmourVent technology provides breathability while the extended brim offers extra coverage to keep the sun off your face and back of the neck. Quick-dry fabric and drawcord make it versatile for use in all kinds of windy or water-based activities.
Purchases from Navyonline.com will not only keep you cool and stylish this summer in authentic USNA merchandise, but the sale of official US Naval Academy merchandise, apparel, gifts, and souvenirs provides support directly to the Brigade of Midshipmen. One hundred percent of the proceeds made from these sales go directly to support club sports and other USNA activities.