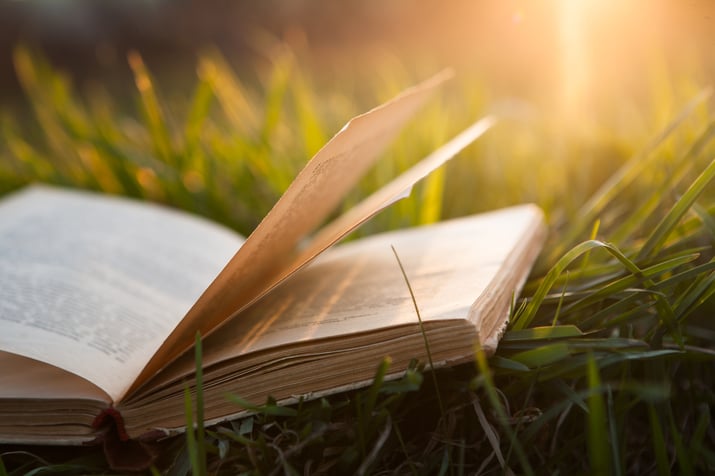 Looking for books to read this fall, winter or to keep busy during quarantine? If you are a Midshipman parent, alum, veteran or just interested in attending the Academy, we have the reading list for you. No matter your preference, you are sure to find something in the following reading list to spark your interest:
Navy Football: Return to Glory
(2017) by T. C. Cameron. Foreword by Bill Belichick.
Everyone has heard the rallying cry: "Go Navy, Beat Army!" The Army-Navy rivalry goes back many years before football buffs ranked the military academy teams in the same class with other well-known collegiate gridiron gangs. Cameron takes the readers back to the "Camelot" years of Navy football in the '50s and early '60s. This is the time period when they were led by Heisman Trophy winners Roger Staubach and the late Joe Bellino. Navy was even ranked No. 2 in the country in 1963. Then, eerily, after the assassination of Navy vet JFK, the Annapolis football program sank into obscurity. But as the book's title asserts, there has been a return to success for the Midshipmen.
(2018) by Susan Weisberg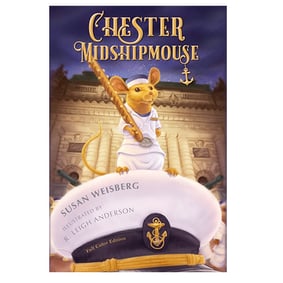 In this work of young adult fiction, Bancroft Hall (the U.S.N.A. dorm which houses 4,000 Midshipmen) is also home to Chester, a mouse who lives in the hidden nooks and crannies. This adorable story follows Chester and his friends modeling their behavior as "midshipmice" after the Midshipmen they observe in the dormitory.
Weisberg cleverly humanizes her rodent characters, making her story naturally enjoyable. But at the same time, they face challenges, evade disaster, and emphasize virtues of friendship, loyalty, teamwork, leadership, courage, responsibility, honor and serving others.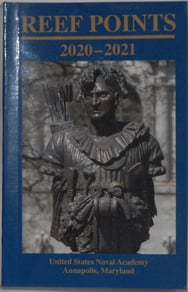 This is the annual handbook of the Naval Academy Brigade of Midshipmen. Reef Points contains comprehensive information on curricula, faculty, living quarters, rules, regulations, anecdotes, hymns, songs, jargon and outlines the core values and mission of the U.S. Naval Academy.
It is given to all plebes on Induction Day, and it is also a good resource and military cultural touchstone for parents or others interested in knowing about the day-to-day life at USNA.

Naval Academy Annapolis
(2015) by Ginny Pearce; photographed by Roger Miller. Foreword by Jimmy Carter (class of 1947).
This is the ultimate "coffee table" book featuring beautiful, colorful graphics. Readers can learn from the visual depictions of sea trials, Army-Navy games, commissioning ceremonies, yard patrol boats and sailboats. Miller also gives the viewer a glimpse inside the Academy classrooms and dorm rooms. Training sessions where midshipmen are taught sea and air combat techniques are also pictured.
Military ways can be enigmatic, resulting in an alien world where acronyms often replace words and where "1330" is a time of day. Add to that, the Navy is not only military, it is nautical, which adds centuries of sea-going terminology and practices to the confusion. While the young men and women who sign on to become Sailors in the United States Navy receive extensive indoctrination and training, their parents do not. As their sons and daughters are becoming uniformed, the parents remain uninformed.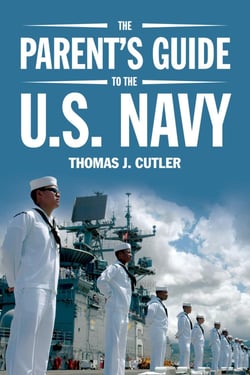 This book is both a translation manual and a cultural guide to their son's or daughter's chosen new world. Alongside chapters covering uniforms, ranks, ships, and aircraft, are explanations and guidance as to what to expect when their child first joins the Navy, the many benefits their Sailor will enjoy, and what families should bring and do when visiting their Sailors in their new and somewhat alien world. Designed to be an easy read as well as a useful reference work, The Parent's Guide to the U.S. Navy is essential reading for those parents whose children have chosen to "go down to the sea in ships."
Ranging from iconic buildings on the Yard to hypnotic patterns out of USNA symbols. Relax and destress with this great coloring book.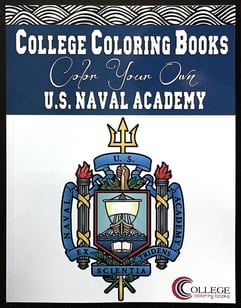 Are you ready to add some of these books to your personal library? Start by purchasing the most current edition of Reef Points or Parent's Guide to the U.S. Navy from Navyonline. 100% of proceeds goes back to the Brigade of Midshipmen.