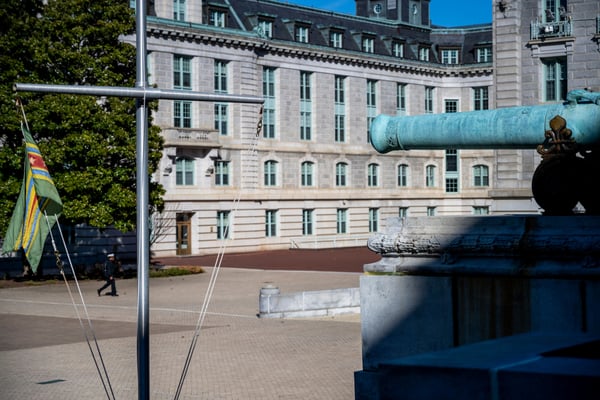 The United States Naval Academy (USNA) is more than an institution of higher learning and military instruction. Its 338 acres on the former grounds of Fort Severn are rich in U.S. and Naval history. As such, the entire campus, also known as The Yard, is a designated National Historic Landmark on the country's list of National Register of Historic Places.
To qualify for this honored designation, properties must exhibit national historic significance. Approximately 2,300 places on the National Register's list of 90,000 places are deemed to have such outstanding historical significance that it receives the National Historic Landmark distinction.
Although the safety and security of Academy Midshipmen, faculty, and staff are always paramount, history buffs and the interested public can visit The Yard to experience the historic sites, buildings, and monuments in person. Visitors may explore on their own with a self-guided walking tour. However, the extraordinary stories behind these sites are brought to life in incredible detail by the knowledgeable and professional Official Certified Guides of USNA from the Naval Academy Business Services Division (NABSD).
All guided tours depart from the Armel-Leftwich Visitor Center located just inside Gate 1 at 52 King George Street. The 90-minute guided walking tours begin in the morning and then at scheduled times throughout the day. Seasonal schedules may be found online on the NABSD website.
The guided Historical Walking Tour visits the most popular locations through The Yard. Visitors can expect to see:
Bancroft Hall
Memorial Hall
Statue of Tecumseh
Herndon Monument
The Main Chapel and Crypt of John Paul Jones
Noon Meal Formation (during the Fall and Spring)
Lejeune Hall
Don't feel like walking? Catch a ride! Visitors may comfortably experience USNA highlights during a 75-minute Guided Riding Tour. These electric vehicle GEM tours may be booked in advance with a minimum of two and up to five passengers. Sites visited during this tour include:
Bancroft Hall
Main Chapel
Parade Ground
Sports Complexes
Jewish Chapel
Monuments and Memorials along the Severn River Seawall
Foremast of the USS MAINE
The Ellyson Air Park
Historic Cemetery
In addition to public tours, both private and group tours are available. One of the more unique tour experiences is the Tour and Tea at the US Naval Academy. Following a tour of many of The Yard's highlights and the USNA Museum, participants will attend afternoon tea at the Naval Academy Club. Following British afternoon tea tradition, attendees will sample finger sandwiches, scones, and other sweet treats, with their choice of tea or coffee. A USNA souvenir and postcard book are given as favors to commemorate the special occasion. The Tour and Tea cost is $60 per person with a group minimum of 20 people.
Additional private group tours are also available. Special interest groups will enjoy a one-hour tour to visit the Jewish Chapel and Levy Center, where Midshipmen gain an appreciation for faith-based traditions. While groups interested in leadership training will benefit from the Corporate Leadership Program, where retired military officers serve as facilitators. And music appreciation groups will take a deep dive into music history with the Annapolis Music Man Tour.
Group tours for students include Navy Way Boot Camp for 1st through 5th graders, educational field trips for 4th through 12th grade, a Junior Leadership Program for 13-15-year-olds, as well as admissions briefings for those interested in learning more about attending the Naval Academy.
Extend your time at The Yard and enjoy lunch at The Alley or Drydock Restaurant. In the mood for something lighter? Grab a cup of coffee and a light snack at the newest cafe on the Yard, 1845 Coffee. Ask about the discounts available for tour participants.
The Naval Academy campus is open to the public provided visitors comply with strict access requirements. All visitors 18 years and older will need to provide an unexpired U.S. government-issued photo ID card or unexpired passport. All non-US citizens must present an original unexpired passport for entry. Please see the Armel-Leftwich website for additional access details.
Because of the ongoing pandemic, the Yard is not currently open to the public. We hope to see everyone on the Yard soon.