On May 24th, an as-of-yet-unannounced speaker will take the stage at the USNA commencement ceremony, to impart his or her words of wisdom on the future leaders of the Navy and Marine Corps, on a day where they celebrate four long years of self-sacrifice, excellence and perseverance.
Every year, a U.S. President, Vice President, Secretary of Defense or Secretary of the Navy, typically has this prestigious honor. Other such remarkable persons may include the Chairman of the Joint Chiefs of Staff or Chief of Naval Operations.
Their words are moving. Since there are too many speeches to recount here, we'll take a look at our presidents' addresses throughout the years. May they inspire you too!
2018: President Donald Trump
When President Donald Trump took the podium for this momentous event last year, he praised the strength of the Navy, the Marine Corps and all U.S. Armed Forces, crediting each service with an excellent reputation in the global community.
He ended with encouragements to be the best in everything they pursue. "I do say strive for excellence, live for adventure, think big, dream bigger. Push further, sail faster, fly higher and never, ever stop reaching for greatness. Never stop reaching for the stars. You know you're up to the task. You're among the finest people anywhere in the world. The smartest, the strongest. You know you will make us proud. We know that glory will be yours because you are winners. You are warriors. You are fighters. You are champions. And you will lead us only to victory."
2013: President Barack Obama
When President Barack Obama took the stage in 2013, he was just starting his second term. He recognized that the graduates would face difficulties, but that they had the necessary "inner compass" to lead honorably.
Obama told the graduating class, "We need your honor — that inner compass that guides you, not when the path is easy and obvious, but when it's hard and uncertain; that tells you the difference between that which is right and that which is wrong. Perhaps it will be a moment when you think nobody is watching. But never forget that honor, like character, is what you do when nobody is looking. More likely it will be when you're in the spotlight, leading others – the men and women who are looking up to you to set an example."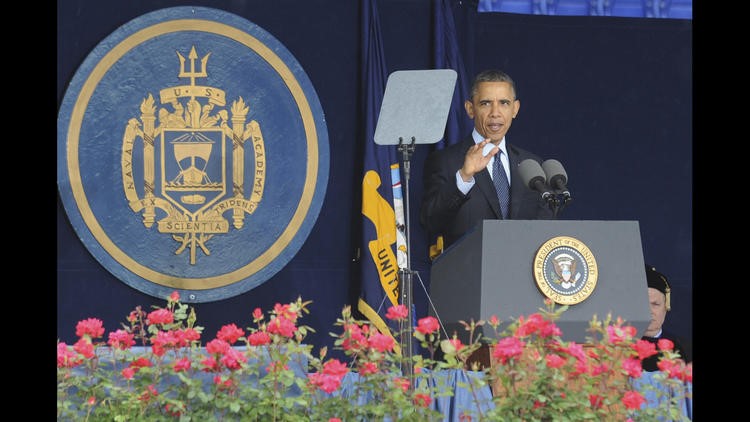 President Barack Obama giving the Commencement address in 2013. (Paul W. Gillespie / Capital Gazette)
2009: President Obama
President Obama's first address to the U.S. Naval Academy examined character. The economy was reeling from the bailouts of several prominent banks and nearing the end of the Great Recession. Obama commended the graduates for good character, stating, "These Americans have embraced the virtues that we need most right now: self-discipline over self-interest; work over comfort; and character over celebrity. After an era when so many institutions and individuals have acted with such greed and recklessness, it's no wonder that our military remains the most trusted institution in our nation."
In addition to praising the U.S. Naval Academy, he also noted the excellent character and self-discipline exemplified throughout all U.S. military branches.
2005: President George W. Bush
In 2005, President George W. Bush was starting his second term when he spoke these words to the graduates, "Show courage, and not just on the battlefield. Pursue the possibilities others tell you do not exist. This advice comes with a warning: If you challenge established ways of thinking, you will face opposition. Believe me, I know, I've lived in Washington for the past four years. The opponents of change are many, and its champions are few, but the champions of change are the ones who make history."
The idea of courage on and off the battlefield is one that resonated deeply. The Iraq War was in its second year. Many of these graduates would be called upon to face the dangers of the battlefield very soon.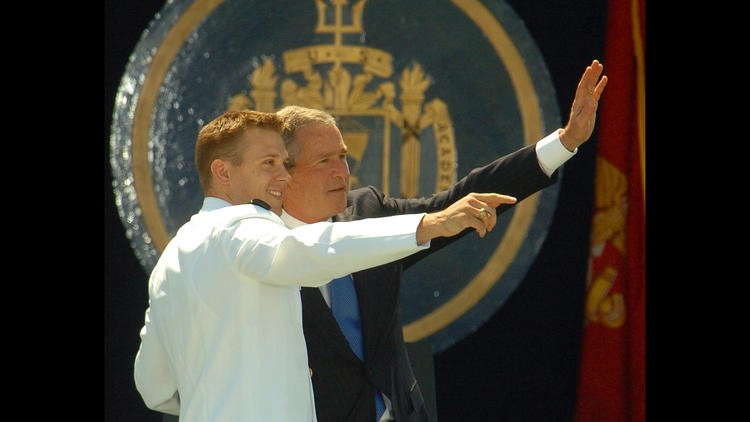 President George W. Bush waves to friends and family of fifth company oceanography major, Jarrod Gazarek. (Baltimore Sun)
2001: President George W. Bush
The first time President George W. Bush spoke was May 2001, in a country on the cusp of facing the new normal wrought by September 11, 2001. He extolled the hard work and self-sacrifices of the graduates, "No one made you come here. No one made you stay. And no one made you subject yourself to a code of honor and a life of discipline. But you did."
In a few short months, the meaning of this commitment took on a whole new significance, as many graduates would go on to defend our country soon at war.
These speeches have inspired countless graduates at a moment of great reflection and graduation. Stay tuned for the words of presidents that came before, including Presidents George H.W. Bush, Bill Clinton, Ronald Reagan and Jimmy Carter. Check out our next post here.