Our last post took us through the memorable graduation speeches of Presidents Trump, Obama and George W. Bush. We'll head back to the twentieth century and see some of their predecessors' words of wisdom to the U.S. Naval Academy graduates. See if they speak to you as well.
At the time of his speech, President Clinton was in the middle of his second term and battling a reputation-crushing scandal, while the country was enjoying a time of relative peace and prosperity. Clinton chose to focus on the freedoms and opportunities afforded to us as U.S. citizens by the unselfish service of our military forces and other generous public servants.
He urged the midshipmen to enjoy and appreciate those gifts. "In a free society, the purpose of public service — in or out of uniform — is to provide all citizens with the freedom and opportunity to live their own dreams. So when you return from an exhausting deployment or just a terrible day, never forget to cherish your loved ones, and always be grateful that you have been given the opportunity to serve, to protect for yourselves and for your loved ones and for your fellow Americans the precious things that make life worth living and freedom worth defending."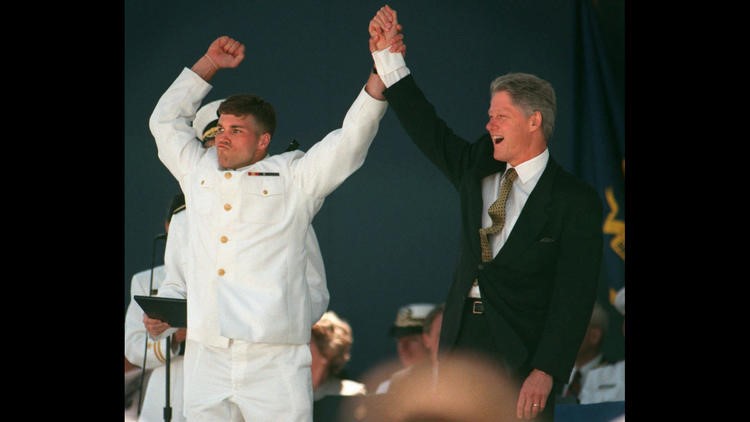 Before he received his diploma, this triumphant Naval Academy graduate grabbed President Bill Clinton's hand. (Baltimore Sun)
1992: President George H.W. Bush
President George H.W. Bush was nearing the end of his presidency when he spoke at the Naval Academy. The Cold War had officially ended on February 1st, and his speech paved the way for a peaceful future. "More than once this century, America has proved its mettle. More than once, we've come late to conflict and turned back mortal threats to freedom. But as a nation, we have yet to prove that we can lead when there is no enemy on the doorstep. We have proved and proved again we can win the war. Now we must wage the peace." He called upon these future leaders to work towards a greater good even without the fire of war urging them on.
1963: President John F. Kennedy
Three months after he gave this speech, President John F. Kennedy was assassinated. Just weeks after this speech, Martin Luther King Jr. spoke the stirring words in his iconic "I Have a Dream" speech. This was a time of great change.
As a younger man, President Kennedy served as a Lieutenant in the Navy during World War II. For his service, John F. Kennedy received the Navy and Marine Corps Medal and the Purple Heart. He addressed the midshipmen with these words, "Any man who may be asked in this century what he did to make his life worthwhile, I think can respond with a good deal of pride and satisfaction: 'I served in the United States Navy.'"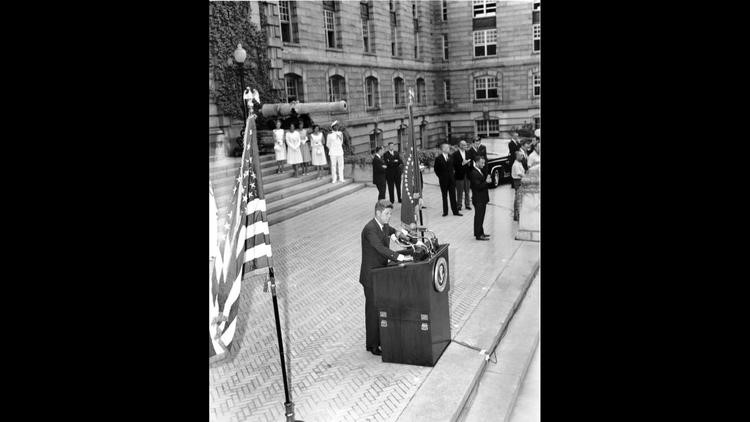 President John F. Kennedy's last visit to Annapolis on Aug. 1, 1963, three months before he was assassinated. He spoke to plebes and accepted the gift of an academy yearbook. (Courtesy photo / U.S. Naval Institute)
1938: President Franklin Roosevelt
In 1938, our country was at the end of the Great Depression, and the architect of the New Deal was hopeful that America would thrive again. In his second term, President Roosevelt encouraged the midshipmen to pursue a well-rounded education to keep them at the top of their profession. Just specializing in one thing is not enough, he said, "No matter whether your specialty be naval science, or medicine, or the law, or teaching, or the church, or civil service, or business, or public service — remember that you will never reach the top and stay at the top unless you are well-rounded in your knowledge of all the other factors in modern civilization that lie outside of your own special profession."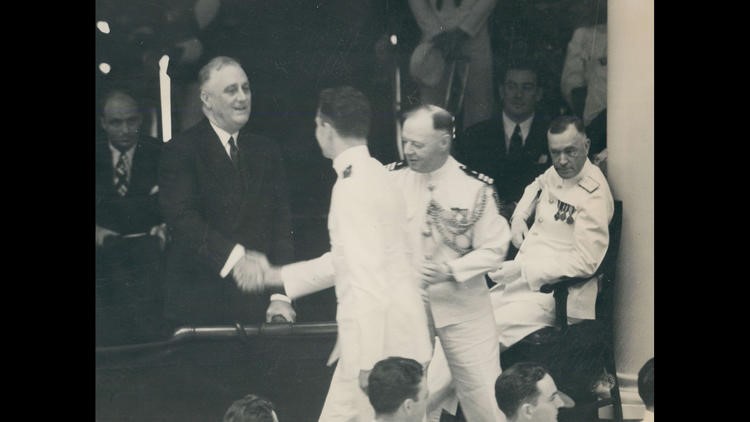 In 1938, President Franklin D Roosevelt shakes a graduating midshipman's hand. (Baltimore Sun)
1914: President Woodrow Wilson
President Wilson recognized the military's unique contributions to society, especially as a lifeforce that moves the world ahead. In 1914, right before World War I began, he said this to the graduating midshipmen, "Your profession is only one of the many activities which are meant to keep the world straight and to keep the energy in its blood and in its muscle. We are all of us in this world, as I understand it, to set forward the affairs of the whole world, though we play a special part in that great function."
1905: President Theodore Roosevelt
Near the turn of the century, there was great optimism. The U.S. industrial revolution that had been churning since the mid-nineteenth century brought improvements in train travel and the rise of the steel industry. President Roosevelt was positive about the future and its leaders. He praised the midshipmen, "I am not surprised that you who graduate from this institution should make the kind of men that as a rule you do make afterward; should show the qualities of courage, of lofty fidelity to duty, of devotion to the flag, and of farsighted preparedness to meet possible future emergencies."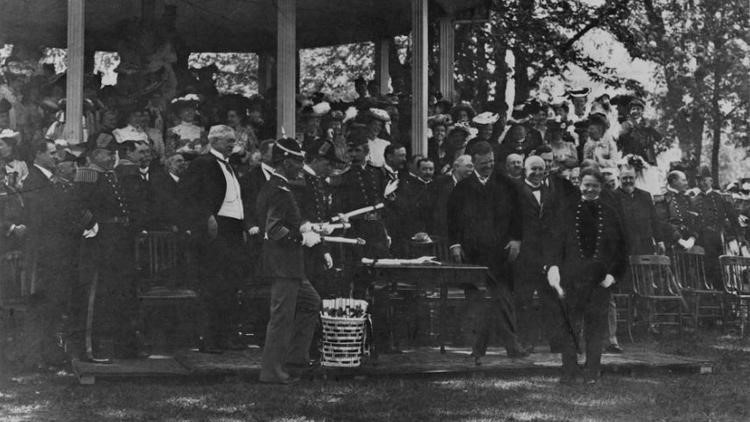 President Theodore Roosevelt presents a midshipman with his diploma at the 1902 graduation ceremony (he spoke there two different years at Graduation). (Courtesy photo / Library of Congress)
Every one of these speeches marks a truly historic moment, stamped indelibly with the president's own history and the unique climate of the U.S. at that time. If you're able to attend Commencement tomorrow on May 24th, you'll truly witness history in the making.