There's an old saying that an army marches on its stomach. This famous quote has been attributed to both Napoleon Bonaparte and Fredrick the Great, but no matter which military leader first came to this conclusion, its meaning is clear. The intent of the phrase is to convey that the effectiveness of a military force relies on the quality and quantity of the food it is served. At the US Naval Academy (USNA), the requirement for plentiful and appetizing meals to serve the Brigade of Midshipmen is no different. But what exactly does it take to feed future Naval and Marine Corps Officers? Quite literally tons of food and optimum efficiency.
Enter King Hall
The dining facility at the Academy resides in King Hall, named in honor of Fleet Admiral Ernest J. King, 1901 Academy graduate, Chief of Naval Operations (CNO) during World War II, and one of just four Naval Officers to achieve the rank of Fleet Admiral. The dining hall spans 55,000 square-feet, with room for 4,400 people to dine together at 392 tables.
The task of feeding hungry midshipman bellies falls on the staff of the Midshipmen Food Service Division (MFSD). Preparing and serving more than 13,500 meals a day with true military precision is no easy feat. Meals must be cooked quickly and all at once. The impressive galley operates 17 conduction/convection ovens which have the capability of cooking 3000 hamburgers or 2000 pounds of shrimp each and within one hour. Its nine kettles can heat soup or cook two tons of pasta.
In order for the entire Brigade to eat at once, there are 30 mobile serving carts. Until served, the mobile carts keep food at a temperature of above 140 degrees. Once service begins, all hot meals are served within a remarkable five minutes. Offering a choice of two entrees with each meal, the Midshipmen Food Service Division manages to feed the Brigade 3,500-4,000 calories per day, family style. When the meal service is complete, the hard work hasn't ended. There are 40,000 dishes, glassware, and utensils to collect, clean, and turn over for the following meal.
In addition to the large-scale operation, the Naval Academy takes pride in its high standards and in serving meals that are far from the institutional offerings others have to offer; including US Choice meats, Grade A Fancy produce and freshly baked goods which are delivered daily. The students appear to whole-heartedly agree and show their love in the same way others of this generation frequently do. They use social media.
King Hall Appreciation
Taking and sharing photos of meals is a popular trend. So, midshipmen have taken to praising the hard work of the Midshipmen Food Service Division with the creation of an Instagram account. @kinghall_creations, is an account where midshipmen can share their own photos of the delicious meals served. The photos range from basic quick shots to creative and carefully staged plates created from the items available during that meal's service.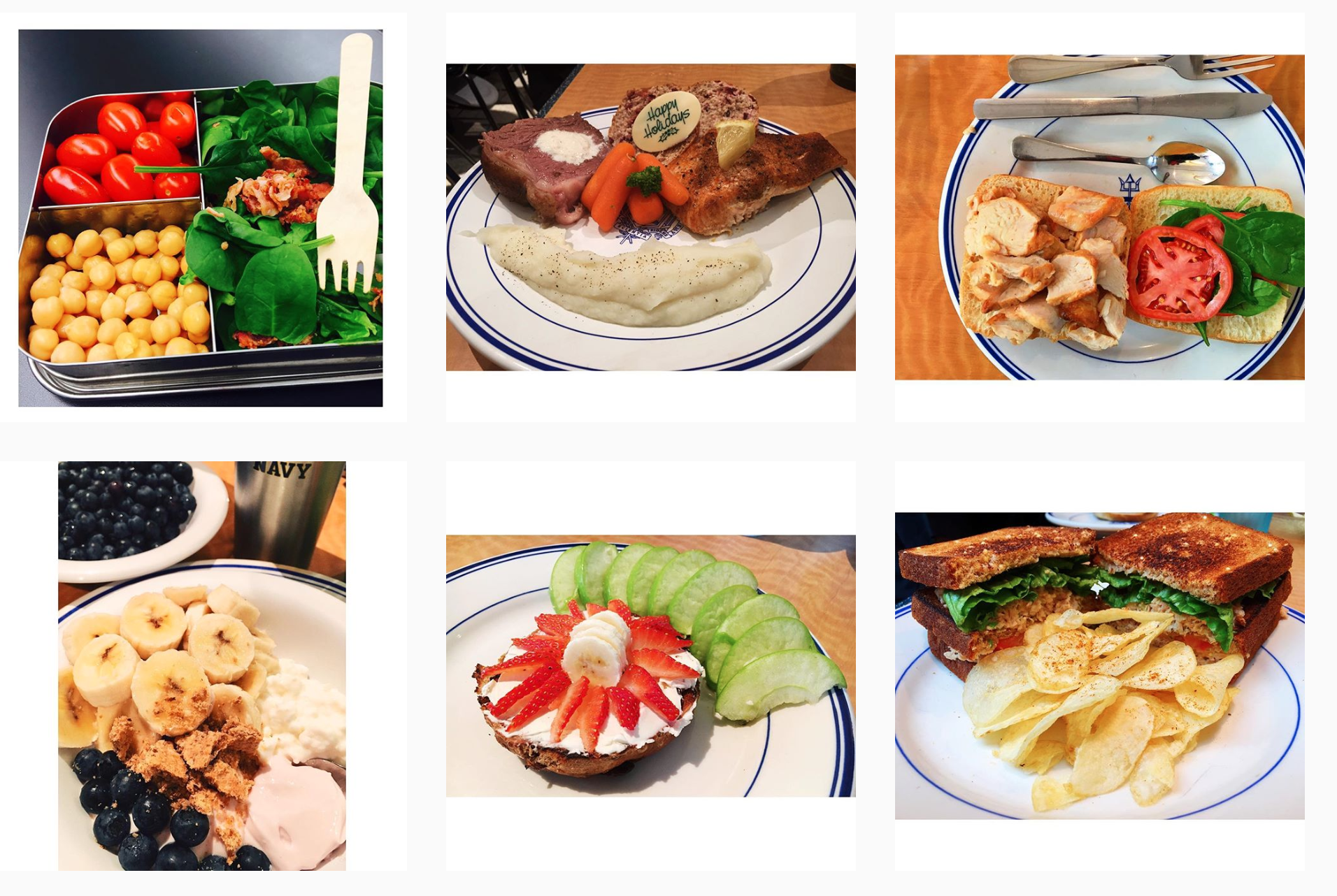 Of course, the Brigade has meal items that are favored above others. Some of the most loved options are classics such as buffalo chicken sandwiches, hamburgers, tacos, burritos, and macaroni and cheese. But, the Food Service Division states that peanut butter is by far the midshipmen's favorite staple. As a whole, the Brigade consumes roughly 100 pounds of peanut butter every day. It's clear that the Midshipmen Food Service Division puts forth a great effort to ensure the Brigade is well-taken care of and all are fed well.