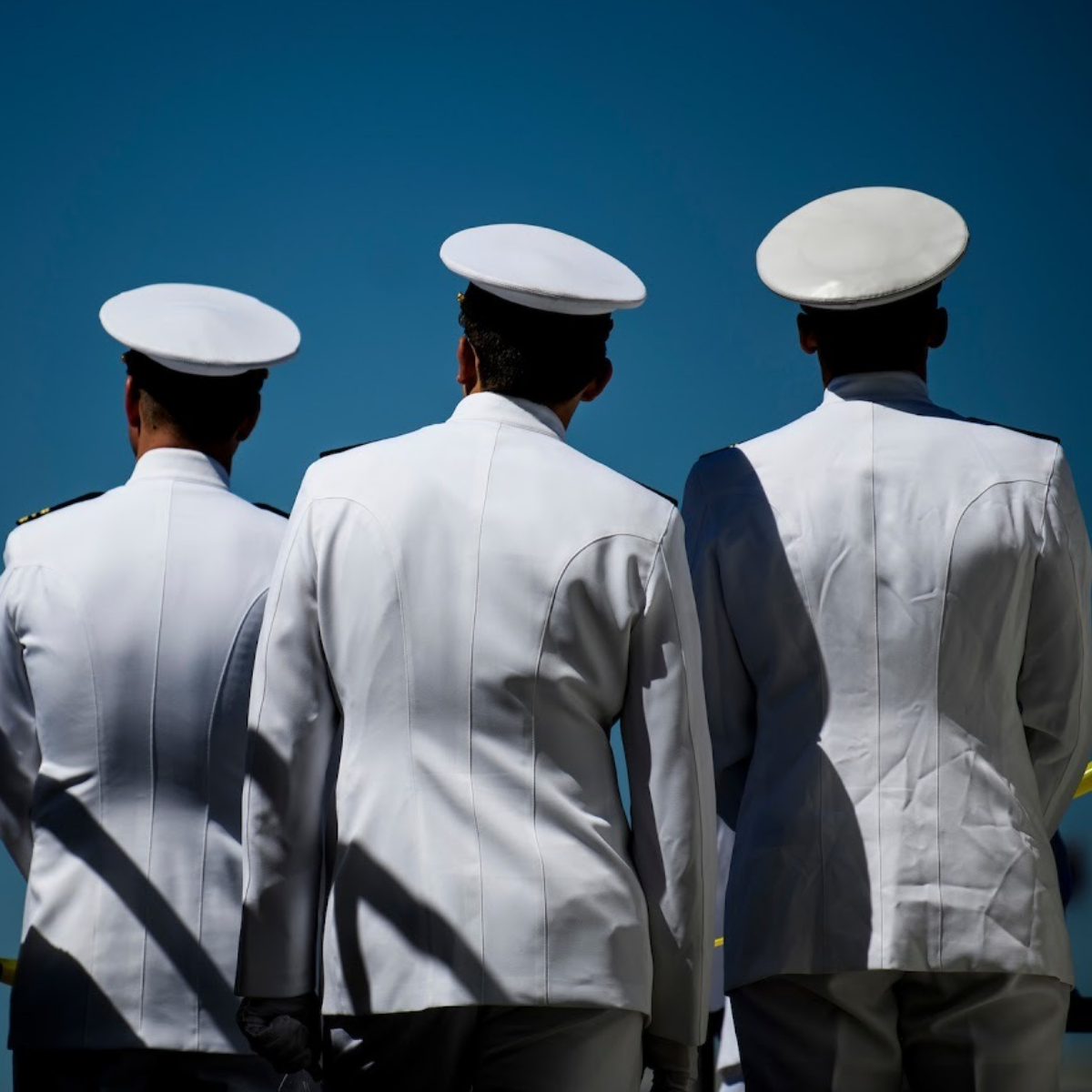 The title of Midshipman has its roots in the Royal Navy. Dating back to the 1600s, this category of rank was filled with experienced deckhands promoted to work a specific location amid ships, usually between the main and mizzen masts. Over the next two centuries, the position of Midshipman evolved to become the rank given to officer candidates.
Following the Royal Navy's example, the United States Navy also implemented the rank of Midshipman for those in training to become naval officers. Preferring an apprenticeship system to train its officers, it wasn't until the planned mutiny during the Somers Affair in 1842 that it became clear that the system for training officers was deficient and a change was required. Secretary of the Navy George Bancroft created a school for the training of naval officers and in 1845 the grounds of Fort Severn in Annapolis were selected to become home to what would become known as the United States Naval Academy. Students at the Academy were initially known as cadet midshipmen, and would be promoted to the rank of Ensign upon graduation.
The second oldest of the five United States Service Academies, the United States Naval Academy (USNA) has grown into an expansive site covering almost 339 acres and is home to more than 4,500 midshipmen. With a population similar to a small town, a large number of facilities and services have been put into place to support this prestigious institution and facilitate learning.
Life on the Yard is rigorous, leaving midshipmen with little extra time that regular college students might have for taking care of non-academic necessities. While students at another university may find time between classes for running errands or taking a nap, a midshipman's day is a regimented progression of academic, athletic, and training activities. With such a tight schedule, leaving the Yard isn't always possible. Therefore, it is necessary to have everything a midshipman will need for day-to-day life close by and easily accessible.
If there's one time-consuming chore college students always need to make time for, it's laundry. For USNA midshipmen, laundry piles up at an even quicker rate when all the uniform items are taken into consideration. While self-service washers and dryers are available in Bancroft Hall, midshipmen do not need to wait around for machines to be free or for cycles to complete. Weekly laundry and dry-cleaning services are provided and covered by midshipmen fees. Laundry and dry cleaning are picked up once a week in company areas, cleaned and pressed or steamed as necessary, and then delivered back to the company area once completed.
Midshipmen at the USNA will also need to visit the barber more often than a traditional college student to ensure that their haircut remains within regulations. Conveniently located right in the basement of Bancroft Hall, the USNA Barber Shop offers unlimited hair services available by appointment or as walk-ins for when a little free time is suddenly found.
With as much time as they spend on their feet, footwear takes a beating. Midshipmen can save both time and money by heading to the basement of Bancroft Hall and visiting the Cobbler Shop. Whatever abuse the shoes have been subjected to, chances are the cobblers can fix it. From rips to complete sole replacements, the cobbler shop is fully equipped to handle the task.
Meal preparation is another task midshipmen are relieved from spending time on. The monumental effort of preparing more than 13,500 meals per day falls on the Midshipmen Food Services Division. It's even more impressive that the entire Brigade takes its meals together in King Hall. Midshipmen are seated, served, and finish eating in roughly 40 minutes.
Of course, sometimes even the scheduled meals may not be enough to keep a midshipman's hunger at bay. When craving a late-night snack, additional dining options are nearby, like the Steerage Restaurant, which offers smoothies, salads, and other healthy options along with perennial late-night favorites like pizza and chicken tenders.
Despite the Brigade meals and late-night snack options, there's enough physical activity throughout the day to keep the "Freshman 15" at bay, but bodies do change over 4 years. When uniforms begin to fit a little more snug in some areas or too loose in others, they need to be altered to maintain a professional look. Also found in Bancroft Hall's basement, the Repair Tailor Shop's mission is to provide expert alterations, repairs, and monogramming services to the Brigade.
You never know what small items may need to be purchased during a busy day. When a new notebook is needed before heading off to class, the Midshipmen Store is a just quick stop away. Or when suddenly missing a uniform item, the Uniform Store has it.
Services provided to the Brigade of Midshipmen like the Laundry and Barber Shop, along with retail dining and shopping, are operated by the Naval Academy Business Services Division (NABSD). All proceeds are returned to the Brigade of Midshipmen through the Midshipmen Welfare Fund (MWF) which is used to fund a wide variety of USNA extracurricular activities.