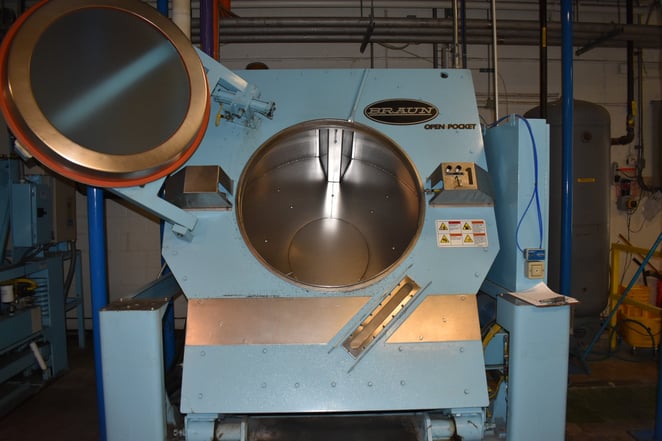 For most college students, laundry is a dreaded and frequently avoided chore. Students joke about how clothing collects in large piles until they can scrounge up enough quarters to get it all done at once. However, midshipmen are not typical college students, and their laundry requirements are considerably different.
The Naval Academy Laundry Service provides full service support to the Brigade of Midshipmen, including pickup, processing, and delivery. The 5th Wing Laundry Service Center also provides laundry service to active duty service members stationed at the Naval Academy, cleaning their uniform items, as well as some civilian clothing. The Laundry Facility also provides service to 18 different organizations on the Yard which provide critical support to the Brigade, such as Brigade Medical, the Food Services Division, and the Barber Shop.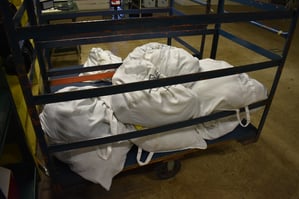 In a typical year, the Naval Academy Laundry and Dry Cleaning Facility cleans approximately 1.5 million pounds of laundry and dry cleaning through its weekly service to midshipmen. The frequency of laundry service increases to twice weekly, with next-day turnaround, during Plebe Summer. The 5th Wing Laundry Service Center also supports special requests on a daily basis throughout the year.
At the end of the academic year, the Laundry Facility prepares for the summer months, when most of the Brigade is away from the Yard, with the initiation of the Annual Summer Storage Program. This process entails a collection of over 4,000 overcoats and reefers, so that they may be cleaned and stored. It then stores these items using an overhead rail system until they are once again required in the fall for uniform changeover.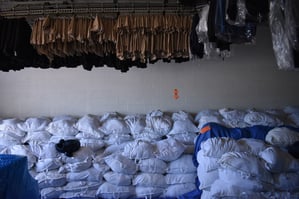 The end-of-year collection effort additionally includes more than 3,700 laundry and sea bags. Items within the sea bags may be cleaned and pressed upon request. In addition, roughly 3,000 Full Dress Blue and over 6,500 Service Dress Blue jackets, with their newly added stripes, are also collected for steaming. The bags and hanging uniforms are then stored at the facility. The Laundry Facility returns the stored items back to company areas in August for the Reform of the Brigade.
Besides cleaning and storage, the Laundry Facility further supports the Brigade with the initial issue of new uniforms. Its check-in, press, and assembly departments process all newly fitted trousers and drill shirts, and deliver them directly to company areas as needed throughout the year.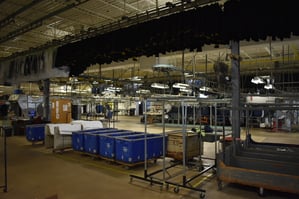 The Laundry Facility processes laundry bags, nets, and uniforms using a system comprised of the midshipman's alpha code, last name and company number. Bed linens and towels may be exchanged on a weekly basis through the Brigade Linen Exchange Program.
The Naval Academy Laundry and Dry Cleaning Facility is located in the Perry Center across from the baseball fields while the 5th Wing Laundry Service Center is located at the 5th wing entrance to King Hall.
Self-service laundry rooms are available in Bancroft Hall's 4th and 5th Wings. LaundryView provides real time information on washer and dryer availability.