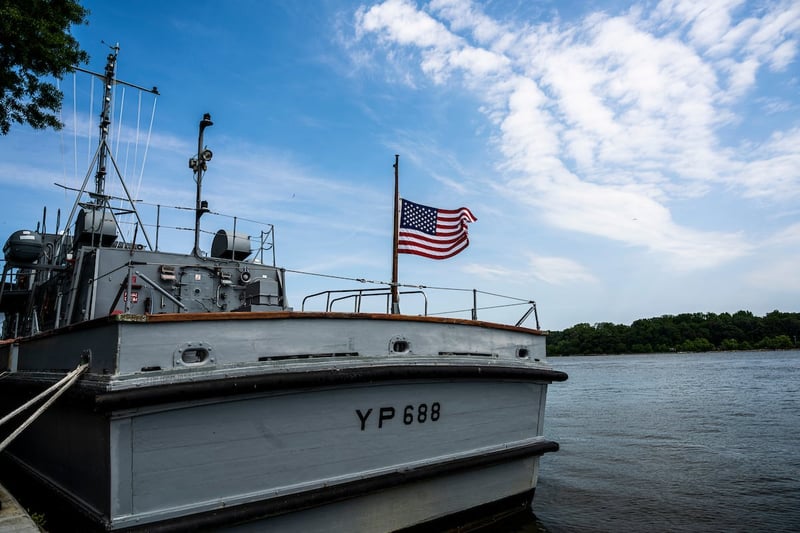 [UPDATED FOR 2023]
A classroom is the traditional place to acquire knowledge, but some skills are best learned through hands-on, on-the-water experience. As midshipmen put their classroom instruction to use, it will be more easily reinforced and retained. While lessons in maritime topics like navigation and seamanship may begin in the classroom, they require practical afloat training to be mastered.
Yard Patrol Program: How It Works
The mission of the United States Naval Academy's Yard Patrol (YP) Squadron is to deliver at-sea training for midshipmen in a realistic environment under the mentorship of qualified personnel. This specialized training teaches participants seamanship, navigation, naval tactics, communications, naval phraseology, and standard procedures. The training midshipmen receive aboard the YP fleet is an early step in their journey toward an officer of the deck (OOD) qualification, and command at sea with the larger Fleet.
Related: Plebe Summer: Learning the Ropes in Navy Sailing.
Throughout the USNA summer training period, Atlantic Professional Afloat Training (LANTPAT) provides midshipmen, Reserve Officer Training Corps (ROTC), and international students with on-board training in seamanship, navigation, and engineering during an immersive experience commonly referred to as the YP Summer Cruise. Not only do students receive practical at-sea training, but they also begin to develop the leadership skills necessary to become effective Naval Officers.
Three Phases of Instruction
LANTPAT's training program is delivered in three phases. During the first phase, students learn about shipboard roles and responsibilities, navigation basics, chart plotting, standard commands, and maritime rules of the sea. This segment of the training is held in the classroom, using ship simulators, as well as aboard pier side yard patrol craft.
During the second phase of training, the YP crafts become the classroom. Participants familiarize themselves with the ship and practice safety-related skills such as egress, damage control, sea survival, and man overboard drills. At the conclusion of the second phase, students will demonstrate proficiency in readiness and operations to the chain of command.
All of the skills acquired in prior phases are required and must be pulled together for the third phase of LANTPAT's training program. During this phase, students take the ship underway for a lengthy trip and are responsible for all operations of the ship during a deployment to areas such as Boston, Philadelphia, New York, and Newport, before returning to Annapolis.
Out at Sea
While underway, students will have their new skills put to the test. They must fill demanding shipboard billets, including navigator, executive officer, and commanding officer. Along with managing the regular duties associated with these roles, midshipmen prepare to meet challenges that arise, leveraging essential critical thinking, problem-solving, and leadership skills. A YP Summer Cruise is a constant learning environment where midshipmen can make mistakes and most importantly learn from them.
In addition to the invaluable learning experience at sea, the underway period allows students to have a little fun in port, as well as interact with and educate local communities about their duties. When pierside, they may provide the public with guided tours of the YPs, instructing them about the ship, its operations, the Navy, and the Naval Academy.
Related: From Anchored Ship to Soaring Athletic Building: The History of the USNA Robert Crown Sailing Center.
See the Sailors in Action
LANTPAT's training program offers midshipmen real-world small-unit leadership experience in a maritime environment. Available to all midshipmen beginning with their 3rd class summer, the YP Summer Cruises are underway during the summer training period in three-week long blocks. If you're traveling to Annapolis during the summer (and other times), you'll likely see these craft out on the water. We're very proud to have an excellent training fleet in this central and beautiful location.
If you visit, be sure to take a USNA tour, dine in our wonderful Yard restaurants, and pick up a souvenir or gift at our shops. The proceeds go towards supporting the Brigade of Midshipmen's extracurricular activities including cultural arts, music, theater, and club sports that build midshipmen camaraderie, teamwork, and fun. Come set sail in Annapolis today!