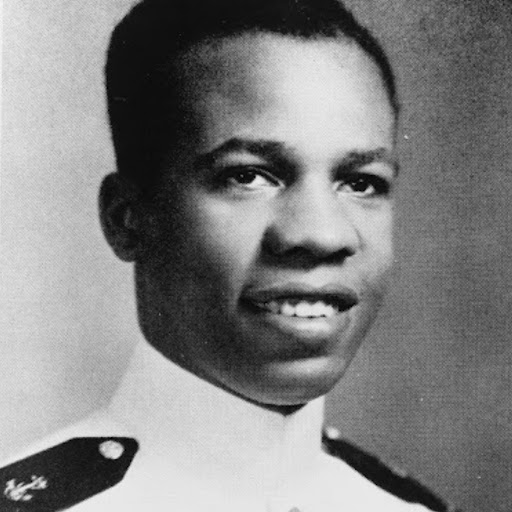 Lieutenant Commander Wesley Anthony Brown broke a momentous milestone in 1949 when he became the first African American USNA graduate.
The great-grandson of Virginia slaves, Brown was born in Baltimore, Maryland on April 3, 1927, to a father who delivered groceries and a mother who worked at a dry cleaner. He grew up in a rowhouse in the Washington, D.C. neighborhood of Logan Circle on Q Street. While attending the then segregated Dunbar High School, he worked part-time jobs for the Army Reserve and for Howard University. He graduated in 1944 and was ready to take his next steps into the changing world.
Perseverance Prevailed
Plebe midshipmen are accustomed to responding to the strict orders of their upperclassmen. His perseverance and compassion helped pull him through those turbulent years. Brown once said in an interview that "I get asked that question often, 'Did you ever think about quitting? And I say, 'Every single day.'" In fact, the U.S. Naval Institute conducted an oral history interview with Brown in 1987, and he explained, "I'd take each day at a time…. I said, 'I've got to give the other guy the benefit of the doubt. Unless it is clearly obvious that this is a racial thing, I can rationalize this and say this is a plebe thing.'"
With his grace, he started to attract the sympathies of fellow upperclassmen who helped him thrive throughout his years at the Academy. One person of particular note was his teammate from the track team, a young man from Georgia named Jimmy Carter. In combination with his own strengths, this support helped him successfully graduate. His oral history notes, "He was able to succeed at the Naval Academy through a combination of his sunny disposition, academic ability and perseverance."
Naval Career
Brown received his commission as a Naval officer on June 3, 1949. He was ranked 370th out of a class of almost 800. While this moment was heralded by many newspapers of the time as a significant achievement, Brown disagreed. "I feel it is unfortunate the American people have not matured enough to accept an individual on the basis of his ability and not regard a person as an oddity because of his color," he told The New York Times in 1949. "My class standing shows that around here I am an average 'Joe.'"
Brown's naval service was certainly better than the average description he gave himself. After graduation, Brown served the Navy for 20 years as a civil engineer, retiring in 1969. He worked temporarily at the Boston Naval Shipyard and then got his postgraduate degree in civil engineering at Rensselaer Polytechnic Institute in 1951. As an officer in the Civil Engineer Corps, he worked in Bayonne, New Jersey; Davisville, Rhode Island; and at the public works department at the Barbers Point Naval Air Station in Hawaii.
Some of his most noteworthy projects involved helping to design a water treatment facility in Cuba, leading a project building roads across Liberia with the Navy's Seabees, engineering an air station in the Philippines where he had a played a large role in the construction of the new aircraft carrier pier in Subic Bay, and designing a nuclear plant in Antarctica. After retirement, he worked for the State University of New York System and from 1976 through 1988, Brown's career came full circle when he served as the facilities planner for Howard University in Washington, D.C. where he had worked as a teenager.
Wesley Brown blazed a trail and led the path for many future African American midshipmen. We count among their ranks Navy admirals, Marine Corps generals, basketball star David Robinson and NASA administrator Charles F. Bolden. He also helped pave the way for another milestone when Midshipman First Class Sydney Barber became the first Black female brigade commander for the spring semester of 2021.
Many decades later, his achievements still resonate. To mark his impact on the Naval Academy, the college dedicated its $50 million, 140,000 square foot state-of-the-art indoor track facility in the track star's honor in 2008. Named Wesley A. Brown Fieldhouse, it features a hydraulic running track that can be raised or lowered to bank the races. In his remarks at the dedication of the facility, Brown said the naming of the new building symbolizes the Navy's commitment to diversity.
Brown passed away of metastatic cancer at the age of 85 on May 22, 2012. We salute his incredible perseverance in the face of such adversity, and honor Brown along with all of our other distinguished USNA graduates and the legacy they have left. Every day, we are grateful for their service to our Academy and to our country.