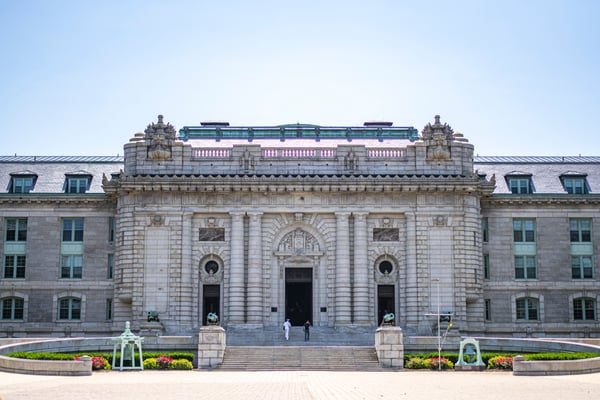 As most of you know, Bancroft Hall has quite a lot to offer a midshipman - it's their home while at USNA, their means of grabbing a quick snack, there's Smoke Hall and much more. We're developing a blog series on all the ins and out - and details you might not know - about Bancroft Hall. Our premier blog is about the Steerage Restaurant.
With a lot of basic needs taken care of, midshipmen can avoid the fate common among other college students across the nation. Meals at the United States Naval Academy (USNA) are more filling and nutritious than a package of ramen noodles or a box of macaroni and cheese. Given an active and all-day schedule that kicks off no later than 0630 Reveille and does not end until Taps at Midnight, the Brigade can be a hungry group. While Morning, Noon, and Evening meals are taken together in King Hall, additional options can also be found.
Naval Academy Business Services Division's Retail Dining unit operates a variety of other dining choices throughout the Naval Academy Yard; such as 1845 Coffee at Gate 3, the Old Salt Grind in Nimitz Library, Drydock Restaurant in Dahlgren Hall, and the Naval Academy Club which features the Alley Restaurant. These are in addition to extensive catering and event services available through Naval Academy Catering. However, the alternative dining option reserved exclusively for midshipmen is the Steerage Restaurant.
Located in Bancroft Hall below the main rotunda, Sunday through Thursday, the Steerage Restaurant serves midshipmen and other staff who may work there. Aiming to quell those late afternoon and evening hunger pangs, the Steerage Restaurant serves up both healthy choices and college favorites.
Midshipmen in search of an afternoon pick me up, can get a cool and healthy sugar rush in the form of a fruit smoothie. Using 100% clean ingredients, Freshen's smoothie menu features gluten-free, dairy-free, and vegan choices. Classic flavors, such as Wild Strawberry and Maui Mango, and complete with seemingly sinful selections like the Cookie Dough smoothie, which is made with gluten-free chocolate chip cookie dough and fat-free yogurt. On the Wellness side of the menu, midshipmen can treat themselves while increasing their protein intake by ordering a PB protein or Vegan Power Up smoothie.
For something a bit more substantial, yet still, abundant in vegetables, freshly tossed salads are served in a freshly-baked crispy crepe. If the Strawberry and Kale or Buffalo Chicken salads are not what they have a craving for, midshipmen can create their own salad with unlimited mix-ins.
When a hot meal is preferred, a selection of grilled flatbreads and toasted wraps keep stomach rumblings at bay. These handcrafted options feature antibiotic-free chicken, romaine, kale or spinach, and a variety of popular flavors to create a handful of different menu options.
Those looking to refuel with some complex carbs can find rice bowls topped with internationally inspired ingredients like sweet and sour Korean BBQ or chipotle ranch sauce. But for that perennial and indulgent college comfort food, mac and cheese can also be found. This isn't like the box variety made with powdered cheese, these bowls of macaroni will have bacon, BBQ sauce, or gorgonzola mixed in to punch up the flavor.
And what does every college student crave during late evening study sessions? Pizza! Sometimes midshipmen just want a delicious pizza or some crispy salty fries. The Steerage Restaurant meets those late-night junk food cravings with selections like personal pizzas, chicken tenders, and curly fries.
Hungry students short on time needn't worry about wasting time. Before heading out to grab a quick snack or meal, midshipmen can check out the Steerage Camera online and view how long the current lines are before taking a break and heading over.
Meals and snacks, both healthy and not completely so, are available for the Brigade of Midshipmen outside of the regular meals served in King Hall. The Steerage Restaurant, operated by Naval Academy Business Services Division, makes grabbing a bite quick and easy for busy midshipmen.
Subscribe to our blog to learn more about Bancroft Hall and all that it offers our Midshipmen!