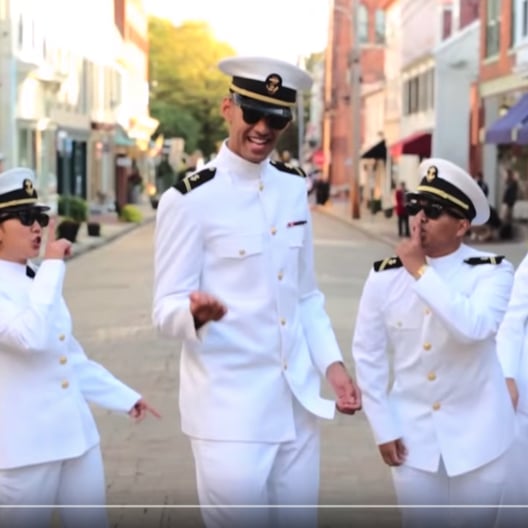 The first video to go viral appeared in 2004, when Gary Brolsma posted his lip-synced Numa Numa Dance. Hilarious, wildly unexpected, and a bit endearing, viewers repeatedly watched and shared the short video of Brolsma gesturing along to the song without abandon.
Since that first viral video sensation, thousands of videos have gone on to achieve viral status. It's likely that billions of others have tried and failed. Experts agree that while it is difficult to say exactly what is required to go viral, one of the key elements is that the video must connect with people through humor or emotion.
In the fall of 2015, a group of US Naval Academy midshipmen stumbled upon the right mix of emotion and humor by combining spectacular dance moves with an ability to let loose and have fun, all while still looking like all-American young adults. The video features a group of midshipmen dancing and strutting down one of the scenic streets of downtown Annapolis in their white uniforms, to the hugely popular Mark Ronson song, "Uptown Funk." As the singing begins, listeners soon realize that that lyrics have been cleverly rewritten to reflect the life and times of a midshipman.
The viral video production was led by Midshipman 1st Class Rylan Tuohy. Pulling together the talents and skills of a crew numbering more than 60, plus members of Trident Brass, the video was shot early one Saturday morning using Tuohy's Canon 5D digital camera. Another participant had a drone that was used to capture the aerial shots.
Perhaps one of the more surprising facts about the video isn't clear from watching the video itself. The video had no budget at all - it cost $0 to make. The entire production, on either side of the camera, consisted of midshipmen.
An amateur film producer, Tuohy thought he would have to make the choice between film school and attending the Naval Academy. Upon choosing the Naval Academy, he was surprised to find that he could continue pursuing film production. As a plebe in 2011, Tuohy produced a short spirit video for the Army-Navy game, "Game for the Real Players."
The popularity of self-produced, lip-synced music videos has exploded in the last 15 years, and when done right, can bring valuable and positive attention to the organizations of those starring in them. But these videos can also result in negative attention. As with any activity whose propriety could be questioned, military organizations appreciate it when permission is requested beforehand. In fact, the public affairs office may even be able to help out, as they did with Naptown Funk when they helped to shut down a street block for a few hours during filming.
Tuohy went on to produce a variety of spirit films during his years at the Naval Academy, including a few hilarious videos poking fun at rival service academies.
The same types of videos that let everyone let loose and have a little fun have been produced by Navy Commands all across the Fleet. Some have even managed to reach viral status, including a remake of that first viral video, but featuring sailors, in Navy Numa Numa.